STORY HIGHLIGHTS
A man dies after setting himself afire in Alexandria
An incident in Cairo appears to be spurred by a personal issue
The protests in Tunisia were sparked by a man who torched himself
Cairo, Egypt (CNN) -- One man died and another was injured after they set themselves on fire Tuesday in Egypt, the latest in a string of self-immolations in restive North Africa, officials told CNN.
Ahmed Hashem Sayed set himself on fire in Alexandria and died from his burns, said Dr. Salama Abdel-Menem, Alexandria's health director. Local media reports that Sayed was unemployed.
Mohammed Farouq Mohammed, a lawyer, set himself ablaze in Cairo, but is now in stable condition with 5% of his body burned. Dr. Mohameed Yousuf, head of Cairo's Mouneiriya hospital, said the victim will be leaving the hospital within days.
Mohammed burned himself in front of the parliament building because his ex-wife refused to allow him to see his daughters, a security source and a medical source at the hospital told CNN.

What do the opposition in Tunisia want?

Tunisia's uncertain future

Tunisia's social media revolution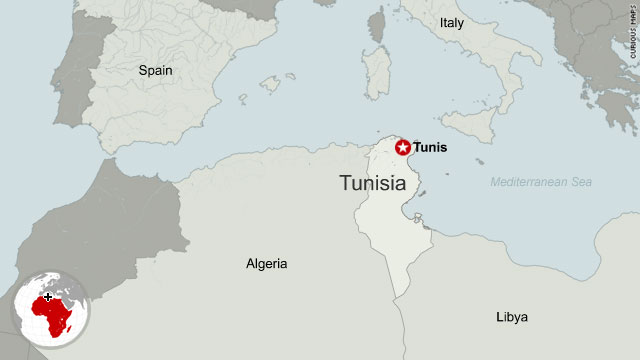 Unrest in Tunisia
The popular protests in Tunisia that have caused upheaval in the government were sparked by Mohamed Bouazizi, a 26-year-old unemployed college graduate, setting himself on fire in protest. He later died.
Now, reports are coming in from other countries in the region -- including Algeria and Mauritania -- that other people are turning to self-immolation, even though it is too soon to know how many of the incidents were sparked by political and social grievances.
The Cairo-based Al-Azhar mosque and university, the most respected Sunni Muslim institution in the world, addressed the issue on Tuesday.
Spokesman Mohammed Refaa Tahtawi said, "Islam clearly and broadly forbids committing suicides for any reason and does not permit its followers to kill oneself as an expression of discontent, protest or anger."
In an interview with Egyptian's state-run MENA agency, Tahtawi said al-Azhar doesn't comment on specific cases of people who torch themselves "because they may be suffering from a mental or psychological condition that forced them to do so, therefore we cannot judge them and we pray for God to forgive them."
Abdo Abelmonem Gafr, a baker from a town outside Cairo, set himself on fire outside the parliament building on Monday, an Interior Ministry official said. Gafr has burns to his face but is alive and not badly hurt, ministry spokesman Alla Mahmood said.
In Algeria, security officials said Sunday that three people set themselves on fire. Riots and demonstrations have erupted in Algeria in recent days.
News reports out of Mauritania say a man set himself on fire Monday in front of the presidential palace. The reports identify the man as Yacoub Dahoud, who posted a Facebook message praising Bouazizi and vowing, "We will never forget you."
Mauritanian media said Dahoud started a Facebook group called "Stop the corruption and tyranny in Mauritania." In a statement on the page, Dahoud wrote, "Isn't it the time for the Mauritanian people to choose their freedom?"
Blake Hounshell of the foreignpolicy.com blog, wrote on Monday that the attempts are a "shocking, desperate tactic that instantly attracts attention, revulsion, but also sympathy."
Bouazizi had set himself ablaze outside a government building in the Tunisian town of Sidi Bouzid after police confiscated his fruit cart, saying he was selling without a permit, according to Amnesty International. The cart was his only means of income.
Buddhist monks famously took to self-immolation in protest against the Vietnam War. "Of all the dramatic photographs to come out of the Vietnam War, the first to shock the world was of a Buddhist monk in flames," journalist Tim Larimer wrote for Time magazine in 1999.
At Beijing's Tiananmen Square in 2001, five people lit themselves on fire in front of a CNN crew. One died. A police report identified them as members of the banned Falun Gong movement. But Falun Gong denied any connection to that incident, saying what transpired had "nothing to do with Falun Gong practitioners."
CNN's Caroline Faraj contributed to this report
FOLLOW THIS TOPIC