Sudan: The trek home to vote
STORY HIGHLIGHTS
Sudan faces crucial vote on January 9 that could ultimately see the nation split in two
The autonomous Government of Southern Sudan (GOSS) is providing transport from the north for people to return home
Many have left their land, home and businesses they have built up over decades
Editor's note: Christian Aid is a UK development agency that been in operation for more than 60 years, working in some of the world's poorest communities in nearly 50 countries.
London (CNN) -- After a 55 year struggle, Africa's largest country, Sudan, is just days away from a referendum that may see the mainly Christian and traditional animist people in the south split from the majority Muslim north and become a new nation.
With 3.4 million people registered to vote in the referendum that begins on January 9, much of the country is already in transit.
Southerners who have been living in Khartoum and the north return to their ancestral homes in the south - where they are expected to build a new life if the south separates.
Many have left their land, home and businesses they have built up over decades.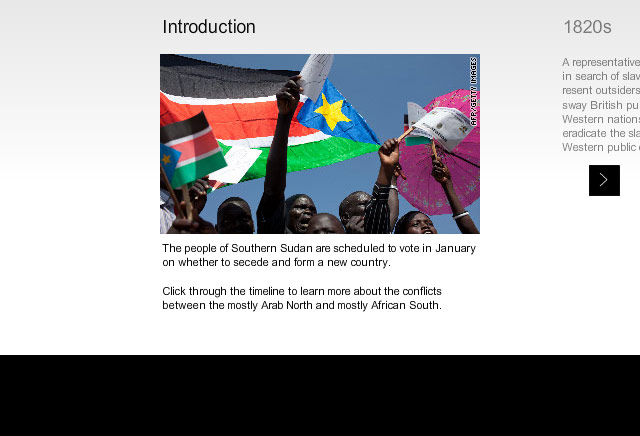 A long history of war

Sudan vote looms Sunday
Photo-journalist Mike Goldwater recently traveled with development agency Christian Aid to Juba, the regional capital of southern Sudan, to document the mass-influx of returning southerners.
Here, the autonomous Government of Southern Sudan (GOSS) is providing planes and buses from the north to Juba.
On arrival returnees are housed overnight in temporary shelters (schools and churches) and given food and blankets, before they are allocated a space on a coach to take them home.

Others make the journey by boat -- camping out under mango trees at Juba Port.
For many the journey home has taken weeks.
FOLLOW THIS TOPIC


Part of complete coverage on

Trace the history of Sudan and the factors which have shaped one of the world's key troublespots.

Southern Sudan has been wracked by decades of conflict -- but what pushed it toward this historic vote?

Christian Aid highlights the Southern Sudanese returning to Juba and elsewhere ahead of the historic vote.

Several million people will decide in the next few days whether to give birth to the world's newest nation.

Hollywood superstar and activist George Clooney is excited at the possibility of lasting peace for Sudan, he tells CNN.

CNN's Nima Elbagir reports on the internally displaced Sudanese returning home to vote.

Chris Taylor and Gen. Anthony Zinni say the U.S. needs to craft a strong plan to head off potential ethnic violence


Most popular stories right now