STORY HIGHLIGHTS
Opponents of "fracking" have been energized by the results of a recent federal study
The study found that gas companies may be overstating Marcellus Shale gas reserves
The Marcellus Shale is one of the largest natural gas deposits in the nation
Another study says fracking could support more than 250,000 jobs and generate $20 billion
Philadelphia (CNN) -- Charlotte Bevins' long blond hair blows in the wind as she stands amid protesters, her eyes red and puffy from crying.
Just four months ago, Bevins' brother, Charles, lost his life in a drilling accident in central New York. He was 23, a father of two small children.
Gazing at the ground, Bevins tightens her grip on the handles of the baby stroller that cradles her young niece while hundreds of protesters lining the nearby streets wave signs and yell around her.
No fracking way. No fracking way. No fracking way, the crowd chants.
Bevins recently made the trek from West Virginia to Philadelphia, with her mother and her late brother's son and daughter, to join up with other protesters calling for a moratorium on hydraulic fracturing, or "fracking."
KOCO: Natural gas drilling rig explodes, burns
The "Shale Outrage" rally took place outside a gas industry conference at the city's convention center this month.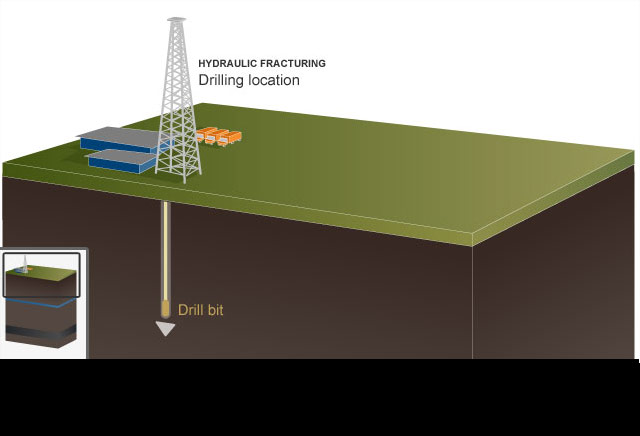 What is 'fracking'?

Residents: Water full of methane

'Fracking' yields fear in Northeast

Potential for natural gas extraction
Inside, industry lobbyists and gas company executives were touting the natural gas boom in northeastern Pennsylvania and networking with officials, including Tom Ridge, the former Pennsylvania governor and former U.S. homeland security secretary.
Outside, the angry mob continues to chant and wave signs before marching to Gov. Tom Corbett's office near City Hall.
Ban fracking now. Ban fracking now. Ban fracking now, the crowd chants.
The rally not only targeted the shale gas conference attendees, but also served to drum up support and awareness for a critical public hearing on the issue on October 21.
It is the last public hearing before the Delaware River Basin Commission will vote on whether or not to open the Delaware River watershed to hydraulic fracturing.
Underneath the river basin is the mighty Marcellus Shale, one of the largest natural gas deposits in the nation, found in parts of Kentucky, Maryland, New York, Ohio, Pennsylvania, Tennessee, Virginia and West Virginia.
Fracking opponents received a boost last month when the U.S. Geological Survey estimated that the Marcellus Shale contains about 84 trillion cubic feet of undiscovered, technically recoverable natural gas.
That estimate is far lower than the 410 trillion cubic feet of natural gas published by the U.S. Energy Information Administration in July.
The discrepancy has reportedly triggered an investigation by the Securities and Exchange Commission into whether shale gas companies are overstating their gas reserves.
President Barack Obama is under enormous pressure to stimulate the economy by helping to create new jobs -- something the industry promises it can do. On Tuesday, more than 100 shale gas and oil companies wrote a letter to Obama underscoring the importance of hydraulic fracturing to create cheap, clean energy and jobs.
There has been a growing call to halt fracking until the environmental concerns and benefits are fully studied. New Jersey is the latest to join with Maryland, New York, the Canadian province of Quebec, as well as Germany, France and South Africa, to implement limited fracking bans.
Those against hydraulic fracturing in the Marcellus Shale support the bans and fear the controversial process used to extract natural gas will contaminate a watershed that provides drinking water to 15 million people.
Using hydraulic fracturing, drillers pump large amounts of water mixed with sand and chemicals into the shale formation thousands of feet underground under high pressure.
Interactive: How 'fracking' works
Fracturing the shale around the gas well then allows the natural gas to flow freely.
The water. The water. The water's on fire, the crowd chants.
There are concerns that the chemicals used in fracking have caused illnesses, gas leaks, even tap water catching fire -- something covered extensively in media reports and in the Emmy-winning natural gas documentary "Gasland."
Americans are finding work in an industry that is fundamentally strengthening our nation's core.
--Kathryn Z. Klaber, president, Marcellus Shale Coalition
The Environmental Protection Agency is still studying the claims and is scheduled to release its findings in late 2012.
At one point during the Philadelphia rally, Josh Fox, director of "Gasland," took to the stage while conference attendees peered out from the convention center windows.
Using his cell phone, he called the Delaware River Basin Commission and asked the audience to do the same.
"You're telling them we are showing up on the 21st of October. We are not going to see this happen," said Fox, who began investigating fracking after he turned down $100,000 from a gas company that wanted to lease his land to drill.
"Hydraulic fracturing has created a catastrophe across Pennsylvania," he said. "People are fighting back. It's not about the jobs. It's about which jobs do we want to choose."
Josh Fox talks about 'fracking' concerns
Although the process has come under scrutiny, industry leaders continue to insist it's safe, and they insist that natural gas production is vital to the nation's economy.
With thousands of gas wells, approved drilling permits and pending drilling permit applications across Pennsylvania, the state could potentially generate millions -- even billions -- of dollars in revenue, according to industry officials.
Not to mention the gas rush could potentially create thousands of in-state jobs.
Opinion: Obama's energy policy limits jobs
According to a Pennsylvania State University study -- commissioned by the Marcellus Shale Coalition -- drilling in the Marcellus Shale could support more than 156,000 jobs and generate $12.8 billion in Pennsylvania alone.
By 2020, according to the study, drilling could support 256,420 jobs and generate $20 billion.
"As this responsible development continues to expand across the Marcellus region, and the country, tens of thousands of Americans are finding work in an in industry that is fundamentally strengthening our nation's core," Kathryn Z. Klaber, president and executive director of the Marcellus Shale Coalition, said in a statement.
It's our water, it's our right. It's our water, we will fight, the crowd chants.
I care about jobs, but not these jobs.
--Sarah Kolb, 72, who opposes hydraulic fracturing, or "fracking"
Pittsburgh Councilman Doug Shields, who helped lead the marchers through Philadelphia's streets, said the jobs associated with fracking or the potential revenue injections into the struggling economy aren't worth the health risks or pollution.
"I want everybody to have a job, but not at this cost," said Shields, president of Pittsburgh's city council, which banned fracking within city limits. "Are we really going to put people at risk like this?"
Not far from Shields, Sarah Kolb is leaning on a temporary barricade near the back of the sea of protesters, clutching a handwritten sign that reads: "Jobs Not Pollution."
The 72-year-old Philadelphia resident says she is concerned about the future of the quality of the drinking water if fracking is allowed in the Delaware River Watershed, adding that she wants more green jobs created instead.
"I think fracking is a crime. Why don't they create jobs in renewable energy? That's what we want," she said. "I care about jobs, but not these jobs."
FOLLOW THIS TOPIC