STORY HIGHLIGHTS
NEW: Investigators identify and recover parts of the accident aircraft tail
"The severity of this accident was the worst I've seen," an ER doctor says
Investigators will look at how the plane's elevator trim tab broke off before crash
The pilot may have tried to avoid crowded grandstands before crashing
Reno, Nevada (CNN) -- The number of people killed when a pilot lost control of his vintage plane and crashed into spectators during an air race over Reno, Nevada, rose to nine Saturday.
Seven people died on the tarmac, including the pilot, and two more died in hospitals, Reno police said. Officials had previously put the death toll at three. Close to 70 people were injured in the incident, which occurred Friday.
National Transportation Safety Board member Mark Rosekind said investigators are looking at whether the plane's apparently damaged elevator trim tab -- whose breaking apart was captured in a photograph -- played a role in the nosedive crash. Authorities do not know why the aircraft went down.
"We're aware of that, and in fact, a component has been recovered in the area where it was observed, but it's critical at this point to note that we have not identified this component," Rosekind told reporters. "It will be examined, so we don't know what the component is and whether it came from this particular aircraft."
He said later that investigators had identified and recovered portions of the accident aircraft tail.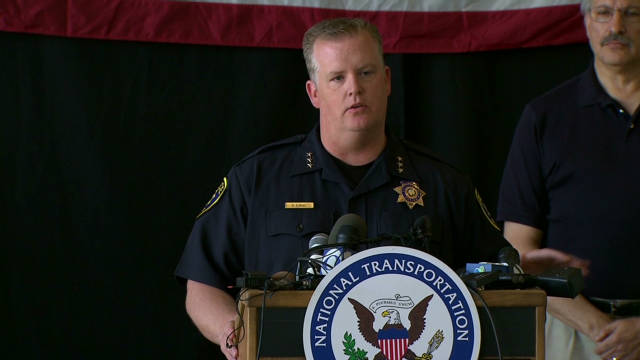 9 fatalities from air race accident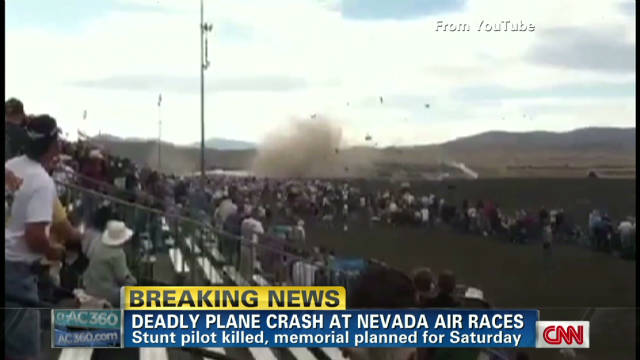 Witness: Pilot tried to save lives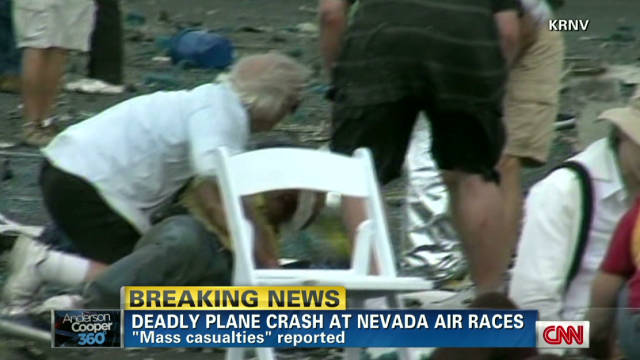 Witness: We just saw a lot of people die
A full investigation could take six to nine months, Rosekind said.
Investigators will be poring over a trove of spectators' videos and photos, he said.
"It seems there were a tremendous number of cameras and video that was captured," he said. "On the one hand, it's an excellent source of information, but on the other hand, there's not a lot of other specific components from the wreckage that at this point we can identify."
At the time of the crash, three NTSB investigators happened to be at the air show -- a common practice -- and one of them has been appointed investigator in charge, Rosekind said.
The board will look at safety oversight and the placement of the grandstands for the air race, Rosekind said.
Investigators are also looking into whether the plane had a black box, Rosekind said, though at this point, he does not believe it had a recording device.
Reno Mayor Bob Cashell told reporters that the air race spectator fatalities were the first in four decades. The Reno Air Race Association was founded in 1964, according to its Facebook page.
"This is the first time in 40 years, I think, that we've had a visitor injured or killed," Cashell said Saturday. "We've lost some pilots, but we've never had a major catastrophe."
When asked if the high-speed air race was held too close to public viewers, Cashell responded: "I'm not an expert on that. It's going to be up to the airport authority and it's going to be up to the air race board, and it's going to be up to these guys," referring to the NTSB investigators.
"We would like to see if we can keep it open," the mayor said about the air race and its future.
One local hospital, Renown Medical Center, received 34 patients, six of whom were in critical condition as of Saturday evening, a spokeswoman said. Two of the six critical patients suffered major head injuries and their prognosis is "guarded," according to Dr. Myron Gomez, chief of trauma services. Two patients -- a male and a female -- died, the hospital said Friday.
Dr. Mike Morkin, the medical director of emergency services at the hospital, was on duty when the call about the crash came in Friday.
"The severity of this accident was the worst I've seen since I've been at Renown," Morkin, a 16-year veteran at the hospital, said, adding "it was traumatic."
Renown South Meadows Medical Center received and discharged five patients, the hospital said Saturday.
St. Mary's Hospital in Reno said it had accepted 28 patients from the accident: two were in critical condition, seven in serious condition, and five in fair condition as of Saturday afternoon. Fourteen other patients were treated and released Friday.
The pilot, identified as Jimmy Leeward, a real estate developer from Ocala, Florida, was killed in the crash, according to a show official. The 74-year-old was flying a P-51 Mustang.
Saturday races were canceled in the wake of the crash, the show said. A memorial service scheduled for the pilot in Reno was also canceled because his family left the area, said Valerie Miller, a race spokeswoman.
A day before the crash, in an interview from Airshow TV, Leeward expressed confidence about his prospects in the race -- while hinting that his team would fly even faster in the days to come.
"We're as fast as anybody in the field, and maybe even faster," he said. "We've been playing poker since last Monday, so we're ready to show a couple more cards (so) we'll see what happens."
Several witnesses were calling the pilot a hero because he maneuvered the plane away from the crowded grandstands at the last moment.
Ben Cissell said the plane crashed about 100 feet from where he was seated.
"I think that pilot in the last seconds pulled up because he saw the bleachers and saved about 200 or 300 others," Cissell said.
Kim Fonda said she also saw the plane streaking toward where she was seated in the grandstand.
"I closed my eyes and said, 'I am going to die now,' " Fonda said. "I was literally preparing to die and then he jerked the plane away and it landed like 25 feet from us. I want his family to know he was a hero."
Video of the crash, posted on YouTube, showed a plane plummeting from the sky, sending up clouds of dust and debris. Shocked spectators rose to their feet.
Another witness, Greg Mills, said the pilot "didn't have enough altitude to pull up," with the aircraft shuddering before slamming to the ground about 50 to 75 yards from where he was standing.
The plane, called the "Galloping Ghost," was taking part in a qualifying round in the "unlimited class" division of the air race when it went down around 4:15 p.m. PT Friday, said Mike Draper, the show spokesman. The final rounds had been slated for the weekend.
CNN's Michael Martinez, Mike Ahlers, Kelly Marshall Smoot, Greg Morrison and Nick Valencia contributed to this report.
FOLLOW THIS TOPIC