NFL says enhanced security isn't in response to stun gun incident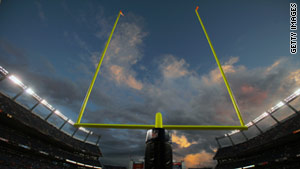 The NFL is ramping up security measures with enhanced pat-downs, specifically from the knees to the ankles.
STORY HIGHLIGHTS
League says it implemented enhanced pat downs before the start of the season
Buffalo Bills describe security procedures that team will use at its first home game Sunday
Team advises fans to arrive early
Three men suffered minor injuries when stunned at a New Jersey stadium last Sunday
New York (CNN) -- National Football League fans will have to get used to enhanced pat-down security procedures this year, something the NFL says it implemented before the start of the season, not as a result of a recent stun gun incident at a New Jersey stadium, NFL spokesman Greg Aiello said.
Citing safety reasons, Aiello would not go into detail on the latest league-wide security procedures, but the Buffalo Bills football team sent out a news release Wednesday describing security procedures it plans to enforce at its first home game Sunday.
According to the release, those procedures are in accordance with the NFL's Best Practices policies.
"Specifically, the enhanced portion of the pat-down is for the area from the knees to the ankles," the release states, further advising that fans arrive early, "especially with the enhanced pat-down now part of the security measures taken."
The stun gun was sneaked past football stadium security at MetLife Stadium in East Rutherford, New Jersey, during a game Sunday between the New York Jets and Dallas Cowboys on the 10th anniversary of the September 11, 2001, terrorist attacks.
Various fans who were at the game have confirmed to CNN that there were more pat-downs and that security was increased outside the stadium.
Despite the procedures, a South Carolina man was able to sneak the cell phone-sized weapon into the stadium inside his shirt pocket, according to Aiello.
Leroy T. McKelvey, 59, allegedly used the gun on three men in an upper-deck scuffle during Sunday's game, police Sgt. Julian Castellanos said. The men suffered only minor injuries.
McKelvey was charged with three counts of aggravated assault, possession of a stun gun and possession of a weapon for unlawful purposes, according to police.
He was taken to Bergen County Jail and later released on $22,500 bail. McKelvey could not immediately be reached for comment.
CNN's Jordana Ossad and Nina Golgowski contributed to this report.