STORY HIGHLIGHTS
Fifth generation miner Chris Brawn says there's a new gold rush on today
Scraping together an ounce can bring gold hunters as much as $1,800
Some people say they just get a kick being outdoors and enjoying the thrill of the hunt
Liberty, Washington (CNN) -- Pirates, Spanish conquistadors and James Bond movie supervillains have all searched, schemed and even killed for it.
Gold.
And along a gurgling stream in Washington state, Bob Gustafson, a retired grandfather of three, squeezes into his wetsuit to join the long history of people hunting for the precious metal.
For Gustafson, prospecting falls somewhere between a hobby and a pipe dream. It's an activity he enjoys but one that also could someday bring riches. Meet the new face of gold prospecting.
"You got people who are retired who are out here, that's what they do for a living now, they go around and dig for gold," Gustafson explained as he fired up his dredge, a noisy, generator-powered pump he used to suck up sediment from the river bed.
He later dried the soil and painstakingly sifted the material for small flakes of gold.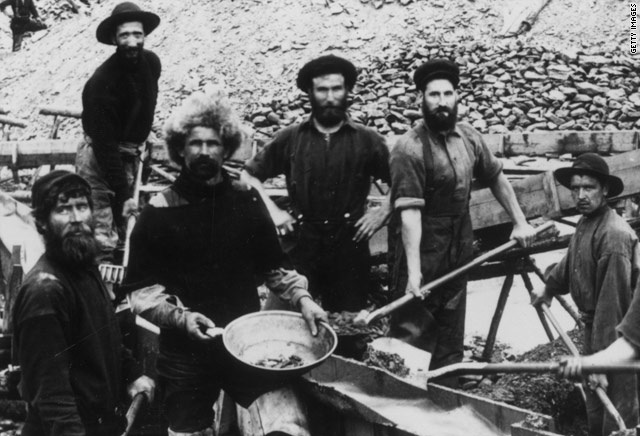 Gallery: Modern-day gold rush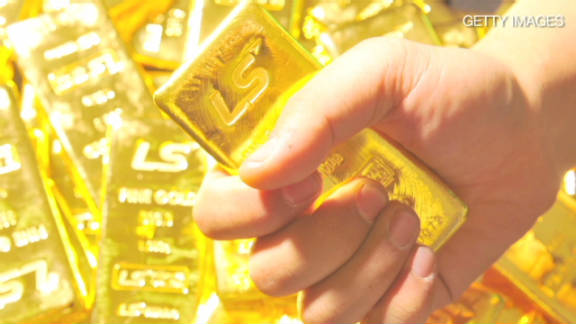 Explain It To Me: Gold
Gustafson dreams of finding "nuggets," the chunks of gold that other prospectors still sometimes discover in this mountain-ringed valley, a century after the first prospectors arrived here.
A few minutes into the dredging, Gustafson points out what he calls "the color" or small gold flakes glinting back at him from the sediment.
"If you get in a good area and find some pieces you can find an ounce fairly fast," he said.
That ounce can bring gold hunters as much as $1,800. Pumped up gold prices and the popularity of reality TV shows on prospecting fuel what Chris Brawn calls "the new Gold Rush."
A fifth-generation miner, Brawn said he would prospect regardless of the price of gold. Already Brawn is busy instructing the next generation, his son, in the family trade.
"He started at 3 years old and learned to stand looking in the dredge, getting gold," Brawn said, ever the proud father.
Brawn teaches amateur prospectors how to find gold and sells them the gear and rents them access to the "claims," the land where they can try their hand at mining.
He said he has seen a sharp increase in clients as the price of gold skyrocketed.
"The most common question I get is, 'What's the biggest piece of gold you have ever found?" Brawn said with a wide grin. "The next one is, 'Where is the gold?' "
Gold wedding bands dumped for cheaper ones
Even if they don't know immediately how to find or excavate the gold, Brawn said his students are serious about prospecting.
"They are trying to make a living at this," he said. "Some people do, some people don't but there's a lot of color left out there."
Like many prospectors, Brawn rejects charges made by some environmentalists that prospectors damage the natural surroundings where they hunt for gold.
Brawn said miners often pull trash from rivers and leave areas cleaner than they found them.
Prospectors, he said, worry they are getting a bad rap and are concerned about movements in several states to ban some of the techniques small miners use.
According to Brawn, prospecting is no longer just for "old, gnarly miners," the hardscrabble frontiersmen who settled the lawless wilderness during the 1800s.
Gold mining, Brawn said, has become a family outing in the tough economy, a way to get kids outdoors and generate a little extra income.
"People have lost their second homes or can't afford to fly to their time shares. They're looking at this as their next vacation," Brawn said. "It's a great way to get out of the office, get your phones turned off and get in the creek with your family."
Asked about the pistol he carried in his shoulder holster, Brawn gives "a no big deal" shrug.
"That's just for the bears and cougars," he explained.
On a recent weekend, novice and expert prospectors gathered in a field near one of Brawn's claims for a "Miners Rally" held by the Washington Prospectors Mining Association.
Under the pine trees, metal detector experts conducted workshops, teenagers raced each other in sediment-sifting competitions and prospectors swapped the latest intelligence on where to find the gold.
Soaking up the atmosphere were Sandy and Jeff Smith, a retired couple just starting to prospect.
Sandy's reasons for wanting to prospect included a love for the outdoors and not wanting to "sit around the campsite knitting."
It's a great way to get out of the office, get your phones turned off, and get in the creek with your family.
--Chris Brawn, fith generation gold miner
Her husband Jeff's answer was more complicated and involved the London Stock Exchange, Chinese government and various international conspiracies.
"There's a huge demand for gold at this point because it's stable," Smith said "Paper money looks like its on the way out. People just don't have confidence in it anymore."
The couple's hadn't found much gold so far but, they said, were still enthusiastic prospectors.
"I'd rather spend time doing this kind of hard work than other kind of hard work," Sandy said. "Even if it just pays for the gas."
Veteran miner Andy Herndon also took in the rally, his left hand tightly clutching two gold nuggets he estimated were worth thousands of dollars.
He and his mining partner found them, he said, after breaking and sifting tunnel walls of a century old mine. The gold pieces are smooth and cool to the touch with a nice weight to them.
Herndon said to take advantage of the record high gold prices and sell the nuggets now would be a sweet reward.
But nothing, he said, compared to the moment a prospector feels when he first spots "the color."
"Find a $5,000 nugget and that's quite a thrill," Herndon said. "Time to go to town and have a drink."
FOLLOW THIS TOPIC