Postal Service proposes closing hundreds of mail-handling facilities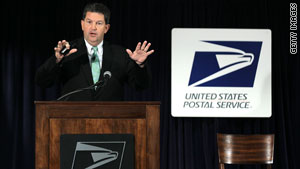 Postmaster General Patrick Donahoe discusses the proposal at Postal Service headquarters in Washington on Thursday.
STORY HIGHLIGHTS
NEW: First-class mail may take longer
The U.S. Postal Service proposes cuts in its distribution network to match lower volume
A list targets facilities that could be closed or consolidated
A smaller transportation infrastructure could mean loss of 35,000 jobs
Washington (CNN) -- Hundreds of mail-handling facilities have been named in a shutdown list released Thursday by the U.S. Postal Service as the agency tries to cut massive red ink.
The potential closings are the latest chapter in a fundamental overhaul of the agency that may also mean closing thousands of smaller post offices across the country, and cuts in tens of thousands of Postal Service jobs in years to come.
It may also result in a slightly longer time for the delivery of first-class mail.
"It is no exaggeration to say that we are radically realigning the way that we process mail, the way that we deliver mail, and the way that we operate our retail network," Postmaster General Patrick Donahoe told reporters at a Thursday briefing.
The latest list targets 252 processing facilities and related "network transportation," as the Postal Service calls its distribution system, which now consists of 487 facilities.
Could your post office be in danger of closing?
"Our immediate goal is to reduce our total costs by $20 billion by 2015," Donahoe said, including $3 billion in anticipated savings from the facilities realignment announced Thursday.
Each facility on the list has a workforce of between 50 and 2,000 employees. Donahoe said it's hoped that the reduction in the workforce will come through attrition, not layoffs. To bolster that hope, he cited the successful reduction in the postal payroll in recent years of a quarter million workers, without layoffs.
And, as with an earlier list of several thousand small post offices slated for closure, officials say there is a review process with standardized criteria that will determine the ultimate fate of the sites on the facilities list.
Donahoe said Thursday that more than 20 of those post offices have since been taken off the proposed shutdown list, after a review determined the community had no acceptable alternatives.
With the proposed change in mail-handling facilities, postal officials say customers can expect a first-class letter to take two or three days to be delivered, instead of the one-to-three day standard the existing delivery system was designed to meet.
Postal Service Chief Operating Officer Megan Brennan told reporters the agency's huge deficit prompted a change in thinking in 2006, going from a strategy of staying ahead of growth in postal volume seen in the 1970s, to now staying ahead of costs as that volume declines.
Donahoe said it's possible the cost of first-class postage, now at 44 cents, could go up next year to help the revenue stream. He told Congress last week the steps the Postal Service is taking should restore profitability by 2015.
Thursday he repeated what he told lawmakers -- that the Postal Service has a dire cash crunch, and will not be able to make a $5.5 billion dollar payment to a health benefits fund for future retirees that was due at the end of this month. But, he said, the administration's 90-day extension buys time for Congress to allow the Postal Service to shift a surplus in that health benefits fund to help cover expenses elsewhere.
He declined to speculate on what would happen if Congress fails to act.
FOLLOW THIS TOPIC