FBI searches bankrupt solar energy company touted by Obama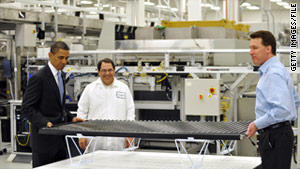 President Obama lifts a solar panel with Solyndra CEO Chris Gronet as Ben Bierman, an executive vice president, looks on.
STORY HIGHLIGHTS
An FBI official confirms the raid at Solyndra offices in California
The company recently filed for bankruptcy
It received a government loan and a visit from President Obama
(CNN) -- FBI agents on Thursday were searching the offices of a California solar energy company touted by President Barack Obama that recently halted operations, FBI spokesman Peter Lee confirmed to CNN.
Search warrants were executed at the Fremont, California, offices of Solyndra, which recently filed for bankruptcy, in a joint operation involving the FBI and the Department of Energy, Lee said.
Solyndra received a $535 million government loan guarantee from the Obama administration under the stimulus bill of 2009, and the president visited the company last year to demonstrate his support for alternative energy sources made in the United States.
Congressional Republicans have called for an investigation of the government loan to Solyndra, questioning if political favoritism was involved.
Last week, the company said in a statement that it was hurt by reduced demand for the solar panels it produces and strong competition from overseas rivals. Some U.S. officials have cited China's subsidies for its solar industry as a major factor in Solyndra's difficulties in competing.