STORY HIGHLIGHTS
The only thing that Nichelle Bielinsky could recover was her music basket
Nichelle and John Bielinsky say they will rebuild
Their home appears to have melted
Austin, Texas (CNN) -- You could practically see her heart pounding out of her chest, with every step she took. Nichelle Bielinski was allowed past the barricade to take her first look at what she already believed.
Her home was gone.
"I don't know how I'm going to react when I actually see it and stand in front of it," she told CNN as she approached her house.
"When it's on television it almost looks like a movie, but this is real life," she said.
She arrived at the house, and appeared to lose her breath. With a tear in her eye, she appeared shaken, and her voice began to crack when she realized the only thing that was left were the now-blackened oak trees in front of the house.
"I'm all right," she said.
Deadly fires sweep through central Texas
"I am the luckiest person in the world. My family is safe."
Her house appeared to have melted. What was once a solid brick two-story, four-bedroom house was now a pile of unrecognizable ash.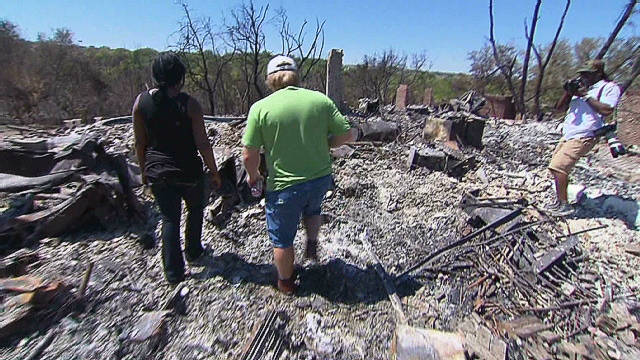 Returning home to nothing but ashes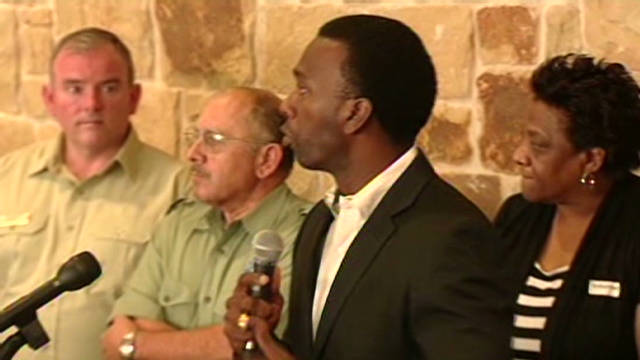 'This is time when Texans step up'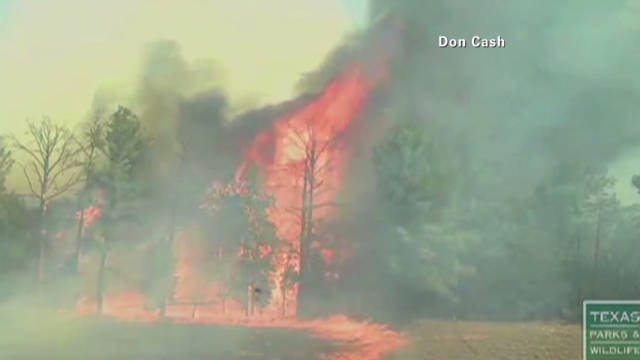 How fast can a wildfire burn?
Smoke was still rising from the smoldering fire that used to be her living room.
"You wouldn't believe this was a two-story home," said John Bielinski, Nichelle's husband.
"Look what it did to the brick. I can't believe it," he said.
The couple sifted through the rubble looking for anything that they once knew and loved.
Down the street, the couple's music school was still standing. But inside the house, the baby grand piano had dissolved into warm piles of ash, along with almost everything else that used to make the house a home. A pile of muddy, warm, melted drywall appeared to be absorbed into the bricks of the home that they'd lived in since 2001.
The blaze, known as the Steiner Ranch Fire, one of several wildfires scorching Texas, appeared to cruelly and indiscriminately single out homes for destruction, leaving others to stand untouched. The Bielinsky home was one of 24 destroyed in their neighborhood.
Thirty others were damaged. Firefighters were able to protect another 300 in the area burned by the Steiner Ranch Fire.
But escaping unharmed was a miracle in and of itself.
"There was a lot of ash and the skies started to darken," Nichelle Bielinski recalled.
The couple and their 6-year-old daughter saw the fire speeding over a nearby canyon ridge, and didn't have time to take much.
"My daughter grabbed her favorite pillow. I got the cat and a laptop, and we got in the car and left," Nichelle Bielinski said.
"We got ourselves out. Everything's gone. We have no pictures. Everything's gone. We got out with what we were wearing, and our cars, and our family."
The only thing that Nichelle happily salvaged from the ashes was a metal basket that somehow survived the raging flames -- although charred.
"One of my music students gave it to me. There's a melted light bulb in it, though," she said.
But it was all that she could find, and she was happily taking it with her. The Bielinskis have insurance. They say they will rebuild their home, and will live again with the neighbors that have given them 11 years of love and friendship.
"We used to spend Halloween here every year," she smiled.
"White-bean chili and Halloween memories," she laughed.
"We'll have to figure out where to do it this year," she wondered aloud to her friends.
"We can probably do it right in front of my house. It's spooky enough."
FOLLOW THIS TOPIC