STORY HIGHLIGHTS
Texans face difficult choices when fires force them to evacuate
More than 1,000 homes have been burned since fire season began in November
Many more homes have been evacuated
Are you there? Share photos, video, but stay safe.
(CNN) -- Shannon Lilie had five minutes to flee her home, but she was frozen.
As a wildfire inched closer to her Austin, Texas, neighborhood, she could not decide what to take with her.
Her 6-year-old son appeared, carrying a bag and crying. He had stuffed his favorite toy inside and needed her help in picking others.
But they had only five minutes to evacuate. Dark smoke hung ominously outside.
"I have played this in my mind many times. 'What would I take from my home if there was a fire,' " Lilie said. "Now it was really happening, and I did not know what to do."
Such are the difficult choices forced on thousands of Texans by the fast-moving wildfires in Texas. Since November 15, more than 1,000 homes have been lost to wildfires in Texas -- 476 of them in the past two days as a consequence of the Bastrop County fire that forced Lilie and her family from their home.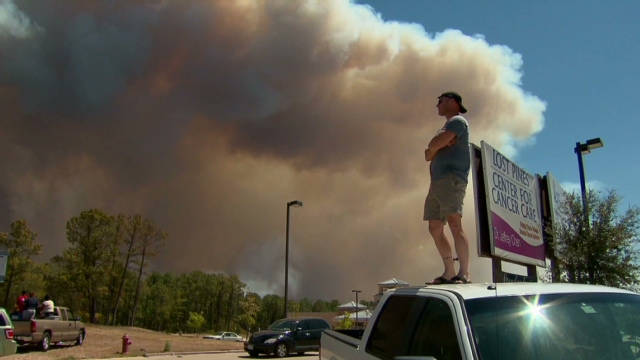 Texas resident: 'God help us'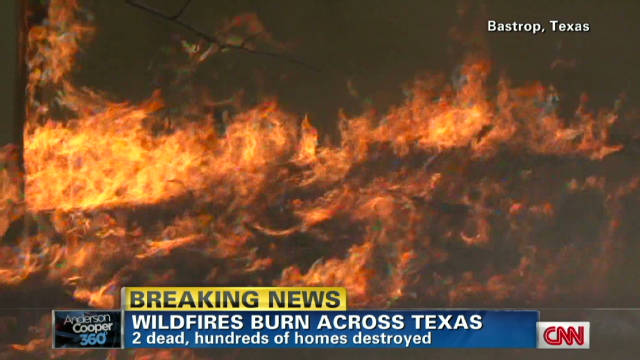 Waiting for the wind to die in Texas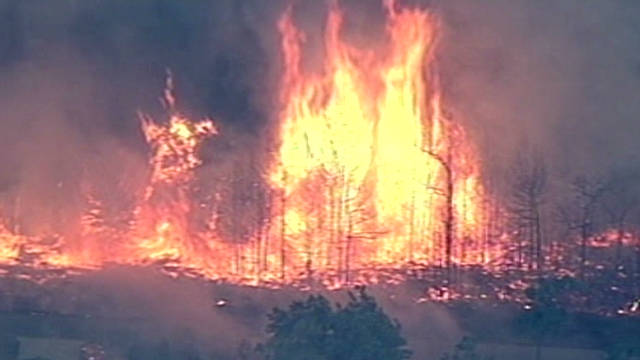 Wildfire prompts evacuations in Texas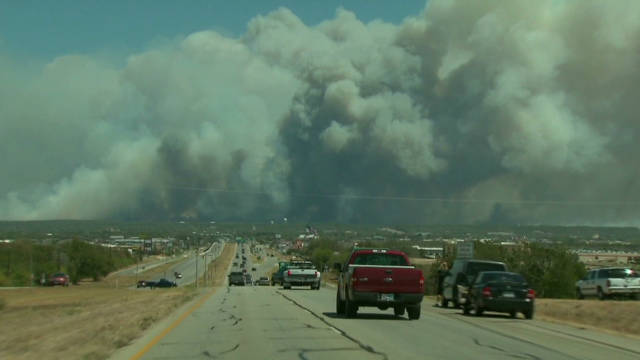 Wall of smoke dominates Texas skyline
At 25,000 acres, it is the largest of the dozens of fires burning Tuesday in the state, according to the Texas Forest Service. Another fire killed a mother and her 18-month-old child Sunday when flames engulfed their mobile home near Gladewater, officials said.
Lilie said she got her wits about her, helped her son grab his baseball uniform and cleats, and -- with the help of her family -- packed their car with a computer, photo albums and other items.
She fled the fire through the Steiner Ranch subdivision in Travis County to the home of a family member.
Not far away, Roger Cosby was taking a nap when his companion of nine years, Cindy Boyd, smelled smoke.
"Roger, we have to go now, we have to go now," Cosby recalled Boyd saying. The house was on fire.
Cosby says quickly jumped into their car with a few belongings and sped down a long driveway. Flames surrounding them on both sides.
"It was like opening the door of an oven," Cosby says.
They likely lost everything, Cosby says, from the house and all that was in it to six acres of trees surrounding the home.
They'll go back soon to survey the damage. But they aren't likely to rebuild, Cosby says.
"It's all gone. There is no way anything could be left," he said,
Drew Sanders' evacuation story was less scary.
The head football coach at Vandegrift High School in Austin, he was sketching out the plan for this week's game when his wife called and said they had to evacuate. Now.
"I almost laughed," Sanders said. "Evacuate from what?"
Then he realized his wife wasn't kidding. He came home and the couple scooped up birth certificates, baby books and their three children, aged 3, 8 and 10. Then they headed for a hotel.
The youngest kids have enjoyed their mini-vacation, swimming in the hotel pool.
The 10-year-old is more concerned, Sanders said.
A few of his players and dance team members have lost homes, Sanders said. But he thinks his home is OK. It's tucked in the back of the Steiner Ranch subdivision where a couple dozen homes burned to the ground.
But it's helped answer a question he's often asked himself when confronted with news coverage of evacuees from the latest natural disaster itching to get home. Why, with all the danger around, are these people so eager to go back home?
Now he knows.
"You don't realize how important home is to you until you can't walk into that door," he said. "It's a very unsettling feeling."
CNN's Lateef Mungin and Mike Pearson reported from Atlanta. Eric Fiegel reported from Bastrop.
FOLLOW THIS TOPIC