STORY HIGHLIGHTS
Baltimore expecting 100,000 people for this weekend's IndyCar race

Mayor Stephanie Rawlings-Blake says event could bring in more than $100 million this year

Mayor says she hopes race will be game changer for the city

Tourism is the fourth-largest industry in Baltimore

Baltimore, Maryland (CNN) -- More than 100,000 people are expected to descend on downtown Baltimore this Labor Day weekend to see drivers from around the world -- like Danica Patrick, Marco Andretti and Will Power -- compete in the inaugural Baltimore Grand Prix.
It's the first in a five-year series of IndyCar races that city and race officials hope will put it on the map for worldwide racing fans, attract tourists and spur economic growth and job creation in a city where the unemployment rate has been above the national average all year -- and has been stuck at around 11% in recent months.
"It's an exciting time for Baltimore," Mayor Stephanie Rawlings-Blake said during a tour of the IndyCar paddock. "Usually this is a slow weekend. Labor Day weekend is usually the last weekend at the beach, but now we've made Baltimore the destination."
It took city officials and race sponsors more than two years to bring the race to Baltimore, where a two-mile loop will run through downtown streets and along the Inner Harbor. IndyCar officials say the Grand Prix is important to building the race's brand and exposure. The last new city to be added to the IndyCar lineup was Sao Paulo, Brazil.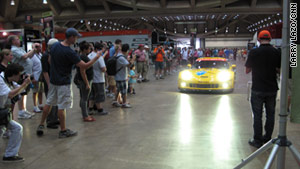 Fans get ready during pre-race celebrations for the inaugural Baltimore Grand Prix.
"We have a lot riding on this event," said IndyCar CEO Randy Bernard. "This event has so much impact to our sport and showcasing what we want to do that we don't have all our eggs in this basket, but we sure have a lot of them."
The city of Baltimore spent about $6 million in federal transportation funds to repave the streets in preparation for the race. Rawlings-Blake said the Grand Prix was expected to bring more than $11 million into the city's general fund over next the five years and could bring in well over $100 million this year alone to the city and to local businesses combined.
"When the hotels are full, when the restaurants are booked, that means people have jobs and it's not just in those restaurants. It's a ripple effect throughout our economy," she said. "I'm excited about what this means, not just for this year, but for years to come."
Tourism is the fourth-largest industry in Baltimore, and Rawlings-Blake said she was always looking for ways to grow jobs and boost the economy. She said the race had the potential to be a game changer for the city.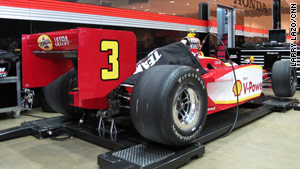 Indy driver Helio Castroneves' car is on display.
Grand Prix weekend began on Friday, when drivers were able to take practice runs around the new track and take part in qualifying rounds for the later events. Fans began packing the site early, lining up to buy local food and official race merchandise and hoping to see the first cars take a spin around the course.
The two-hour Le Mans Series race of sports cars like Ferraris, Jaguars and Corvettes was set for Saturday, and the IndyCar race, the main event, is on Sunday. In that race, drivers will take 75 laps around the track.
For Brazilian IndyCar superstar Helio Castroneves, who has been racing with Team Penske for 12 years, the Grand Prix presents a unique opportunity. Cars will reach up to 160 mph in a place that's not accustomed to this kind of speed.
"We're running exactly the place your car is running on every day, you know, from 9 to 5, you're riding downtown to work," he told CNN during an interview on opening day of the three-day event. "But you're going about 35-40 miles an hour. We're going the same place 160 miles an hour, so that's why it's so cool and hopefully people see that."
Fans lined up outside Castroneves' trailer to watch his team prepare the more than $250,000 car for the race. The Sao Paulo native, who is also a 2007 winner on ABC's "Dancing with the Stars," signed autographs and told fans he could not wait to get out on the track.
"This is going to be a good show," he said.