STORY HIGHLIGHTS
Despite all the fountains, Las Vegas is a water conservation success story

The city has "water cops" to police for illegal lawn watering

The water district will pay residents to yank out grass and put in cactuses
Las Vegas (CNN) -- At first glance, it's pretty easy to say Las Vegas has an unhealthy water fetish. There's the 22-million-gallon Bellagio fountain, which rockets dancing cylinders of well water 500 feet into the air to the tune of "God Bless the USA." There's the liquid volcano at The Mirage, where water seems to bubble like lava. And, finally, the blue canals inside (inside!) the Venetian hotel, where water buoys gondolas for the amusement of gamblers and tourists.
Keep in mind that this city is in the middle of the Mojave Desert, one of the hottest and driest places in the world.
Step off reality-defiant Las Vegas Boulevard with its neon-soaked casinos and lavish "water features" and you'll find a place that gets only 4 inches of rain in an average year -- where the air is so dry that tourists keep lip balm and eye drops close at hand to avoid getting "lizard lips" and, generally, having all life-giving moisture vacuum-sucked right out of them. It's a place where workers plant rocks instead of vegetation beside the roads, because you don't have to water rocks, and water is one resource this manufactured oasis certainly doesn't have in spades.
Throw in a population boom, record drought, and climate change that scientists say will make such droughts more common in the future, and you've got the recipe for a water obsession that threatens Vegas' very existence.
Lake Mead, the city's main source of water, could dry up completely as soon as 2021 -- only 10 years from now, according to a 2008 report from the Scripps Institution of Oceanography.
Stop by the lake's shore and you can already see this happening. There's a giant, white, toilet-bowl-like ring around the edge of the lake where the water used to be.
Meanwhile, Vegas was the third fastest-growing metro in the fastest-growing state in the country from 2000 to 2010, according to new data from the U.S. Census Bureau.
More people usually means more water consumption.
Yet, despite all this -- and perhaps because of it --Vegas has emerged as one of the United States' most unexpected water-conservation success stories.
Average water use per person has dropped about 30% over the past decade, for instance. Total water use has risen only slightly -- from 482,000 acre feet in 2000 to 489,000 in 2010, for the water district in southern Nevada -- despite the population increases.
This place of excess has had to learn some hard-fought lessons in modesty and conservation to make that happen, water officials say. These lessons changed how neighborhoods look, and how residents spend their money. But it's especially important because the U.S. population is generally moving away from the water-rich northeast and toward the perma-parched southwest.
Here's a look at how they did it: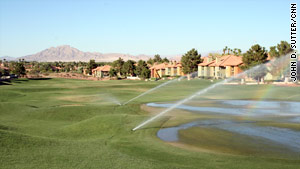 Fountains on the strip aren't the big problem, the local water authority says. Grass is.
Step one: Identify the culprit
The casinos with their splashy fountains aren't the real water wasters, since only 7% of the city's water goes to hotels and casinos on the Vegas strip, said Doug Bennett, conservation director at the Southern Nevada Water Authority.
The real bad guy? Lawn grass.
So that's exactly what the local water authority has targeted.
Las Vegas actually pays people $1.50 per square foot to yank the grass out of their yards. Some people use big machines called "sod cutters" to chop the grass into strips, which are then rolled up like a cinnamon bun and carted away. Others people just decide to stop watering. After all, grass here "turns to hay" -- meaning it shrivels up and completely dies -- in less than a week if it doesn't have an artificial water source, said Chris Courtney, who owns a landscaping business in town.
An average square foot of grass here requires 73 gallons of water in a year, said Bennett, of the water authority. That's nearly two bathtubs full of water for every square foot of grass. Drought-tolerant plants, by contrast, use less than a fourth of that amount. And there are other alternatives -- like high-end Astroturf or rock gardens -- that don't use any water at all.
So far, the water authority has paid to turn 154 million square feet (about 5.5 square miles, or a sixth of Manhattan) of grass into desert landscape. Overall, the group has spent $200 million on water-efficiency programs since 2001.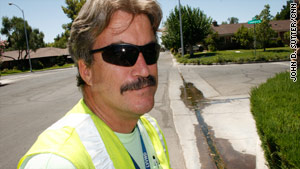 Kevin Perry's official title is "waste water investigator," but he's known around town as the "water cop."
Step two: Hire 'water cops'
Kevin Perry hit the brakes on his pickup.
He'd spotted the enemy: A trickle of water coming out of sprinklers and making its way from a Las Vegas lawn onto the curb and -- gasp -- all the way into the street gutter.
That's illegal here. And something Perry normally would have video taped for evidence, and then written a ticket for -- had the sprinklers not shut off before he could get there.
Perry, whose formal title is "water waste investigator," but who is known around town as a "water cop," spends his days driving through Las Vegas neighborhoods looking for such offenses. He also checks out calls to a 24-hour hotline where neighbors can rat each other out for overwatering, or for watering on days or times when the practice is banned.
Fines start around $80 but can skyrocket into the thousands for repeat offenders.
Perry said his friends think it's funny that he's a water cop. "They want to know if I've got a badge and a squirt gun," he said.
But he sees this as serious work. The city's future depends on it.
"We could absolutely serve hundreds of thousands of new people if the mindsets change," he said.
The programs appear to be working. An average Vegas resident 10 years ago used 315 gallons of water per day. Now that number is down to 223, according to data provided by the water authority.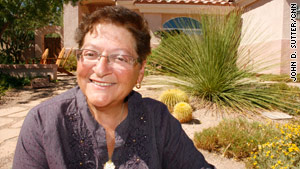 Karen Luksich won a recent contest for water-efficient lawns. Hers is full of low-water desert plants and rocks.
Step three: Remind people they're in a desert
Karen Luksich, a transplant to Vegas from Indiana, tried for years to make two water-hungry, flowering shrubs grow in her front lawn here.
But the 115-degree heat and the salty soil turned them crispy brown, year after year.
Eventually, in a huff, the 71-year-old tied steel cables around the plants, then yanked those suckers out of the dust-dry earth with her pickup truck.
Cut the Midwestern roots, she decided. She was a desert woman now.
Part of Vegas' transformation to a more water-friendly place has been psychological.
People have to remember they live in a desert, not a rainforest, as the strip would have them believe, said Nicole Lise, spokeswoman for the water authority.
"The strip," she said, "is all about fantasy. We don't live in a fantasy."
Luksich has done a full 180-degree shift since fiddling with those shrubs. Her lawn -- which includes fuzzy cacti known as "teddy bears" and a plant whose tiny white seeds are supposedly used to cure lust -- won a recent award for its beauty and its water efficiency. There's no grass to be found, only rocks as groundcover.
In all, she yanked out more than 1,000 square feet of grass and temperate plants. And she got a green-colored T-shirt. It says: "I lost my grass in Vegas."
It only makes sense to use desert plants in a place like this, she said. "You have to get a jackhammer to plant a tree here," she said. "You have no idea how rocky this soil is. It's not like Atlanta. You can't just stick a shovel in and make a hole.
"It's not for the faint hearted."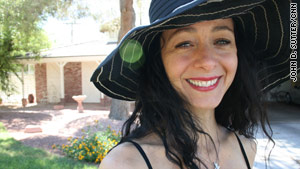 Maggie Amador has been ripping grass out of her lawn in part because her water bill is so expensive.
Step four: Charge for lavish water use
Water isn't just scarce in Vegas. It's expensive.
That's something Maggie Amador, 45, knows all too well. Even after taking out about half of the grass in her lavish suburban lawn, she still pays $390 a month for water -- down from about $800 per month before she made the changes.
The city has adopted a tiered pricing structure for water. Residents pay $1.16 per thousand gallons up to a point, so that everyone has water for necessities like drinking, bathing and doing dishes. But the more you use, the higher the rate gets, up to a maximum of $4.58 per thousand gallons for people who use much more water. The amount depends on the type of water meter hook-up a given residence or business has.
That's a big deal for residents, but a bigger deal for businesses like golf courses, which can spend a third of their budgets on water bills alone.
Bill Rohret, superintendent of The Legacy golf course in Henderson, Nevada, has been yanking nonessential grass off the course and replacing it with desert shrubs to save money.
The changes save the company $120,000 per year, he said.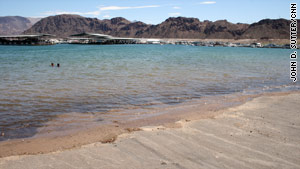 Lake Mead is Las Vegas' main source of water, but climate scientists say it could dry up as soon as 2021.
Step five: Plan for the future
Even with all the changes, it's not clear whether a growing Las Vegas -- or other dry cities like Phoenix and Los Angeles -- will be sustainable in terms of water.
"With the water that they have, (Las Vegas) can't go any further -- not prudently, anyway," said Tim Barnett, a climate scientist at the Scripps Institution of Oceanography who wrote the report on Lake Mead's declining water supply.
The local water authority, however, is confident the city can continue to save water as it grows. Ordinances now prohibit new homes from having any grass in their front lawns; only 50% or less of backyards are allowed to have grass or a pool.
The area is also looking to other, controversial water sources including an underground aquifer in northern Nevada. It could be used to supplement the water Vegas gets from Lake Mead and the Colorado River basin, since that's a supply it shares with other southwestern cities under a decades-old contract. That pipeline could cost up to $15 billion, according to a report from Hobbs, Ong and Associates, a consulting group.
Whether that happens, the city needs to keep trying to live on less, said Barnett of Scripps. He praised the region for recycling 60% to 70% of its water -- meaning that it is purified in an industrial process and sent back into the Colorado River system.
But Las Vegas is going to have to keep living on less, he said, especially as climate change makes less water available in the regional river system.
"It comes back to the word sustainability. I hear people use it, but most of the time they don't understand it," he said. "We're pushing the limits of what the climate can support."
Still of Las Vegas, he said: "They've been very innovative in what they've done."
FOLLOW THIS TOPIC