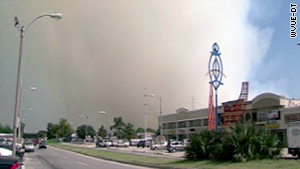 A marsh fire near Lake Pontchartrain blows smoke into the air in metro New Orleans on Tuesday.
STORY HIGHLIGHTS
Forecast calls for rain chances to improve
Those with respiratory problems are urged to stay indoors
A contained marsh fire burns in northeastern New Orleans
Louisiana declares an air quality precaution day
Are you there? Share photos, video but stay safe
(CNN) -- People with respiratory problems were urged Tuesday to stay indoors or take precautions as a large marsh fire in an isolated corner of eastern New Orleans continued to spread smoke.
"The impact is potentially on 1.4 million people," said Mayor Mitch Landrieu, who declared a state of emergency to manage the fire, which is contained in an area surrounded by water. Helicopters were sent in to attack flames and smoke.
The Louisiana Department of Environmental Quality declared an air quality precaution day.
"Air monitors in the New Orleans area have had readings of particulate matter ranging from normal to unhealthy," the department said. "These readings vary from location to location because of wind direction."
Those at risk include asthma and allergy sufferers. Students' outdoor activities were restricted.
"We have sufficient capacity to handle visits to emergency room clinics," said the city's health commissioner, Karen DeSalvo.
Emergency rooms have seen increased respiratory complaint visits because of the smoke plume, she said.
CNN iReporter Whitley Donsereaux, who urged officials to combat the smoke, said "the smell is so strong that it made me cough and my eyes water while in the car."
Landrieu on Tuesday flew over the fire, which is on private property in a part of the city often called "New Orleans East."
"The amount of smoke depends on the wind," he said.
Landrieu met with state officials to discuss options for fighting the fire north of Chef Menteur Highway and west of Bayou Sauvage National Wildlife Refuge.
The complexity of the fire and the inability to get heavy equipment to it may mean most of the acreage will have to burn itself out in coming days, the mayor told reporters. But the city and state were deploying nine helicopters to suppress the smoke and speed extinguishment, he said.
Rain would help the effort. While the area has only a 20% chance Wednesday, that will increase to 50% and 60% on Thursday and Friday, according to Bob Wagner, a forecaster with the National Weather Service office in Slidell. Chances are better over the weekend, with rainfall amounts of 4 to 6 inches possible over several days.
Winds will pick up Wednesday and Thursday, helping to dissipate and lift some of the irritating smoke, according to Wagner.
"It's certainly not going to go away until the fire's out," he added. Visibility will remain a problem in some areas.
More than 1,300 acres have burned, with an additional 1,000 acres likely affected. Officials said an August 24 lightning strike may have started the fire.
"The fire is in an extremely isolated area and poses no threat to citizens or property," according to the city. "Any inconvenience or discomfort suffered from smoke is determined solely by which direction the wind blows."
Landrieu reported a second small fire near the larger one.
CNN iReporter Lanson Bordelon, who lives near Audubon Park, said an adequate plan to fight the fire was slow in coming. "More and more people are aggravated with the response," said the law school graduate.
Bordelon, 29, said the smell was less irritating early Tuesday evening than earlier in the day. "It kept me indoors more than I want to be."
City Council member Jon D. Johnson said he awoke Sunday to his house being inundated by smoke.
"People in the community are very, very concerned and wanted to see the city doing something," Johnson said.
CNN's Joe Sutton contributed to this report.
FOLLOW THIS TOPIC