Muslim coalition calls for investigation of alleged NYPD surveillance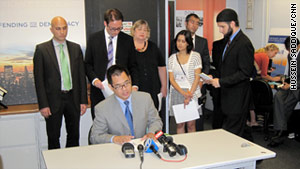 New York's chapter of the Council on American-Islamic Relations seeks an investigation of New York police.
STORY HIGHLIGHTS
Muslim leaders, civil liberties advocates lash out at reported NYPD surveillance on Muslims
Speakers at a news conference call for local and federal investigations
An NYPD spokesman labels the report on alleged surveillance "fictional"
Spokesman: "We're going to do all we reasonably can to keep New York safe"
New York (CNN) -- New York-area Muslims and civil liberties advocates called Wednesday for investigations and hearings after a report said that in the years since the 9-11 attacks, city police have carried out covert surveillance on Muslims with the help of the Central Intelligence Agency.
"We need the (New York) City Council to hold hearings and to investigate these revelations," said Ramzi Kassem, an associate professor of law at the City University of New York. He supervises CUNY's Creating Law Enforcement Accountability & Responsibility project, which aims to meet the legal needs of New York City Muslims affected by counterterrorism policies.
"We need the comptroller's office to audit the NYPD and figure out how much of New Yorkers' taxpayer dollars are going towards this rogue program, and we need the federal government to look into what are quite possibly very grave breaches of federal law," Kassem said.
Kassem was one of several speakers at a news conference at the Manhattan office of the Council on American-Islamic Relations (CAIR) held in response to the published report.
The report, by The Associated Press, alleged that the NYPD Intelligence Division dispatched CIA-trained undercover officers into minority neighborhoods to gather intelligence on daily life in mosques, cafes, bars and bookstores. It said the police have used informers to monitor sermons during religious services and that police officials keep tabs on clerics and gather intelligence on taxi cab drivers and food-cart vendors, who are often Muslim, in New York.
The NYPD blasted the report on Wednesday as "fictional."
"Even for a piece driven by anonymous NYPD critics, it shows that we're doing all we reasonably can to can to stop terrorists from killing more New Yorkers," wrote NYPD spokesman Paul Browne in an e-mail reply sent to the media.
"We're going to do all we reasonably can to keep New York safe," wrote Browne. "We do so in partnership with the FBI and other Federal agencies, and we uphold the Constitution in doing so."
There was no immediate response from the CIA.
Speakers at the CAIR news conference, meanwhile, were quick to respond with a call for investigations.
"What is so disturbing about the NYPD's activities is that (the NYPD) erroneously conflates engaging in lawful religious beliefs and practices and First Amendment-protected activities with support for terrorism," said Udi Ofer of the New York Civil Liberties Union. "This (alleged program) is a waste of precious resources, and it raises serious constitutional concerns."
In a news release, CAIR referred to the alleged activities as a "potentially illegal program" to monitor the Muslim communities in New York and New Jersey.
FOLLOW THIS TOPIC