Indiana State Fair collapse victim remains on life support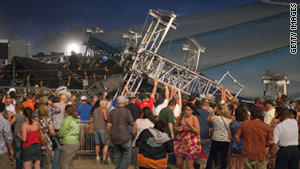 At least 40 people were injured in the August 13 stage collapse. The death toll from the accident is six.
STORY HIGHLIGHTS
Meagan Toothman, 24, is still on life support
The scaffolding collapsed as a storm approached the fair
Six people have died
(CNN) -- A 24-year-old woman who was injured in a stage collapse at the Indiana State Fair this month remained on life support Monday, according to the Marion County Coroner's Office.
Indiana police initially said that Meagan Toothman had died.
Her family issued a statement on their web page Monday saying surgery is scheduled for later in the day to harvest the woman's organs.
"Late last night it became apparent that our Meagan was no longer with us," the statement said. "The decision was made to allow her to be at peace. This afternoon she is scheduled for a surgery that will provide gifts of sight, health, and life to dozens who are in need."
The scaffolding collapsed during a storm just as the country music duo Sugarland was about to begin performing. The structure holding lights fell onto fans gathered in front of the stage minutes after authorities had taken the stage to warn the audience of an approaching storm.
The National Weather Service estimated winds of 60 mph to 70 mph were raking the area when the incident occurred.
Five people died in the immediate aftermath of the collapse. A sixth victim died on Friday.
FOLLOW THIS TOPIC