STORY HIGHLIGHTS
Donna Fairchild shot and killed her husband and herself on January 25

She was in the middle of a nasty race for mayor in Mesquite, Nevada

Her opponent, who was seeking re-election, accused Fairchild of filing a false expense claim

Fairchild was told she wouldn't be prosecuted if she never sought office again
Editor's Note: This story was based on two visits to Mesquite, Nevada, interviews with two dozen people and hundreds of pages of police and city documents obtained by CNN through a public records request.
Mesquite, Nevada (CNN) -- For best friends Donna Fairchild and Melanie Giarratana, lunch on Mondays was a time for girl talk and small-town gossip. There was plenty to discuss in late January as the women settled into their seats at The 19th Hole, a hillside restaurant popular with the locals in this resort town some 80 miles northeast of Las Vegas.
Fairchild, a two-term City Council member, was embroiled in political controversy after submitting a $94 expense report for a trip she didn't take. She had recently entered the mayor's race and was sure the incumbent, who was seeking re-election, was trying to kick her off the council and out of the running.
A retired internal affairs cop from Denver, Fairchild wasn't about to back down. She admitted her mistake but insisted it was an honest slip-up. She felt the mayor was using trumped up violations of the city's Code of Conduct to attack her integrity. And she was full of righteous indignation: Those jerks, how dare they? Surely people will see through this.
"Donna was her usual feisty self," Giarratana recalls. "Full of piss and vinegar."
Fairchild picked at her salad as she mentioned a nasty phone call she'd gotten from one of the mayor's backers.
"You know, you brought this on yourself," the caller said. She hung up on him, but his words still stung. After all, she'd said pretty much the same thing in an e-mail to a friend: "I never should have allowed myself that screw-up to give them ammo. Yes, a senior blonde (double whammy) moment, but I knew she was gunning for me."
Looking back, Giarratana wishes she'd paid more attention to the red flags.
"If you are in a fragile state of mind, this kind of comment can chew on you," she said, recalling how her friend had once spoken of a time 30 years earlier when she was depressed and suicidal after the breakup of a marriage.
After lunch, the women hugged and went their separate ways, anticipating a showdown at the next day's City Council meeting.
While she was at lunch, Fairchild had received an e-mail from the city, and the news wasn't what she'd hoped for. They were playing hardball: If Fairchild quit the City Council, she'd avoid a criminal investigation. But she could never again seek public office in Mesquite.
By evening, the City Hall gossip mill was buzzing. The mayor was getting her way. Donna Fairchild was resigning.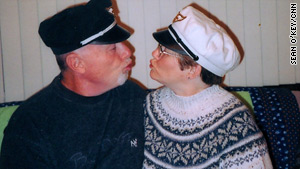 Donna and Bill Fairchild had seemed so affectionate that people called them Barbie and Ken.
But before she could quit, Fairchild chose another way out. She shot and killed her sleeping husband of 21 years, typed up a few goodbyes, and turned the gun on herself.
The murder-suicide rocked Mesquite to its core, and exposed the small town's mean streak. The backlash seemed to spare no one.
"This whole town has turned completely upside down," Giarratana said. "I don't know if Donna's death was the catalyst, but the mayor is gone, the police chief is gone, the city manager is gone and we have a new City Council."
Even the editor of the local newspaper lost his job.
People touched by the tragedy are talking about leaving Mesquite. Those still in town are left to wonder: How did this happen over $94?
Arrested development
Head north from Las Vegas on Interstate 15 across 80 miles of flat, brown desert and you can't miss Mesquite. It is built on the dreams of people from somewhere else, people like Donna and Bill Fairchild, a pair of retired Denver cops.
The dreams have always proved tough to fulfill. The first wave of Mormon settlers, including one man with five wives and 39 children, gave up in the 1880s after four years of trying to tame the flood-prone Virgin River. A second group of settlers established the outpost of Mesquite Falls in 1894.
Boom times began nearly a century later with the completion of Interstate 15, which connected Las Vegas with points north. Somebody put in a couple of poker machines at the truck stop. Soon casinos followed, including one built by the late entertainer and game show magnate Merv Griffin.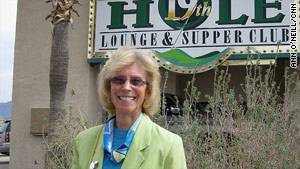 Melanie Giarratana had lunch with Donna Fairchild on Monday, January 24. Within hours Fairchild was dead.
The city incorporated in 1984 and drew up its master development plan during the early 1990s. The goal was to attract retirees by offering an alternative to Las Vegas. The Fairchilds were just the type of people Mesquite was trying to lure.
They'd met on the job. He was a homicide detective who earned a Purple Heart as an Army tank commander in Vietnam. She had been a radio reporter and paramedic before joining the force and working her way up to sergeant in Internal Affairs, supervising the cops who investigate other cops.
Both had been married before, so their 1989 wedding was a simple affair. The groom ironed his own shirt while the bride had her nails done. After a brief ceremony, everybody went back to their house for barbecue, according to relatives who attended.
Home movies from their Denver days show a trim couple living next to a church in a small, red-brick house. She wears a T-shirt tucked into tight jeans cinched with a leather belt around a waist tiny enough to make Scarlett O'Hara green with envy. She seems self-conscious on camera and fusses with her clothes. He smiles broadly and waves as he shows off a new motorcycle.
The couple drove through Mesquite during a motorcycle trip and liked the idea of spending their golden years in a place where the sun shines 330 days a year. They moved there when they retired from the Denver Police Department in 1999.
Mesquite's population was booming and by 2006, it was one of the fastest-growing small towns in America.
The Fairchilds settled into a new house in a gated community overlooking a golf course. Donna loved being able to play the nickel slots any time she wanted. Bill greeted folks at the front desk of the city's new recreation center, tinkered with the exercise equipment and occasionally let the kids in free.
He told co-workers he loved his new job. As a murder cop, he saw people at their worst. But at the rec center everybody was smiling because they were there to have fun.
"Just another day in paradise," he'd say.
But like so many other places, Mesquite began to struggle as the housing industry imploded and hard times came.
The hulking ghosts of the boom times, The Mesquite Star and The Oasis casinos, are shuttered now, with fading paint and empty parking lots. As its corporate owner tries to emerge from bankruptcy, the big lights outside The Oasis still offer the $5.99, all-you-can-eat roast beef buffet to travelers. But now the feast is nothing more than an empty promise.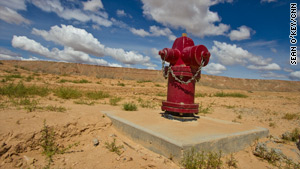 Mesquite was in the middle of a building boom when the recession hit. Now, sidewalks and ultilities serve vacant lots.
"No matter which exit you come off, you're greeted by a dead casino," said Morris Workman, who until recently covered City Hall as editor of The Mesquite Local News.
Even the city's anticipated growth proved to be a mirage. After years of recession, the official U.S. 2010 Census count is 15,277, still almost double what it was a decade ago but far short of the 20,440 Mesquite claims on its website.
"Either we managed to drive away 6,000 people or that number is a fantasy," Workman said.
But Mesquite isn't one of those foreclosure ghost towns that blight other parts of Nevada. It seems more a case of arrested development. Newly paved streets lead nowhere. There is an empty, half-baked feel to the place.
If Mesquite's stunted dreams dampened the Fairchilds' enthusiasm for their new city, they didn't show it.
Donna served two terms on the City Council before deciding to run for mayor. Her circle of friends included four career women who called themselves "the power bitches."
And, the Fairchilds had each other. They acted like newlyweds, kissing and holding hands in public as they bantered playfully. People compared them to a retired Barbie and Ken.
Bill Fairchild adored his wife. His eyes lit up when she walked into the room and he followed her around like a puppy dog.
"My little blond lady," he called her.
She seemed to have a lot in common with her adopted city: limitless ambition, civic-mindedness, a preoccupation with appearances and a cheery, can-do attitude that masked any trouble that might lurk below the surface.
One particular trait -- a distaste for anything that reflected badly on her -- may have led Donna Fairchild down a path of self-destruction.
'Silly season'
Mesquite has never re-elected an incumbent mayor, and Susan Holecheck was determined to change that in 2011. She faced three challengers -- City Councilman Dave Bennett, political newcomer Mark Wier, who works for the phone company, and Fairchild.
Politics can be a bruising contact sport in Mesquite. Hyperbole, name-calling and mud-slinging become the norm during "silly season," as locals call the springtime municipal elections that come every two years. Political memories are long and old grudges are carried over.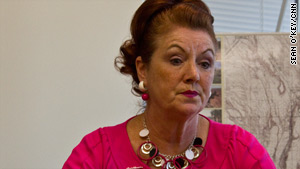 Susan Holecheck won office after a nasty election but failed to end Mesquite's long streak of single-term mayors.
Ever since the 2007 mayoral race, Mesquite's political house has been sharply divided. Some back the old mayor, Bill Nicholes, who was pushed out of office amid rumors of an FBI corruption investigation. Others back the winner, Holecheck, who defeated him by fewer than 200 votes.
Fairchild was allied with the Nicholes camp and never warmed up to Holecheck. Fairchild spoke her mind, while Holecheck liked to maintain order with liberal doses of positive spin.
Holecheck said Fairchild was cold to her: "She tended not to be as friendly to me. When I became mayor, I tried to work really, really hard with her. ..."
Fairchild's friends say she complained that Holecheck talked down to her.
If personality conflicts were at play in the background, the council put up a united front, with unanimous votes on nearly every issue.
Holecheck said she didn't feel threatened by Fairchild's candidacy, and it soon became apparent her rival's campaign was in trouble.
The controversy began when Fairchild told a newspaper in early January that she wasn't sure Mesquite was "getting a bang for its buck" from the Nevada Development Authority. She represented Mesquite on the agency's board, and the city paid the $7,500 a year to the development authority to promote its business interests.
Her remarks triggered an irate e-mail January 11 from the agency's president. Somer Hollingsworth asked Holecheck to replace Fairchild on the board and observed, "Perhaps we could have talked this out if she'd only come to our January 4 board meeting."
Holecheck assigned the city attorney to look into the matter and learned Fairchild had submitted a mileage voucher for travel to the meeting, but Nevada Development Authority records revealed she did not attend.
Holecheck said she confronted Fairchild in a conference call: "I called her on the phone and asked 'What happened?' The city attorney said, 'Did you do this?' There was a pause and she said, 'Yes.' And then she did say to the city attorney, 'Can we make this go away?' "
City Attorney Cheryl Truman Hunt wrote a memo dated Tuesday, January 18, to the mayor and City Council accusing Fairchild of violating the Code of Conduct by filing a false expense report and badmouthing an agency that did business with the city.
Fairchild was summoned that day to a meeting at City Hall. When she walked in, the mayor, city attorney and other council members were waiting for her. It felt like an ambush.
"They all ganged up on her," Giarratana said. And so, Fairchild walked out.
It must have been an excruciating event for a former internal affairs cop who valued her reputation for honesty above all else. But Fairchild squared her shoulders, accepted hugs and words of encouragement from her husband and friends, and vowed to fight.
By now, it no longer was about just $94. Fairchild's integrity had been questioned, and her reputation smudged.
"She's an ex-cop and when you understand how an ex-cop feels about people who do such things, she couldn't handle being thought of that way," said Douglas Law, who was police chief at the time.
There are plenty of people in Mesquite who believe Fairchild was targeted for a "political hit." They include Nicholes, the mayor Holecheck ousted from office. Nicholes felt bullied during the 2007 race and believes Fairchild fell victim to the same political dirty tricks.
"I think it was an abuse of public powers," he said. "It's going to take a long, long time for the city of Mesquite to get over the last two elections."
He confirms the FBI investigation took place and has his own suspicions about the source of the leak. He was not charged with a crime.
Bob Shively, a retired medical sales executive from Rochester, Minnesota, spends winters in Mesquite and fancies himself a behind-the-scenes player. He switched sides from Nicholes to Holecheck in 2007 and is one of her staunchest defenders.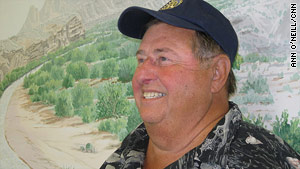 Bob Shively was Mayor Susan Holecheck's biggest booster. He denies calling Fairchild to taunt her.
"As soon as she got elected, they were trying to drive her out of office," said Shively, who was honored as Mesquite's Distinguished Citizen of the Year in 2008. "It bothered them that we snatched victory from their beloved Bill Nicholes."
Shively admits making the phone call that upset Fairchild. But he denies calling to taunt her, even if that is the way she took it. She was still talking it on Monday, the day before she died.
When news of Fairchild's transgression broke, it seemed to some other people that Holecheck was using a cannon to shoot a flea.
"She crucified her," said Buddy Morris, a friend who volunteered on Fairchild's campaigns. "I think she was muddying up someone who was running against her. What better way to get rid of your opponent?"
Holecheck denies playing petty politics, explaining that she did what she had to as mayor.
"Once I knew about the incorrect travel voucher, I took action," she said. "I thought about it, and the reality is I knew about it and if I didn't do anything, I would be complicit."
"This idea that we were going to pound her into the sand isn't true," she said. "Unfortunately, I got blamed for it all."
"I think sometimes people want me to be the Big Bad Wolf."
'It wasn't intentional'
"Mayor Accuses Fairchild of Wrongdoing in Reimbursement Flap," blared the headline in the online edition of The Mesquite Local News on Saturday, January 22.
Fairchild had tried to gain control of the spin, giving her side of the story to the editor, Morris Workman.
She said she filled out the expense form in advance, stuffed it in her purse, but didn't go to the meeting at the last minute because she had a cold. She submitted it by mistake, she explained.
"I screwed up. I admit it," she told Workman. "It wasn't intentional. It was a mistake, and I accept responsibility for that. Does it rise to the level of a criminal investigation? No."
Morris Workman covered City Hall for the Mesquite Local News. His contract wasn't renewed last spring.
Workman sports suspenders and a fedora and seems torn from another era, a time when newspaper editors were counted among the power brokers in town. Fairchild's story sounded crazy enough that he believed it.
The online news site Workman helped found in 2006 encouraged spirited discussion of local affairs through its reader comments. People who felt City Hall turned a deaf ear on them vented freely on the site. The Fairchild story touched off a firestorm.
An early posting threw down the gauntlet that brought in others critical of Holecheck and her campaign: "Where do I donate to Donna Fairchild's campaign? This is total bullying by the current 'Mayor.'"
Another post took readers back to 2007: "For those of us with short memories, this is EXACTLY, repeat EXACTLY, what Holecheck did in her mayoral campaign against former Mayor Nicholes. She starts slinging mud and making wild accusations of 'criminal activity.' "
But Fairchild took her share of the hits as well. Said one post:
"Let's see, I didn't attend the meeting nor did I make the trip, so afterwards I filed a claim for the mileage for the trip I didn't make. It is all a mistake. Mistake not making the meeting. Mistake thinking the city is too stupid to care. The taxpayers don't care if I take a little extra. Or the BIG MISTAKE, I got caught."
And another, "I agree that Holecheck is playing a very bad game and should or better be held for it. But so is Fairchild. ... Now she is caught stealing, and no one seems to care. They both must go, so the city can be turned around."
And still another: "Fairchild, a former police officer, submitted a FALSE document and expects to get off Scott-free? Come on. Where is her integrity? She needs to have the courage and RESIGN."
Read the original story in The Mesquite Local News
Workman believed Fairchild was a fighter and was surprised by her "extraordinarily upbeat" manner during their interview. Only later would it come to light how preoccupied she'd been with what people were saying about her.
'I'm so, so sorry'
How long had she planned it? That question haunts Donna Fairchild's friends.
Were the hugs during her last weekend meant to be goodbyes?
Adding to the mystery: Bill's brother and sister-in-law say she traveled to Denver to visit her mother a few weeks before she died. While she was there, she changed the beneficiary of her police pension from Bill to her mother.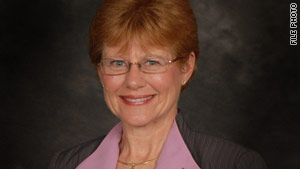 Donna Fairchild stayed up all night, preoccupied with online comments about her, then killed her husband and herself.
On Saturday night, January 22, the Fairchilds enjoyed an uproarious dinner at the home of Christi and Jim Kindel, who is a captain in the Mesquite's fire department. Christi Kindle once served as Mesquite's city attorney but had moved on to a law firm in Las Vegas.
"We just sat there and laughed ourselves silly," she said, recalling how they made plans to go on a cruise in the spring.
On Sunday, Buddy and Renee Morris ran into the Fairchilds during brunch at the Eureka, one of the casinos still open in town. "They gave us a big hug and she told us she loved us," Buddy Morris said. "She was going to fight."
On Monday morning, Fairchild fired off a quick e-mail to the city attorney, asking for clarifications on her options in the expense flap. She headed over to the rec center to work out with Bill, and people who saw them there say they bantered as usual. Nick Montoya, Bill's boss, recalls that she seemed fine as she left for her lunch date with Giarratana.
"I'm not a superpsychologist, but there were no signs of anything wrong," Montoya said.
But after that lunch, something happened that took the fight out of Fairchild. Giarratana believes somebody said something that pushed her over the edge.
"Why? Who did that? Who made that call and put those wheels in motion? I just don't know," she said. "I just think as simple as the word is, she was very hurt and apparently she was hurt more than you or I will ever know. If she was that desperate and in that much despair, why didn't she talk to me?"
Holecheck said she received word at about 9 p.m. that Fairchild planned to resign before the next day's City Council meeting.
"When I went to bed on Monday night, I thought everything was fine, and was going to be fine," Holecheck said. "How could any of this have been anticipated?"
Across town, Christi Kindle was still expecting her friend to fight back. "We all went to bed Monday night thinking it would be a fist-fight at City Council. We were all thinking, 'Here we go.'"
Fairchild stayed up all night, playing Internet poker and reading the comments about her in The Mesquite Local News, according to police. Sometime around 3 a.m., she shot her sleeping husband to death. She typed a suicide note, which she left in the kitchen, and a note to her mother, which she placed in a shoe box with her jewelry and $783 in cash.
She drove the box, secured by rubber bands, to Giarratana's house a few blocks away and left it on the doorstep. She returned home, and at 4:20 a.m. sent her an e-mail with instructions about what to do with the box.
"I know this will never make sense." she wrote. "Thank you for being my BFF."
Two minutes later, at 4:22, she e-mailed Christi Kindel: "You and Jimmy are awesome and I am sorry."
And then she dialed 911. "I'm so, so sorry," she said, her voice trailing off into a whisper as she hung up.
Police entered the house at 4:38 a.m. and found the lifeless couple in bed. He was nude, curled on his left side under the covers, facing the middle of the bed. His eyelids were dusted with gunpowder, indicating he was asleep when the 9-mm hollow point bullet pierced the side of his nose and entered his brain.
She was dressed in a blue sweater, gray sweatpants and purple Halloween socks and lay on top of the bedspread, with her back to her husband. One eye was open and her right leg was draped over the side of the bed. She had placed a Glock semi-automatic to her temple and fired as she rested her head on a pillow.
She clutched white Rosary beads in her left hand.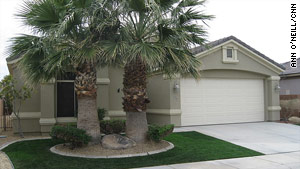 Police found the Fairchilds' bodies in the bedroom of their home in a gated community near a golf course.
Police found the suicide note on the kitchen island addressed "To whom it may concern." It gave instructions for what was to be done with their bodies and the Fairchilds' two cats but offered no words of explanation.
"I am so sorry for the disappointment I have caused all of you," she wrote. "I know this makes no sense. It never will."
There aren't many scientific studies about murder-suicide; those that do exist show that a man kills his wife and then himself more than 90% of the time. Romantic jealousy is the primary motive, but people who have been abused in the past and suffer a loss or a blow to their self-image can also be vulnerable, some studies show.
The friends she left behind may never know the darkness that drove Donna Fairchild to kill herself and take the life of the man who seemed to love her unconditionally. There appeared to be no health issues, no money troubles, no infidelity, no drugs, no alcohol. The strongest stimulants in her system were coffee and chocolate.
"Maybe we don't want to know," said more than one of her friends.
'It all seems so petty now'
Buddy Morris wouldn't let Mesquite forget. Every other Tuesday afternoon, he and his wife, Renee, pulled on T-shirts memorializing Donna Fairchild, drove the mile or so to City Hall, and sat in the front row at the City Council meetings.
"We get some dirty looks, I'll tell you," he said.
Their stoic ritual began in February and continued until Mayor Holecheck left office at the end of June after losing the election.
Holecheck knows she is blamed by some people for what happened and said she has received death threats.
"There are still people who walk up to me and say they think I caused it, and that will probably stay in my heart for a long time," she said. "These are people I know and thought were friends."
She judges Fairchild and, like many people in Mesquite, is angry with her for taking Bill's life. The whole episode has left a bitter taste and she is thinking about leaving Mesquite. "I have no problem moving for the right job."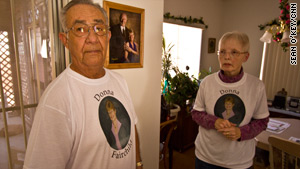 Buddy and Renee Morris wore T-shirts memorializing Fairchild to council meetings until City Hall changed hands this summer.
On her last day in office, other T-shirts turned up at City Hall. "YOYO" was printed on the front in big letters, and the message was clear: "You're On Your Own." Someone draped a T-shirt over the new mayor's chair. "There is No Help on the Way" was printed on the back.
With a changing of the guard, the city built on the dreams of people from somewhere else will continue to grow and change long after the players in the Donna Fairchild tragedy move on.
Bob Shively has gone to Minnesota for the summer. He feels Mesquite has lost its innocence.
"To hear them talk about Susan, they practically put the gun in her hand," he said. "What's the purpose of all this? I don't want to spend the last years of my life getting stabbed in the back."
Tim Hacker, the city manager, was fired without explanation at a meeting in early May. Fairchild's name came up, as it often does when the council does something people don't like. He collected his papers and walked out as people booed and shouted "Weasels! Weasels!" at their elected officials.
Douglas Law, the police chief, retired in April after 12 years and is working as a consultant in Central America.
"We knew and loved these people," he said. "This was the last thing I expected. There are homicides that happen, but in my wildest dreams I did not expect to be called at 4 in the morning and told I'd be going to their house."
Melanie Giarratana was painting her toenails a few weeks ago when a stranger knocked on her door. It was a repo man, looking for Donna Fairchild's car. He asked if Giarratana had a key to her house so he could get into the garage, but she said the house is in the hands of Bill's daughters now.
Giarratana is haunted by something her best friend told her during their last lunch together. "I have given Bill reason to pack up and go, but he won't. We're together forever."
Mark Wier, a political newcomer, is Mesquite's new mayor. He has said little about the controversy, other than to note that the Fairchilds were his friends. But Wier's actions speak for him as he and the new City Council take the steps they hope will heal Mesquite.
One of their first moves was to let the public into closed meetings like the one at which Fairchild was first confronted. Wier said he's just following Nevada's open meeting laws.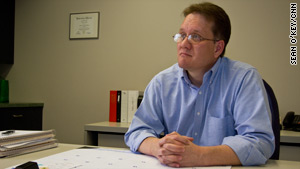 Since taking over as mayor, Mark Wier has opened meetings to the public and repealed the city's Code of Conduct.
The Code of Conduct that had been used to bring the allegations against Fairchild has been repealed. It became a campaign issue, and the new council said it wasn't needed, that existing laws and common sense were enough.
Morris Workman lost his job at The Mesquite Local News; he had been under contract since selling the paper in 2009 and the contract was not renewed. A new editor took over and the site seems less newsy, with more items about community car washes and the like. After a flurry of "Where's Morris?" questions, reader comments have all but stopped.
Shively, who describes Workman as "a cancer on this town," said the reporter has the Fairchilds' blood on his hands.
Workman shrugs off the criticism. He knows his website was not popular at City Hall, which blames the political turmoil on people posting anonymous comments on the site.
"We get blamed for being mean," Workman said. "What we're guilty of is trying to get to the truth."
But Workman's psyche is not untouched by the turn of events. He is still blogging and working on other projects and said he's now more aware of the impact his stories have on people.
"It colors the way I look at things," he said. "Will something I do lead to a call the next morning that they have taken themselves out?"
The Fairchild story drew comments on the website even after their deaths. Posted one reader: "It all seems so petty now."
The tragedy came at a time when people around the country were noting the decline of civility in public discourse. The issue was on many minds in the aftermath of the January 8 assassination attempt on Arizona Rep. Gabrielle Giffords.
Donna Fairchild's reasons for killing her husband and herself will forever remain a mystery. Did she carry baggage that left her deeply disappointed in herself and ashamed of letting others down? Was there something unique about Mesquite's insular politics and the pressures she faced there? Or could it have happened anywhere?
Christi Kindel believes Fairchild felt backed into a corner by a mean-spirited, small-town spat that unearthed other, deeply buried traumas and insecurities.
"Suicide is the only way it ever was going to stop," she said. "That's what I believe was in Donna's mind. I cry for her every day."
The people of Mesquite have raised their voices in favor of open, civil public discourse. The Mesquite that witnessed the Fairchild tragedy was not the city of their dreams, they said at council meetings, candidate forums and in the Mesquite Local News.
Resident Yoli Bell suggested in a signed letter to the editor that the Fairchilds might still be alive if the controversy had been handled with more compassion.
"Was it necessary to plaster Donna's picture with headlines to shame her like a criminal, and then accuse her like she was the first and only person who had ever done this?" Bell asked.
"I never saw anything like this done to another person until now. I just feel the dirty politics and cruel people were the last straw that broke her."