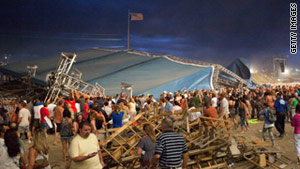 Christina Santiago was among five people who died in the stage collapse at the Indiana State Fair.
STORY HIGHLIGHTS
Christina Santiago, 29, was killed after a stage collapsed at the Indiana State Fair
The next day, scores gather at Chicago's Howard Brown Health Center where she worked
The center's head describes Santiago as brilliant, beautiful, talented and funny
"I've lost my go-to buddy," recalls one friend
(CNN) -- As a colleague and as a friend, Christina Santiago always had a way of bringing people together.
That happened yet again on Sunday evening at Chicago's Howard Brown Health Center, where Santiago worked for nearly six years. But for the dozens gathered there, this meeting could not have been for a worse reason: They were there to remember the 29-year-old, one of five people killed the previous night when a stage collapsed at the Indiana State Fair.
"She was as brilliant as she was beautiful," recalled Jamal Edwards, the center's president, resisting referring to Santiago in the past tense. "She was as smart and talented, as she was funny. She was all of the things that you could hope for in a friend and a family member."
The makeshift memorial service came together less than 24 hours after Santiago was killed, while awaiting a performance from the Atlanta-based country duo Sugarland. Her partner was severely injured in the incident.

Indiana State Fair stage collapse

Heroes at stage collapse

'It was absolute pandemonium'
People from the center -- a health care organization for the lesbian, gay, bisexual, and transgender -- were joined Sunday by others Santiago had worked with on other causes, including members of the Amigas Latinas outreach group for lesbians in the Chicago-area's Hispanic community.
Rosa Yadira Ortiz, the board president of the latter organization, remembered Santiago as a "fierce warrior (and) amazing activist."
But Ortiz said, more than anything, to her Santiago was a dear friend.
"I've lost my go-to buddy," she said. "She will be severely missed ... as can be seen, by the so many people here.
"She really brought us all together, and that's something very few people can do."
Santiago spearheaded the health center's expansion of services to women, managing its Lesbian Community Care Project and seeing through its LifeCycle Project to meet women's needs. Last year, she received the organization's Spirit Award, the center's highest staff honor.
Edwards lauded his late colleague as "the greatest advocate for equal health care for all, (and) the greatest advocate for equality for all.
"She was the most powerful and strong woman that Howard Brown Health Center has and probably will ever know," said the center's president. "That strength, that beauty, that power, that passion, that love doesn't die -- it lives on. But it's going to take some time for us to heal from this."
Bruce Edwards wasn't involved in the center, but he was among the many touched by Santiago who showed up on Sunday to pay his tributes.
He said it was "surreal" how, two days ago, he'd been playfully teasing his neighbor while she was in his Chicago shop working on her bicycle.
"To hear the news today, I'm not a particularly sappy dude (but) this really hit me hard," Bruce Edwards said.
"They were great neighbors and just good friends," he added of Santiago and her partner. "This just hurts."