Flooding hits Baltimore a day after record-breaking rain in New York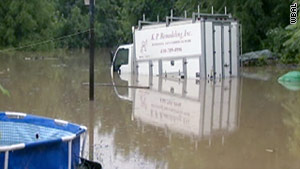 Several roads were under water Monday morning, stranding motorists in Baltimore, Maryland.
STORY HIGHLIGHTS
Flash flooding reported in Baltimore
At least one neighborhood is evacuated
Amtrak shuts down service between Boston and Washington
Lido Beach, on Long Island, had 10.87 inches of rain Sunday
(CNN) -- A sudden downpour in Baltimore shut down Amtrak train service Monday morning and brought reports of flash floods that isolated emergency vehicles and caused at least one neighborhood evacuation.
The morning's heavy rain locked commuters in flooded intersections, stalling their vehicles as well as those of rescuers, said Baltimore Fire Chief Kevin Cartwright.
Cartwright said his department was working Monday afternoon to evacuate a neighborhood in the 3400 block of Spellman Road after a resident reported her row home's basement flooded by five feet of water.
Amtrak reported more than a foot of water over railroad tracks in spots, disrupting service between Boston and Washington, the railway said in a news release Monday afternoon.
The downpour came a day after the New York City area was pounded and flooded Sunday by what the National Weather Service said was double the average amount of rainfall for the entire month of August.
Lido Beach, on Long Island, recorded the highest amount, 10.87 inches, while John F. Kennedy International Airport, with 7.8 inches, smashed its record for rainfall in any 24-hour period. It was 0.98 inches above the record for August 14, set in 2008, according to the weather service.
The airport's air status information service warned passengers Sunday of planes delayed an average of 3 hours.
In total, 188 flights out of 1,075 were delayed at JFK due to the weather and thunderstorms, according to Federal Aviation Administration spokeswoman Arlene Salac.
The weather forced unusual delays along bus, train and subway routes, said Metropolitan Transportation Authority spokesman Kevin Ortiz, who added it would be fair to describe Sunday's staffing as all hands on deck amid widespread detours and suspensions caused by flooding and signal problems.
By the Monday morning rush, the MTA reported that both the Staten Island and Long Island railroads were back in operation after being either delayed or suspended.
Because of flooding where trains are stored, the Long Island Railroad had temporarily switched over to buses out to the Far Rockaway and Long Beach branches, according to the MTA news website.
"Everything is normal today," Ortiz said Monday afternoon, with "no precautions."
Power disruptions were minimal, Con Edison said. Spokesman Bob McGee reported only 1,794 customers without power at the peak Sunday, and only about 320 of its 3.2 million customers were still cut off Monday afternoon.
CNN's Dave Alsup contributed to this report.
FOLLOW THIS TOPIC