Several injured in Pennsylvania bus accident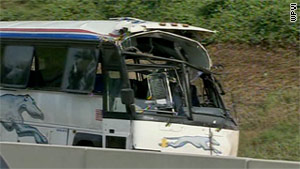 The Greyhound bus was traveling from Philadelphia to Columbus, Ohio, a company spokeswoman said.
STORY HIGHLIGHTS
NEW: All the injured have been released from hospital care
The bus was headed from Philadelphia to Columbus, Ohio
(CNN) -- A Greyhound bus overturned in southeastern Pennsylvania early Saturday, injuring at least 14 people, none of them seriously, the company said.
Officials said earlier that as many as 25 passengers could have been involved in the wreck, but Greyhound spokeswoman Maureen Richmond said later that a total of 18 people were on the bus.
Four of those passengers were uninjured and able to continue with their scheduled trips, Richmond said. Fourteen others, meanwhile, were transported to local hospitals, treated and released, she said. The driver was among the injured.
The bus originated in New York with a destination of St. Louis, Richmond said. The bus was on the Philadelphia to Columbus, Ohio, leg of the trip at the time of the accident, she said.
CNN's Deanna Proeller contributed to this report.