STORY HIGHLIGHTS
Blair Mountain in West Virginia was the site of a major labor uprising in 1921
Some want to protect the mountain from surface mining to preserve history
Coal companies oppose placing the mountain on the National Register of Historic Places
Opponent says advocates for the designation have skewed what miners fought for
Editors note: Soledad O'Brien's documentary, "Battle for Blair Mountain: Working in America

" airs at 8 p.m. ET Sunday, August 14 and 8 p.m. ET Saturday, August 20.
Logan County, West Virginia (CNN) -- On a warm day in West Virginia, Kenny King is on his hands and knees, digging in the dirt. He's near the peak of Blair Mountain, searching for buried artifacts from a little-known battle that took place 90 years ago this month.
"It is a unique part of American history," King says, waving his metal detector over a hole in the ground. "No where else can you find an actual battlefield that is as big and extensive as maybe a World War I battlefield."
King, both prospector and amateur archeologist, is known locally as an expert on the infamous Battle of Blair Mountain, which unfolded over 10 days in 1921.
It was a seminal event among the Mine Wars, the fight to unionize the coalfields of southern West Virginia. For days, men marched and waged a battle that pitted more than 10,000 miners against an army of about 3,000 coal company supporters. It's considered the largest armed insurrection in this country since the Civil War.
"It wasn't just union versus nonunion, they were trying to make a better life for themselves," King says. "Better way of living, better treatment. Everything was controlled by the coal companies back then."
Now, there's another fight unfolding for the future of Blair Mountain, one tied to jobs, the environment and its history.
Heart of coal country
Blair Mountain stands in Logan County, right in the middle of some of the most productive surface mine sites in West Virginia. It's also a center of the debate about mountaintop-removal coal mining, which has blasted apart the tops of more than 500 mountains to create cost-effective access to rich coal seams inside.
Although the battlefield hasn't been mined, coal companies own much of the land where the battle occurred, and there's active mining within eyeshot.

Jobs Versus The Environment

Sneak peek: Battle For Blair Mountain
King is a mineral analyst, and like many who live in the area, his job depends on the coal industry. But standing on the ridge line of Blair Mountain, he looks through the trees and points out that mining is already encroaching on history.
"It's pretty disgusting what they're doing," King said. "What it really amounts to is they are destroying Appalachia. That is what we are; we are mountaineers."
King is part of an effort to list the land on the U.S. National Register of Historic Places. Although placement on the list doesn't prohibit destruction, supporters say it would help to protect the site from future surface mining.
King and Harvard Ayers, a professor emeritus at Appalachian State University in North Carolina, began working on a formal survey of the battlefield in 2006.
In 2009, they thought their work had paid off -- the National Register recognized the 1,600-acre battlefield as worthy of preservation and placed it on its list of historic places.
"I have been an archeologist for 40 years and have found hundreds of sites. Only a handful would come close in importance to Blair, but none would equal it," Ayers said. "It is the most important archeological site I've ever been involved with."
But the celebration was short-lived.
"We popped the corks, everyone was on cloud nine till we heard seven days later that the state historic preservation office had asked that it be removed," Ayers said. "We were distraught and began to suspect monkey business."
The drive to preserve Blair Mountain continually runs into roadblocks, Ayers said, and he believes they're laid by the coal mining industry.
The numbers game
After the site was being recognized as eligible, West Virginia's State Historical Preservation Office said it had uncovered landowners who didn't want the site on the National Register. It said the application by King's group, the Friends of Blair Mountain, had overlooked them.
At that point, it became a numbers game. Ayers claims court records show the number of objectors remained low enough. Lawyers for the state did their own search and came up with still different numbers.
Randall Reid-Smith, commissioner of the West Virginia Division of Culture and History, said he was unable to consider the new information because it was outside the timeframe for comments.
Currently, Blair Mountain is not listed on the National Register of Historic Places.
Reid-Smith said his office reviews projects without consideration for special interests, but agrees that coal beneath the battlefield complicated the issue.
"The coal industry actively opposed the listing of Blair Mountain," he said.
Two of the largest landowners on Blair Mountain -- Arch Coal and Alpha Natural Resources -- did not respond to CNN's questions about the issue.
In June, an Alpha spokesman said in a statement that the company does not plan to conduct mountaintop removal mining on the historic battleground, but that a commemoration shouldn't do away with "the legal rights of the many property owners and leaseholders in the area."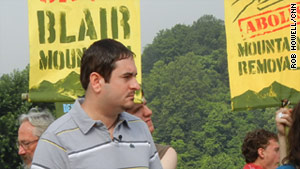 Chuck Keeney helped to organize a march to stop mountaintop removal and preserve Blair Mountain.
Since then, the Friends of Blair Mountain and other supporters have filed a lawsuit against the U.S. Department of the Interior's National Park Services, which oversees the National Register of Historic Places. The West Virginia Coal Association, a lobbying group, and the Department of the Interior have asked a judge to dismiss the case against the National Parks Services.
Blair Mountain preservationists also filed a petition with the West Virginia Department of Environmental Protection, asking for the battleground to be declared "unsuitable for mining." The agency rejected the petition as "frivolous," because the area had already been mined or was part of previous rejected petitions.
Most recently, the Friends of Blair Mountain filed a suit challenging the state Department of Environmental Protection.
And, they've gone public with the fight.
Last June, a six-day march recreated the 1921 miners' march and culminated in a rally at the foot of Blair Mountain. Hundreds of environmentalists and history buffs came from West Virginia and beyond.
Coal supporters lined the route, too, in their own demonstration.
"I mean, if somebody were to say you could blow up half of Gettysburg if there were coal underneath it, would the American people stand for that?" said Chuck Keeney, a history instructor at a West Virginia community college and a great grandson of an organizer of the 1921 march. "I would hope not."
Preserving the past
Back on top of Blair, far away from the legal wrangling, King points out trenches carved into the hillside. Some still remain.
Back in the 1920s, machine guns were used to defend the mountain from approaching miners. Shrapnel bombs were dropped on miners. The 10-day battle ended only after President Warren G. Harding sent in the U.S. Army and the miners -- many of whom were Word War I veterans -- surrendered, leaving behind weapons and ammunition.
"They had just fought for their country and didn't want to fight against their country," King said.
In the 20 years he has been exploring the mountain, King says he's found rifles, pistols and thousands of rounds of spent ammunition.
Although King and his team continue to uncover the history that is still buried on the mountain, they say time is running out. As long as the battlefield isn't recognized as a historic site, they fear coal companies could send bulldozers any day.
Even coal industry supporters agree Blair Mountain's story should be remembered, but how it's preserved is still a debate.
Last February, Cecil Roberts, the president of the United Mine Workers of America, said he supports preserving the mountain.
My granddaddy fought on Blair Mountain and he didn't fight for a mountain. He fought for coal and to help establish the union.
--West Virginia resident Diann Kish
"That story cannot be told nearly as well if the mountain is not there," Roberts wrote in a commentary published in the Charleston Gazette. "Blair Mountain is as close to sacred ground as there is for the [mine workers union.] Though we may not physically own the mountain's land, its legacy is ours."
Former Logan County Commissioner Art Kirkendoll said a monument should be erected on the mountain to commemorate the battle, but the march last June used history to push a different agenda: the end of mountaintop-removal mining.
"Do you sterilize all the property because of past history?" Kirkendoll said. "I mean look at some of the battles that Confederate soldiers died in. A kid died you know, en route somewhere, are you supposed to just stop everything?"
Poll: Majority oppose mountaintop removal
Diann Kish, a local resident who turned out to protest the march in June, said the movement to preserve the mountain skews the intentions of miners who fought there.
"My granddaddy fought on Blair Mountain and he didn't fight for a mountain," she said. "He fought for coal and to help establish the union."
Kish and her neighbors said they plan to erect their own monument this month. It won't be on the mountain, but at a nearby lake built by a coal company.
"It will be dedicated to all miners, past, present and future," Kish said.
Since their march in June, the Friends of Blair Mountain opened a community center in an old church in the town of Blair, right at the foot of the mountain. They plan to make it a gathering point for local residents, tourists and visiting scholars seeking to learn more about the the battle and the area's Appalachian culture.
"The miners who fought on Blair Mountain fought for basic worker rights that are now enjoyed by all Americans," said Brandon Nida, a West Virginia native and University of California Berkeley student working to preserve the mountain. "The best way to honor them is to create new opportunities through sustainable industries like furniture manufacturing or ginseng," a root harvested by many locals.
While organizers acknowledge their march may have angered families who depend on mining for their livelihood, they hope their new center will open a dialogue within the community and help build something new.
"These are dying communities, or at least threatened by mountaintop removal mining," Keeney said. "If you are building things in the community, it makes it harder for coal companies to drive everyone out."
FOLLOW THIS TOPIC