STORY HIGHLIGHTS
Mountaintop removal mining produces 12% to 14% of America's coal

Several hundred feet of soil and rock are removed while miners dig for coal

Most MTR takes place in the Appalachian Mountains

After the mining is done, the hills are rebuilt or the land used for commercial projects

Editors note: Soledad O'Brien's documentary, "Battle for Blair Mountain: Working in America" airs at 8 p.m. ET Sunday, August 14, and 8 p.m. ET Saturday, August 20.
(CNN) -- In the Appalachian Mountains, there is a method of mining that is as much a source of controversy as it is a source of energy: mountaintop removal.
It's a surface mining method where large explosions and equipment are used to remove coal. In the United States, coal provides half the country's electricity production.
Advocates say mountaintop removal mining gathers coal that wouldn't be cost effective to mine through traditional underground methods. They say mountaintop removal provides jobs in some of America's poorest areas, and that mining companies rebuild the hills or create areas where new highways, shopping centers, golf courses or airports can be built.
Critics say the practice is bad for the environment and ecology. The blasts send particulates into the air and into waterways. They say mountaintop removal mining, or MTR, employs fewer people than underground mining, and that mining companies never return the mountains to their original states. They say it destroys some of the most biologically diverse places in the world.
A CNN/ORC poll released this week said 57% of respondents oppose mountaintop coal mining, and 36% support it.
MTR has gotten more attention in recent months as studies questioned its affects on health and rallies for and against the method were held on mountaintops, in front of the White House and before the U.S. Capitol.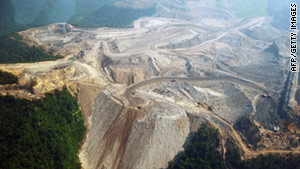 In mountaintop removal mining, large sections of ridges are blasted and coal is mined.
It's also the subject of the new documentary, "The Last Mountain," and is featured in the CNN special "Battle for Blair Mountain: Working In America

," which airs at 8 p.m. ET August 14.
Mountaintop removal began in the 1960s, but has gradually become more popular. It represents about 12% to 14% of domestic coal production: 132 million of more than 1 billion tons.
Most mountaintop mines are in the Appalachian Mountains, where the coal is different than in the Rockies. For instance, in West Virginia, the center of MTR, the coal gives off higher BTUs when burned, an official with the West Virginia Geological Survey said in an e-mail.
"The coal beds targeted for (mountaintop removal mining) are compliance steam coal," wrote Mitch Blake, manager of coal programs for the West Virginia Geological and Economic Survey. "That is, they tend to be low in sulfur and ash. They are high volatile bituminous in rank, meaning they give off a lot of heat when burnt."
In most cases, underground mining, in which miners tunnel into the hills, is economically and geologically viable. Mining companies prefer mountaintop mining when it is safer and more efficient than digging.
"Most of the coal in mountaintop mines is not minable in its own right. Target intervals tend to contain multiple beds, most of which are too thin to mine separately," Blake wrote.
For instance, say there is 25 feet of coal in the target area. One coal bed is 5 feet thick. With underground mining 50% of just that coal can be recovered, Blake said. But the bulk of the find might be unrecoverable because the soil between the beds would be too thin and the other seams would be too thin to mine without it being a money drain.
With mountaintop removal mining, 90% of the coal could be recovered, Blake said.
The controversy begins as soon as the mountains are cleared of all trees to prepare for the digging and blasting. Miners remove the soil with excavators and the rock above the coal by using dynamite and other explosives. Hundreds of vertical feet of the material -- called overburden -- are removed, and more large machines are brought in to mine and remove the coal.
After the top layer of coal is removed, some reclamation goes on while machines called draglines are brought in to mine the lowest beds. After all the coal is mined, the mountain is either built up with some of the overburden or the land remains flattened for commercial building projects. In some cases, it is used for roads, in which case the overburden is pushed into nearby valleys.
"Certainly the landscape is changed," said Carol Raulston, senior vice president of communications of the National Mining Association. "But you still are required if you don't have something else coming in ... that requires level ground, you're still required to re-contour the hills.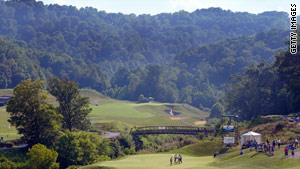 The Pete Dye Golf Course in Bridgeport, West Virginia, was built on the site of a former mountaintop mine.
"The sites I've been to, when you look out at them, they look like the surrounding area."
The Natural Resources Defense Council and other environmental groups vehemently disagree.
Allen Hershkowitz, a senior scientist at the Defense Council, called the coal industry's restoration claim "fiction." More than 500 mountains have been ruined by mountaintop removal coal mining, the Defense Council said.
"There's no way to restore these forests once they are blown up," Hershkowitz said. "They are denuded mountains, and they remain biologically impoverished for decades. The aquatic resources are destroyed."
He said the mining companies often don't replace the wide variety of trees and the wildlife is lost.
But that's the least of the problems of MTR, he said. It's irresponsible to public health and local economies, he said, and Hershkowitz believes it should be illegal.
He pointed to two recently released studies that suggested cancer and birth defect rates are higher in communities near mountaintop mines. The cancer research included interviews with nearly 800 people who live along the Coal River in West Virginia.
The birth defects study looked at 1.8 million birth records in four states -- Kentucky, Tennessee, Virginia and West Virginia. It found "significantly higher" incidents of six types of defects, even when allowing for socioeconomic conditions. The poorest communities in Appalachia are in mountaintop mining areas, research has shown.
Mountaintop removal mining is regulated by the Surface Mining Control and Reclamation Act and the Clean Water Act. Violations are enforced by the EPA.
On its website, the EPA said it has studied 1,200 "stream segments" affected by mining. It found that an increase in minerals like sulfate led to injured fish, but "cumulative environmental costs have not been identified."
In 2009, Lisa Jackson, then the newly appointed administrator of the Environmental Protection Agency, placed MTR permits under review so her agency could determine if the projects would pollute area water. Since then, nearly all new mountaintop removal permits have been frozen.
Raulston said the mining industry had put in close to 200 permit requests under the new Clean Water Act guidance issued by the EPA, but 50 were withdrawn because companies said they could not meet some of the standards. The guidance rules are being challenged in court, she said.
Reporter's Notebook: On Blair Mountain, answers are hard as rock
Raulston said much has been done by the industry to protect waterways.
"A lot more is known on how we can mitigate for any loss of wetlands or the impacts on streams," she said. She said that before digging begins, planners design where to dump the overburden to lessen the runoff potential and keep streams flowing.
Despite Hershkowitz's belief that it should be illegal, he agreed that it's unlikely mountaintop removal coal mining will go away soon. The United States relies too much on the coal.
"A lot of folks want to get out of coal right away. That would be wonderful but it isn't going to happen," Hershkowitz said. "So we need to have a safe mining industry that is responsible."
FOLLOW THIS TOPIC