STORY HIGHLIGHTS
Complications from medical procedure paralyzed Mallory Weggemann below waist
Weggemann, a former high school swimmer, took up sport again weeks after paralysis
She set American para-swimming record a year later; she now holds 15 world records
Weggemann's goal: Win, set records in seven individual events in Paralympic Games
(CNN) -- Hope was stirring in Mallory Weggemann just 11 weeks after she lost movement below the waist.
Weggemann, who didn't even try to make a college swim team when she could walk, was at a Minnesota pool with a club coach she'd just met. The teen wanted to know if she could return to the sport she knew as a girl -- only now with absolutely no kick.
Her father told two of her old high school swimming friends -- only half kidding -- that they'd need to save Mallory should she start drowning.
"I didn't know if she was going to float or what was going to happen," Chris Weggemann recalled of that day in 2008. "But she took off swimming, and she got to the wall, and she said, 'All right, what do I do now?' "
What she's done in the three years since is smash world para-swimming records, collect an ESPY Award, swim on an NCAA Division I college team and put herself on course for what she hopes is a historic run at the 2012 Paralympic Games in London.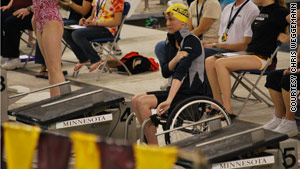 She was done with competitive swimming after high school, but the pool called her back after she became a paraplegic.
Heading into this week's Pan Pacific Para-Swimming Championships in Edmonton, Alberta -- where she's won three golds in the first two days of a five-day event -- she held 15 world records in her physical ability class. Of the seven solo events to be held in London in her class, she is world champion in six.
"When I got back into the water, it was a real turning point for me -- for my mental state, my physical state, everything," Mallory Weggemann, 22, of Eagan, Minnesota, said this month. "It brought back the emotion that I have and the passion that I have for the water."
Seven individual events will be contested in Mallory Weggemann's class in the 2012 Paralympic Games. She won six of those seven at the 2010 world championships in Eindhoven, Netherlands, and recorded world records in five, all of which stood as of Thursday.

Here are the winners and runners-up of those seven events in Eindhoven last year:

50-meter freestyle
1) Weggemann: 0:31.64 (WR)
2) Cortney Jordan, U.S.: 0:33.63

100-meter freestyle
1) Weggemann: 1:08.45 (WR)
2) Erin Popovich, U.S.: 1:12.03

400-meter freestyle
1) Weggemann: 5:04.87 (WR)
2) Popovich: 5:22.4

200-meter individual medley
1) Weggemann: 2:48.43 (WR)
2) Popovich: 2:57.14

100-meter breaststroke
1) Weggemann: 1.35.51 (WR)
2) Charlotte Henshaw, Great Britain: 1:39.74

50-meter butterfly
1) Weggemann: 34.85
2) Popovich: 36.51

100-meter backstroke
1) Kirsten Bruhn, Germany: 1:23.19 (WR)
2) Weggemann: 1:23.39

Note: WR indicates a world record.
The transition from an able-bodied girl who had hung up her goggles to a world-beating para-swimmer began with an injection three years ago.
Weggemann began having severe lower back pain in high school following a case of shingles. After several unsuccessful treatments, she was prescribed three epidural injections over a number of months, and the first two brought pain relief. But after the third, in January 2008, numbness in the college freshman's legs didn't recede, her family says.
She was transferred from a clinic to a hospital. About three weeks in, doctors told her she needed to learn how to use a wheelchair. Complications from the procedure had paralyzed her from the waist down.
It was an unusual result: Though the risk of paralysis stemming from epidural injections varies by type and location, paralysis from epidurals in the lower back is exceedingly rare, said a physician not involved in her care, Dr. Steven P. Cohen, a pain medicine specialist at Johns Hopkins and director of pain research at Walter Reed Army Medical Center.
Grieving and slow to accept the paralysis, Weggemann made a list of things she would do -- but only when she could walk again: Return to class. Travel. Even try out for a college team.
"I was down in the dumps, kind of confused, and asking 'why-me' questions, not knowing what was going to be next," she said, recalling her return home in a wheelchair after weeks of rehab.
Then one of her sisters, trying to cheer her up in April 2008, took her to the University of Minnesota to watch the U.S. swimming trials for that year's Beijing Paralympic Games.
Weggemann, who started swimming at age 7, saw athletes leave their wheelchairs and crutches and do their thing in the water. She went down to the pool deck and talked with coaches, including Jim Andersen, a longtime club swim coach who only recently had started guiding disabled athletes.
Suddenly, Weggemann wasn't thinking about goals for a time that might not come. She wondered what she could do now.
A few days later, she had her first practice with Andersen, launching a partnership that would see Weggemann -- viewing swimming as something to pour her energy and grief into -- test the limits of her newly constrained body.
"When Mallory gets in the water, she feels normal. And I think it made her grow up," Andersen, 60, said of her return to the pool. "I can't imagine how devastating it would be to have happened what happened to her, and what my mental mind-set would have been. But (swimming) was a great thing to enable her to recover."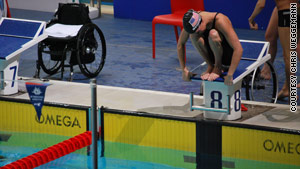 Weggemann, 22, starts races from a block, swinging her upper body forward with her arms.
The beginning wasn't easy.
Not all para-swimmers are unable to kick. Some have dwarfism; some are missing a limb; others have a number of other disabilities but can move their legs. Weggemann's challenge was not only propelling herself solely with her upper body, but also making turns and starting off a block.
Instead of a flipping and kicking off a wall, she learned to push off with her hands, redirecting herself in a semicircular motion. On the starting block, she can crouch and dive into the water, but does so by grabbing the block and swinging her upper body forward, rather than pushing with her legs.
She found her initial competition at able-bodied club meets. At the first one in May 2008, Weggemann, then 19, looked at her 9-year-old competitors and then shot a glance at her dad.
"She looks over with this look of, 'If these guys beat me,' " Chris Weggemann said. "And they did."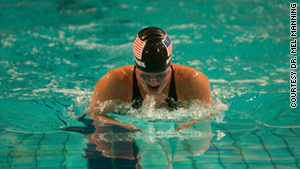 "I can get out of my chair, and it's just me and the water, and I can move about freely," Weggemann says.
Undeterred, she saw chasing the able-bodied as a game: See how close she could get, chase them for faster times.
Soon, she was not only keeping up with the competition at disabled meets but also beating able-bodied collegians.
She transferred from her small school near Eagan to Gardner-Webb University in North Carolina in January 2009. The kid who thought she wasn't good enough for a big program before paralysis was now a full member of a Division I team.
Weggemann didn't win any races at the conference meet in February. But she beat some able-bodied competitors in preliminary heats and electrified her team, Gardner-Webb coach Mike Simpson said.
Beating able-bodied athletes was just an extra, because she was focused on improving her times, Simpson said. But spectators "were pretty blown away" when she beat some swimmers in her 500-yard freestyle heat.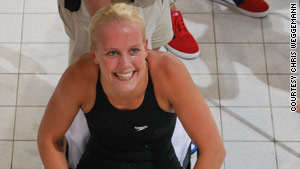 Ahead of the London games, Weggemann -- on a two-year break from college -- will train six days a week in the pool.
"She added a lot to the team," he said. "When you have people swim way faster than their best time, that creates momentum and energy for the rest of the team. ... (Her performance) got everyone else really excited."
After that, para-swimming records fell and ambitions rose.
At a USA Swimming meet in Minnesota in May 2009, she swam 1:26.20 in the 100-meter butterfly, breaking the old top U.S. mark in her class, 1:28.12.
That summer in Edmonton, she broke three long-course world records, including in the 400-meter freestyle. Her 5:12.30 time in that event beat the record, which had stood for nine years, by almost five seconds.
She transferred to the University of Minnesota that fall -- not to join the team, but to train again with Andersen. She broke several other world records in following months, but her signature moment came the next summer.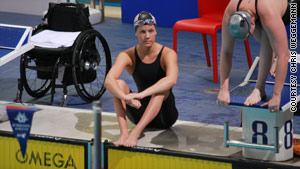 Weggemann wants seven individual golds at London. She's the world record holder in five of those events, champ in six.
At the long-course para-swimming world championships in August 2010, Weggemann took eight gold medals and one silver, and broke nine world records, in individual races and relay events with her U.S. teammates. Her record time in the 100-meter freestyle was 1:08.45. "There's a lot of able-bodied swimmers who can't swim that fast," Andersen said.
And she swam the 100-meter breaststroke final in 1:35.51 -- four seconds faster than a world record that a competitor had set in a preliminary heat.
For her performance in Eindhoven, Netherlands, Weggemann last month won ESPN's 2011 ESPY Award for best female athlete with a disability.
Back in 2009, she told Swimming World magazine that she hoped to win a gold medal at the 2012 Paralympic Games. Now she wants all seven individual golds -- a feat last done at the 2004 Athens Paralympics by American and two-time ESPY winner Erin Popovich.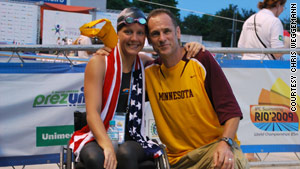 Weggemann gives much of the credit for her success to her coach, Jim Andersen.
And Weggemann -- a public relations student on leave until the 2012 games -- wants to set world records in each of those events along the way.
"This falls into being a mental game for me," said Weggemann, who credits Andersen and her family for her success and ability to carry on. "If I can win one (gold), I don't want to stop at one. I want two and then three. I want to push my body as hard as I can push it."
Weggemann has been a role model for able-bodied and disabled alike, said Jim Hanton, administrative vice chair for Minnesota Swimming. She has lobbied high-profile state meets to include heats specifically for disabled athletes, and she's made herself available to young swimmers, speaking to high school teams and showing kids around the aquatic center, he said.
"I'm a big fan," Hanton said. "She always has a smile on her face. I think of all the athletes who are grumpy and everything else -- she's happy."
Weggemann is working herself back into shape following illnesses in late 2010 and early 2011, and will hope to be in top form for the U.S. Paralympic trials in March in Bismarck, North Dakota.
If she's happy, it's partly because she found her way back to familiar surroundings so quickly after her paralysis.
"It's something where I can get out of my chair, and it's just me and the water, and I can move about freely," she said. "Even when my competitive days are over, I'll still need that, because it's a big part of who I am and what I know."
FOLLOW THIS TOPIC