STORY HIGHLIGHTS
Katrina evacuees change Houston while the city changes them
Arriving with nothing, some build thriving businesses
They've strengthened Houston's cultural ties to New Orleans
Evacuees praise Houston's generosity and heart
Houston (CNN) -- A logo painted on the floor of Terrence Gasper's barbershop says it all: "New Orleans' finest."
But this isn't New Orleans. This is Houston.
Six years ago this month, Gasper and most other New Orleans residents boarded buses, filled SUVs and crammed highways to escape the wrath of Hurricane Katrina.
While the Louisiana city has begun to rebound, its former residents have made an indelible mark on the places they've gone -- and none greater than in Houston, where as many as 250,000 evacuees landed after the hurricane, according to some estimates.

Katrina evacuee spices up Texas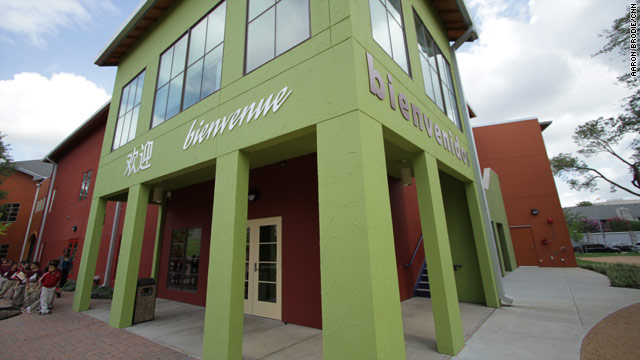 Gallery: Helping Houston families
The 2005 hurricane along the Gulf Coast left more than 1,700 people dead and racked up billions of dollars in damages. Gasper is among the countless New Orleanians who chose to rebuild their lives in Texas after losing their homes, possessions and communities in the storm.
Since then, Gasper has developed a complicated relationship with his adopted city and his beloved hometown. You can't take the 504 out of him, he says, referring to the city's area code, but he won't be moving back to New Orleans anytime soon, either.
"New Orleans is a hard place to live now," the 34-year-old says. "For the hard-working people who are trying to build wealth and establish themselves, it's a hard journey -- a tough journey."
Houston is a better place to raise families, evacuees like Gasper say, with better schools and less crime. They believe the economy here is healthier, with more jobs and higher pay. They're convinced that Houston offers more security against another devastating hurricane.
The new residents have opened bookstores, restaurants and barbershops, and brought some of the flavor of New Orleans to their apartments, retirement homes and subdivisions in Texas.
"You can't never take the New Orleans out of me," Gasper says. "But I can't see myself moving back there for a long time."
At least for now, this is home.
Becoming Houstonians
The Houston mayor's office reported that 150,000 to 250,000 evacuees journeyed to Texas' largest city immediately after the storm, but researchers who have tried to document those numbers have failed.
"I was shocked," said Sean Varano, a Roger Williams University professor, who spent years researching crime and Katrina evacuees. "I queried every available source. No matter how many times and how many places I looked, I could not find this information."
What's even blurrier is how many Katrina survivors chose to stay.
Accents may change, places may change but I'm always going to be New Orleans.
--Lakesha Reed, Houston restauratuer
Evacuees weren't counted unless they applied for assistance, and agencies stopped tracking them once they stopped receiving help. A year after the storm, the mayor's office reported as many as 90,000 displaced New Orleanians remained in Houston, but others haven't been able to come up with a number.
In 2007, the first available Census Bureau figures after Katrina counted about 40,000 residents who said they had moved to Houston from another state. The 2010 Census showed the city had grown to nearly 2.1 million people, an increase of 7.5% -- more than 145,000 -- since 2000.
When the storm's fifth anniversary came last year, Mayor Annise Parker said the city will likely never know how many evacuees stayed.
Those who did are Houstonians now, she said.
As Gasper sees it, Katrina forced two groups to mix: playful, laid back New Orleanians and generous, industrious Houstonians.
Houston, the sprawling, business-friendly oil city, has absorbed some of New Orleans, a compact mecca of music, merriment and food.
"We're a tight-knit community and we kind of show Houston how to have fun and party," Gasper says with a smile. "And they show us more economics and business."
During a lull at his southwest Houston barbershop, he puts down his scissors and begins to tell the story of how he left his hometown, and how it changed the course of his life.
'God's appointment'
The night Katrina hit New Orleans, Gasper was hunkered down against the storm at his cousin's home in the city's Treme neighborhood. He was worried about his parents, who lived about 15 minutes away by car. On the phone, they'd said that the storm was tearing the side off their building. Then the line died.
The next morning, still unable to reach his parents, Gasper and nine other friends and relatives waded through miles of "nasty, disgusting" chest-deep water to reach the Ernest N. Morial Convention Center, where survivors were told to gather.
He still hadn't heard from his parents when he boarded a bus. He didn't know where it was going. He hoped it would be someplace dry, someplace in Louisiana.
The next morning, he woke up outside Houston's Reliant Stadium and the Astrodome.
If things would go back to the way the city used to be ... I'd go back.
--James Lindsey, New Orleans evacuee
But there, inside the stadium filled with cots and thousands of evacuees, Gasper was amazed to see his missing parents.
"It was like a ton of relief," he remembers. "It was like God's appointment, because the last time I'd heard from them, the side of the house was coming off."
Aide groups were quick to help the Gaspers find apartments in the same Houston complex. But the city was so much bigger and spread out than New Orleans, where Gasper could walk from his home to the Superdome in a half-hour.
"We had to get cars to maneuver and get around," Gasper said. "If you took the bus, you couldn't get anything accomplished in a day's time because the bus took so long to get from one part of town to another."
Gasper's barbering background helped him land on his feet. He got a job at a southwest Houston hair cuttery called Headz Up, where he saved money and built clientele for two years before opening Young Fellas.
"Being my own boss -- it's cool -- but I have to put in more time to keep everything going properly," he said.
He stays busy outside work, too. The very same week he set foot in Houston, Gasper -- a drummer since childhood -- started playing music. Once he found enough New Orleanians to organize a band, "We started gigging."
The Hustlers Brass Band was born.
"We started doing gigs at clubs that showed us love when we got here," Gasper said.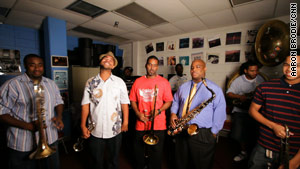 Houston clubs embraced the New Orleans sound of Hustlers Brass Band, many of whom survived Katrina.
They played at Sammy's, The Red Cat, St. Pete's, Under the Volcano, Dan Electro's. Making New Orleans-style music provided a comforting reminder of home in a new place, and gave the new place a taste of something it had never had before.
"They took care of us, and gave us food on the house," Gasper said. "They were trying to keep us in Houston and embrace us so we wouldn't want to go back to New Orleans, really."
'It didn't feel like home'
With New Orleans in shambles, the decision to stay was easy for many, but making it work proved harder.
After Katrina, I have a soft spot in my heart when I see homeless people.
--Terrence Gasper, New Orleans evacuee
Lakesha Reed escaped from New Orleans ahead of the storm in an SUV crammed with her best friend, her best friend's sister, two cats and a "wiener dog." Their 27-hour highway odyssey took them to Mississippi, and then to Houston, where Reed had gone to college.
The food that got New Orleans through the storm
She'd worked for years in the restaurant industry in New Orleans, but looking for jobs in Houston left a bad taste in her mouth.
See more about Reed's Houston restaurant
During interviews, it didn't take long for potential bosses to see through her situation.
One look at her job history in New Orleans and "it became more about your evacuation story versus interviewing for a job," Reed said. "And the job took a backseat."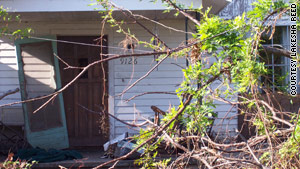 New Orleans evacuee Lakesha Reed left behind Katrina ravaged homes like this one, where her cousin lived.
Inevitably, the interviewer would ask how long she planned to stay in Houston. Reed said they were reluctant to employ people they feared might leave town.
The experience left her feeling lost. Houston sometimes made her feel like a foreigner, but storm-ravaged New Orleans wasn't the same, either.
"The first time I went back, it didn't feel like home," she said. "There was still trash on the street, a stench. It didn't feel like what I feel like when I'm home."
With "no worldly possessions," she realized the storm was a tragedy, but she could make it an opportunity.
"The hurricane forced me to say, 'OK you want to open a restaurant? Then this is the perfect chance to do it,' " Reed said.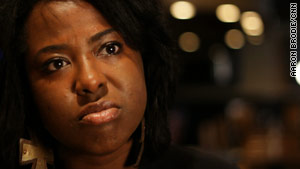 "The hurricane forced me to say, 'OK you want to open a restaurant? Then this is the ... chance," said Lakesha Reed.
She could have opened any kind of eatery -- burgers, Asian, barbecue, but what she chose was a culinary style close to her heart.
The menu at Beaucoup Bar & Grill centers around some of Reed's favorite childhood recipes cooked up back in New Orleans -- crawfish bread covered with a mountain of cheese, stuffed bell peppers "sauteed in its secret spices." She's also developing a line of specialty beverages.
She's not formally trained, she said. She's "grandma trained."
Located in a comfy neighborhood near many of the city's hospitals and medical facilities, the restaurant's regulars compare to TV's famous "Cheers" bar -- where everybody knows your name.
Watch a "secret supper" in the Big Easy
From opening day, she became wrapped up in providing Houston with the "food and the culture of New Orleans."
For displaced New Orleanians in Houston, it became "the little piece of home."
"It's what I breathe, it's what I bleed, it's who I am," she said. "Accents may change, places may change, but I'm always going to be New Orleans."
Watch how Reed cooks up a little New Orleans in Houston
But as long as business is growing, she'll stay in Houston.
"The city is the music, the people and the food," she says. "When you take a large group and you sprinkle them across a big city like a spicy gumbo, you're going to get a unique recipe."
'Betwixt and between'
The devastation they left behind and the city they've come to love have sparked an emotional tug-of-war among evacuees.
A dozen members -- five generations -- of the Lindsey family found each other at the convention center in Houston after the storm. More than half returned to New Orleans, but five members of the family stayed. They struggle with identifying themselves: New Orleanians or Houstonians?
"I'm betwixt and between," says Delphina Lindsey, who lived in New Orleans most of her 73 years before her evacuation.
When she talks about Houston's Texas-sized generosity and heart, her face lights up. Ask her about moving back and that smile disappears. She's much happier in Houston, she says, than she could ever be in New Orleans.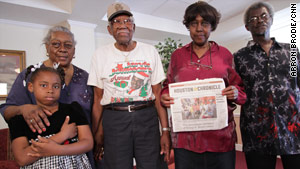 Eight-year-old Ayana Chambliss, left, Delphina and James Lindsey, Shirley Chambliss and Edgar Ned, right, have stayed in Houston.
"If things would get back to the way the city used to be, I'd go back to live, but I know they won't," says her husband, James Lindsey, 84. "So I'll just continue where I am."
Houstonians who watched the exodus come to their doorstep often joked that the evacuees improved the city's food and music. Early on, a less friendly interpretation emerged, too. News reports immediately after Katrina blamed an increase in crime on evacuees. A study by Varano, the Roger Williams professor, showed there wasn't a wide-scale crime increase, and increases in homicide and armed robbery cases were small.
Since then, New Orleanians have continued to contribute -- and to redefine themselves in a much different place.
"A lot of oil and gas professionals came here, a lot of medical center professionals came here, all of which we needed," says Angela Blanchard of the nonprofit aide group Neighborhood Centers Inc., which helped more than 20,000 evacuees, including the Lindseys.
See more on how Houston helps newcomers
For Gasper, the experience of losing everything changed not just his city, but his perspective.
When a homeless man Gasper calls "Old School" enters the barbershop and asks if any chores need to be done, Gasper puts him to work and slips him some money.
"After Katrina, I have a soft spot in my heart when I see homeless people or a person that's in need," he said. "I have to help them. I can't just ride past no more."
It's the kind of change that will follow him anywhere. He goes back to visit family in New Orleans whenever he can, and maybe he'll move back after retirement.
By then, maybe New Orleans will be the hometown they remember from before the storm.
"I hope so," he says as he looks out the window of his barbershop and onto the streets of Houston. "Things change. We'll see what happens."
CNN's Aaron Brodie and Curt Merrill contributed to this report.