Record year for immigration-related legislation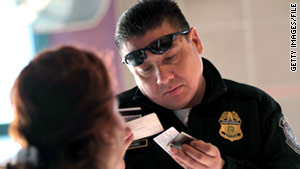 The increase in immigration-related measures is a manifestation of states' frustration, one expert says.
STORY HIGHLIGHTS
More than 1,500 bills or resolutions were introduced in all 50 states and Puerto Rico
Some 150 laws were eventually enacted
Identification and employment are the top issues
(CNN) -- If it seems that debates over immigration bills have spread from border states to across the country, that's because they have.
In the first half of 2011, legislatures in all 50 states and Puerto Rico have introduced a record number of bills or resolutions relating to immigrants or refugees, according to a report by the National Conference of State Legislatures.
Through June, states had introduced 1,592 such bills or resolutions, compared with 300 in 2005.
But all the bluster over immigration bills in state chambers across the country this year has not resulted in a record number of laws enacted, the report found.
Some 150 immigration laws had been enacted in 40 states in the first half of 2011, compared with 208 in 2010 and 222 in 2009.
A number of the bills that were introduced but never enacted were shelved by state lawmakers as they await federal court decisions on current immigration laws.
The numerous bills that are presented but not turned into law, however, are not for naught.
For states, "this is one way to make sure the federal government pays attention," said Ann Morse, program director for the National Conference of State Legislatures' Immigration Policy Project.
The swell in the amount of immigration-related legislation is in part a manifestation of states' frustration at what they see as lack of action by the federal government, she said.
Top issues in 2011 were new laws dealing with identification and driver's licenses, employment verification and law enforcement, Morse said.
This topic was salient because of terrorism concerns, she said, and such laws related to documentation and eligibility requirements for IDs and all types of licenses, from driver's to firearms. Twenty-three such laws were enacted in 15 states in the first half of 2011, the legislature group reported. Another law is pending the governor's approval in Illinois.
Through June, there were also 23 laws enacted in 14 states and Puerto Rico that deal with employment. Many of these laws require the use of the federal E-Verify system to check employment eligibility or provide sanctions for employers who knowingly hire unauthorized immigrants.
While the fate of Arizona's SB1070 remains in the hands of the courts, five states in 2011 enacted omnibus laws modeled after it. Alabama, Georgia, Indiana, South Carolina and Utah all passed these stringent anti-illegal immigration laws, and all except for South Carolina already face court challenges.
Not all of the immigration-related legislation across the country had a restrictive immigration angle, the legislature group reported.
Utah enacted a law that seeks to create a legal immigrant work force. Other states passed resolutions that celebrated America's ethnic heritage.