Alaskan village's mystery substance is mass of eggs, lab says
STORY HIGHLIGHTS
Substance caused concern when it appeared, unidentified, in lagoon of Alaskan village
NOAA lab believes eggs are those of crustacean, but species not yet known
Lab: More tests needed to determine whether eggs are toxic
Village official concerned about village's water source
(CNN) -- A mysterious orange substance that washed up on the shores of an Alaskan village last week was a mass of microscopic, invertebrate eggs, possibly those of a small crustacean, a National Oceanic and Atmospheric Administration lab said Monday.
More testing will determine the species and whether the eggs -- whose appearance on the shores of Kivalina in northwest Alaska startled residents Wednesday -- are toxic, said Julie Speegle, representative of the NOAA Alaska Fisheries Science Center's Auke Bay Laboratories.
Residents of Kivalina, an Inupiat Eskimo village of about 430 people, found the substance in its lagoon -- giving the lagoon an orange sheen -- and clumps of the orange stuff on the beach. A resident who took pictures of the substance, Mida Swan, said last week that it had an oily feel, like baby oil.
Some residents said they also saw the substance in their rainwater-collection buckets after a Wednesday evening rain. No one knew what it was, the state Department of Environmental Conservation was notified and samples were sent to several labs.
With a high-powered microscope, it was easy "to identify this as 'animal,'" Jeep Rice, a lead NOAA scientist at the lab, said in a news release.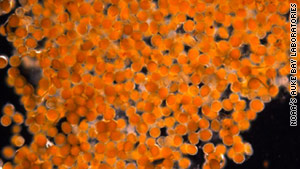 The eggs, viewed under a microscope.
"We now think these are some sort of small crustacean egg or embryo, with a lipid oil droplet in the middle causing the orange color," Rice said. "So this natural. It is not chemical pollution; it is not a man-made substance."
Experts at the University of Alaska at Fairbanks, which received samples Monday, and a NOAA lab in South Carolina, due to receive them Tuesday, could soon shed light on the species and any toxicity, said Emanuel Hignutt, analytical chemistry manager for the state Environmental Health Laboratory.
"Certain organisms can produce toxins, and you can't tell if that's the case (here) until you know what species it is," Hignutt said.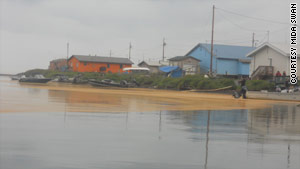 An orange sheen could be seen in the lagoon Wednesday.
Speegle said the species may be new to the area, or that it could be a native species whose eggs this time had an unusual color. The diameter of the eggs was 10 to 100 microns -- at least 10 times smaller than herring eggs, she said.
The substance appeared to have dissipated by Saturday, said Janet Mitchell, Kivalina city administrator.
Mitchell said Monday that she is anxious to hear whether the eggs are toxic. Some of the substance was found in the Wulik River, which flows into the lagoon and is a source of the village's drinking water, she said. She has said the village would delay topping of its two water storage tanks, which it does every summer so that it has enough water for the winter.
"I still need to pump water and still need to know if it's safe," Mitchell said.
Kivalina is about 650 miles northwest of Anchorage, Alaska.
FOLLOW THIS TOPIC