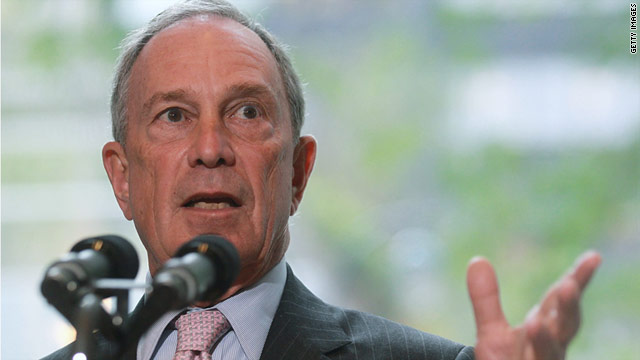 STORY HIGHLIGHTS
NEW: "We're funding the wrong piece here," a professor and urban researcher says
Skin color "tells us far more about a child's future than it should," the NYC mayor says
The mayor will contribute $30 million from his personal philanthropic foundation
Another $30 million will come from billionaire hedge funder George Soros
New York (CNN) -- New York City Mayor Michael Bloomberg on Thursday announced the launch of a major policy initiative to aid the city's minority youth.
And he's footing a good chunk of the bill himself.
"We believe it is one of the most ambitious and comprehensive attacks on racial disparity ... that any city has ever undertaken," Bloomberg said Thursday.
The mayor will contribute $30 million from his personal philanthropic foundation to the effort, which is a public-private partnership. Another $30 million will come from billionaire hedge funder George Soros' Open Society Foundations.
The city will pick up an additional $67.5 million in costs.
"The mayor has shown vision and leadership with this initiative, and that's why I'm happy to join forces with him," Soros said Thursday. He said the initiative will help make New York "stronger and a better place," and that the initiative "shows how private citizens can work with their government to make it better."
The mayor said the initiative will target four areas identified as having the greatest racial disparity: education, health, employment and the justice system.
In the area of education, the initiative's funds will go to literacy services and the incubation of strategies to close the gaps in both high school graduation rates and post-graduation success. Mentoring and after-school programs are among the areas to be funded. Bloomberg said the aim is for high school graduates to be ready to take the next steps in college or in the job market.
And to hold schools accountable for the accomplishment of black and Latino males, the initiative includes new performance metrics in school progress reports.
But some experts fear the initiative doesn't address the real problems in education.
"We're funding the wrong piece here," said Christopher Emdin, an urban researcher and professor at Columbia University who also is the director of secondary school Initiatives at the Urban Science Education Center in New York.
Emdin said he doesn't believe that holding schools accountable in the way the initiative proposes will have the desired results.
"If the measure for assessing these schools and student performance are not culturally relevant or culturally sensitive, then this piece of legislation needs to be revisited," he said. He worries it might result only in fudged test scores, giving a false sense of success.
"The idea sounds perfect except for the fact that this is a population that is underserved in schools to begin with," Emdin said.
Another key focus of the initiative will be an overhaul of the Department of Probation, which supervises about 30,000 New Yorkers, most of them African-American and Latino males.
The revamped department will prioritize "connecting probationers to the economic and educational opportunities that can prevent recidivism," the mayor's office said.
Three out of every four young men who leave Rikers Island, the city's jail complex, return to it, Bloomberg said Thursday.
"We call it the Corrections Department. We're not correcting." History shows that when they return, it typically is for a more serious crime, he said. Many of the things that help people to turn their lives around -- a job, a home -- remain elusive or difficult goals for those with criminal convictions, the mayor said.
Wide racial disparities are a chronic feature of the city's unemployment and incarceration rates. About 84% of those in the city's detention facilities are black or Latino, according to Bloomberg's office.
But Emdin said he believes focusing funding on training teachers so they are better equipped to teach in urban schools would be a more self-sustaining method to close the achievement gap than training parole officers and creating work programs.
"The initiative isn't focusing on the cause of the gap," Emdin insisted. "The language of the initiative lends itself to saying, 'We have these guys not doing great, let's help them do great.' The framing of the language doesn't take responsibility for the fact that under Bloomberg's administration these high school drop-out numbers (and) incarceration numbers have gone up. There has to be some accountability."
Bloomberg's initiative hopes to address these concerns with an overhaul of the juvenile justice system, intensive mentoring for youth most at risk, and programs helping previously incarcerated youths re-enter the community.
Components of the initiative include the recruitment of paid mentors, the establishment of fatherhood classes, health initiatives, and a review of whether city agencies place unnecessary hiring restrictions on applicants with prior criminal convictions.
"When we look at poverty rates, graduation rates, crime rates and employment rates, one thing stands out: blacks and Latinos are not fully sharing in the promise of American freedom, and far too many are trapped in circumstances that are difficult to escape," Bloomberg said. "Even though skin color in America no longer determines a child's fate, sadly, it tells us more about a child's future than it should."
The initiative marks Bloomberg's second major investment of his own money toward a personal policy priority in the past month. In late July, he committed $50 million to the Sierra Club's anti-coal initiative.
CNN's Rob Frehse and HLN's Keren Goldshlager contributed to this report.
FOLLOW THIS TOPIC