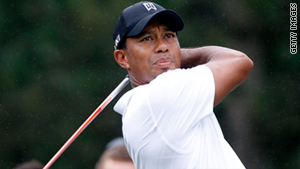 Tiger Woods returns to golf this week after missing almost three months with injuries. He hasn't won a tournament in almost two years.
STORY HIGHLIGHTS
Tiger Woods is playing in his first tournament in more than three months
He was recovering from leg injuries and changed caddies
Woods has dropped to 28th in the world rankings
Many wonder if 35-year-old Woods can break Jack Nicklaus' record of 18 majors
Editor's Note: Steve Politi is a sports columnist for The Star-Ledger in Newark, New Jersey. He has covered Tiger Woods for most of his career.
No lie: Tiger Woods has not won a golf tournament in 628 days.
We're not talking about major golf tournaments, either, the events like the Masters and the U.S. Open that define a player's career. We're talking about any golf tournament, be it a run-of-the-mill PGA Tour event or, as far as we know, even a country-club scramble.
It is a stunning stretch for a man who once dominated the sport unlike any player before him, one that includes a self-imposed exile amid a tabloid sex scandal and two injury-related absences.
But it isn't the past that should concern Woods. It is the uncertain future. Woods, who has 14 majors on his resume, was once seen as a lock to surpass Jack Nicklaus' long-coveted record of 18.
Woods, who has returned from a nearly three-month absence at the Bridgestone Invitational in Akron, Ohio, has never faced more questions about his career. He fired longtime caddie, Steve Williams, this summer. He has plummeted to 28th in the world rankings, a drop of 26 slots since January.
SI looks at Tiger's first day back
His body has gone under the knife so often, including four knee surgeries, that his medical history more closely resembles an NFL linebacker than a professional golfer. He was once among the longest hitters in the game, but lately, he's seen the next generation of players buzz past him.
"There's definitely a lot of interest," fellow pro Matt Kuchar said recently. "There's so many questions that are being talked about: 'Has he fully healed?' 'How bad was the knee?' I played with him at the Players Championship when he withdrew after nine holes and he certainly looked in pain."
Woods, of course, is as defiant as ever. He said this week that he feels no pain in this leg, feels confident about the way he's hitting the ball and that the expectations haven't changed. He still expects to be holding up a trophy when the weekend ends, even if he hasn't done it on U.S. soil in 22 months.
"I'm here to try and win the golf tournament," he said. "That's what I'm focused on." (He shot a 68 in yesterday's opening round, 6 shots off the lead).
Bridgestone Invitational Leaderboard
But what is reasonable to expect? Woods' much-publicized adultery and divorce created the headlines and forced him away from the golf course, and his link to Anthony Galea, a doctor who pleaded guilty to bringing unapproved drugs into the country to help high-profile athletes, also shed him in a negative light.
No one can say for sure what those distractions and disruptions in his life have taken away from his focus on the sport. But this is clear: His own body is the major cause of his struggles now.
Woods' list of medical problems is long. An ACL tear in July 2007. Arthroscopic knee surgery to repair cartilage damage in April 2008. A ruptured Achilles' tendon in December 2008. Back problems in May 2010, then ankle problems in December, and most recently, a knee sprain and Achilles' tendon strain.
He might be 35, still in a golfer's prime, but his body hasn't been right in a long time. His longtime friend Mark O'Meara, a Masters and British Open champion, said a few weeks ago that he had expected Woods would have gotten back to form much faster after returning from his scandal-induced exile.
"Every year that goes by, it only gets tougher, and he knows that," O'Meara said. "The intimidation factor is not as great as it once was. It happens in every generation. ... He's either going to bring it or maybe he'll end up walking, I don't know."
Woods is showing no sign of giving up yet. He once taped a list of Nicklaus' 18 majors on his bedroom was as child and has never backed down from his goal of eclipsing the Golden Bear as the most dominant golfer in the tournaments that matter the most.
But he still needs five majors to pass Nicklaus for the record he has coveted since his childhood, and that's a Hall of Fame career in itself. Not one player in his generation has won more than four.
Also, only three players in golf history have won more than five after turning 35 -- Ben Hogan (eight), Nicklaus (six) and Sam Snead (five). On the flip side, many of the greats in the game -- including Arnold Palmer and Tom Watson -- failed to win a single major past that age.
"I've said many times that he's got a great work ethic and he's a very talented young man," Nicklaus said at the Masters. "And equipment will help extend his career beyond what it extended mine. I assume that he'll get his focus back on what he's doing and he will probably pass my record.
"But he's still got to do it."
Now that he's back on the course, he can begin the pursuit again. But before Woods can chase down Nicklaus, he has to put his name on a leaderboard again. He has to chase down the young golfers who have taken the game in his absence, players such as U.S. Open winner Rory McIlroy of Northern Ireland.
Most of all, the man who is already third all-time with 71 PGA Tour victories needs to end a streak of 628 days without winning a golf tournament. That's when fans can believe Tiger Woods is back.
FOLLOW THIS TOPIC