High temperatures scorch Midwest, South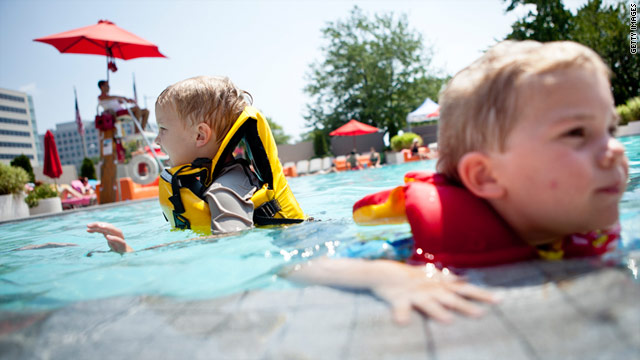 STORY HIGHLIGHTS
NEW: Stifling heat has now killed 11 in Oklahoma, medical examiner's office says
Excessive heat warnings stretch from the South to the Central Plains
Temperatures have been above 100 degrees for more than a month
Some government agencies are distributing air conditioning units
(CNN) -- Hot and dry: It's getting to be a monotonous forecast for the U.S. heartland.
Tuesday will mark 32 straight days that Dallas has been over 100 degrees, with 12 heat deaths confirmed since mid-June, the Dallas County Medical Examiner's office reported Tuesday evening. In addition, at least 12% of the country is experiencing extreme drought conditions.
Heat advisories are in place Tuesday from the South to the Central Plains, as the heat and humidity rules parts of at least 14 states, according to the National Weather Service.
The blazing temperatures that have hung over the central United States for weeks are now blamed for dozens of deaths across the region.
In Oklahoma, extreme temperatures have now caused 11 deaths, according to Cherokee Ballard, a spokeswoman for the state medical examiner's office. Ballard said at least three of the people who died did not have utility service.
The office is currently investigating another 11 deaths that are possibly heat related, she said.
An excessive heat warning has been issued until Friday for most of Oklahoma. Temperatures in Oklahoma City are forecast to reach 111 degrees Wednesday, pushing closer to the all-time high set in 1936 of 113 degrees, according to CNN meteorologist Dave Hennen.

Too hot for Warrior Dash
People aren't the only things wilting under the scorching temperatures. In Tulsa, Oklahoma, towering maple trees are succumbing to heat exhaustion, according to arborist Mike Forest.
Forest told CNN affiliate KTUL silver maple trees are dying because of the intense heat. Brown leaves littering the base of a giant tree are a sign that the tree is struggling, he said.
"If it loses all its leaves and it's gone totally brown, it's done," he said.
While local organizations seek volunteers to help water trees in their communities, Forest recommended homeowners give trees in their yard "a good soaking" every three days after the sun goes down.
As elevated temperatures continue to stifle Dallas, authorities are passing out air-conditioning units in some neighborhoods, Blanca Cantu of the Dallas County Health and Human Services agency said.
"If people meet the eligibility requirements, which is based usually on income, we'll go out there to install the A/C unit," she said. The elderly and homes with "a lot of young children" are also being targeted, she said.
Experts say anyone spending time outside in these areas should watch out for signs of heat exhaustion, such as fatigue, nausea, head or muscle aches or dizziness. People are advised to drink plenty of water and seek shelter in cool places.
FOLLOW THIS TOPIC