Woman killed in fall from Yosemite's Half Dome
STORY HIGHLIGHTS
Woman was descending granite formation that rises 4,800 feet above valley in California
Fellow hiker called 911 when she fell; body found 600 feet below
Cause of fall not immediately determined
Last fatal fall from Half Dome was in June 2009
(CNN) -- A California woman fell 600 feet to her death Sunday while trying to descend a landmark rock formation at Yosemite National Park, according to park officials.
Hayley LaFlamme, 26, of San Ramon, had hiked with three other people to the peak of Half Dome, a granite formation that rises about 4,800 feet above Yosemite Valley in eastern California. She was descending the cables area -- the dome's highest 400 feet, where hikers hold onto fixed metal cables -- when she fell, park officials said Monday.
One of her companions called 911 about noon to report the fall, park spokeswoman Kari Cobb said. Park rangers pronounced LaFlamme dead when they found her body, the park said.
The cause of the fall was under investigation Monday.
It had rained on Sunday morning, and the slopes were wet, Cobb said. The park's website instructs hikers to not climb the cables area when the rock is wet, warning that most accidents on the cables happen when the slopes become slick.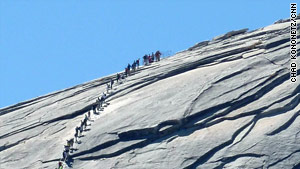 Metal cables help hikers climb Half Dome's final 400 feet.
"Ultimately, it's up to the visitor to assess the safety conditions on any trail in the park and to make the appropriate choices to make them safe," Cobb said.
The cables allow hikers to climb the last 400 feet without rock-climbing equipment, according to the website. The entire hike is a 14- to 16-mile round trip.
LaFlamme had a permit that hikers are required to have to go to the summit, Cobb said. The park issues 400 permits daily during the months that hikers are allowed to go to the peak, from mid-May to mid-October.
Four other people have died on Half Dome since 2006. The most recent of those deaths happened in June 2009, when Manoj Kumar, of San Ramon, fell after slipping on wet granite, Cobb said.
Sunday's death came 11 days after three Yosemite visitors climbed over a guardrail into the Merced River and were swept away. They are presumed dead, according to Cobb.
FOLLOW THIS TOPIC