STORY HIGHLIGHTS
Teacher Jefferson Fietek says he gets messages from teens in crisis once a week
Studies: gay and lesbian suicide attempt rates higher than peers
Fietek's school district has a clear policy prohibiting bullying
It also has a curriculum policy barring teachers from taking a position on homosexuality
When is talk about homosexuality OK in the classroom? Just outside Minneapolis, one school district's curriculum policy on the matter is igniting a culture war. Watch "CNN Presents" Saturday, July 30, 8 p.m. ET, for a full investigation into the Anoka-Hennepin student suicides.
Anoka, Minnesota (CNN) -- Late at night, long after class is dismissed, middle school teacher Jefferson Fietek logs on for his night shift: answering the texts and Facebook posts of suicidal teens.
Fietek, an adviser for his school's Gay-Straight Alliance in Anoka, Minnesota, says he gets messages from students contemplating suicide or those with friends in crisis at least once a week.
Some of the distressed kids are gay, others are questioning their sexuality, he said. Fietek's off-duty interventions may blur the line between teacher and friend, but Fietek, who's openly gay, said some of these kids have no one else to turn to for support.
"I'm worried and concerned about the kids in my school district who are struggling to navigate in a toxic environment," explained Fietek, who said talking to CNN could cost him his job as a theater teacher at Anoka Middle School for the Arts in Anoka-Hennepin.
The suburban Minneapolis school district, he said, has a climate where kids "feel they have to lie and cover up who they are."
"If they're a kid that's questioning their identity, that they have to hide that," he said. "If there's a girl that's too masculine and is being harassed about that, or if there's a boy that's too feminine, [they're] just not feeling a collective support."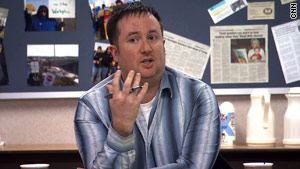 Jefferson Fietek, a teacher and adviser for his school's Gay-Straight Alliance, says he's worried about "kids ... struggling to navigate in a toxic environment."
Fietek has reason to worry. Studies since the 1990s consistently show gay and lesbian youth have suicide attempt rates at least twice that of their heterosexual peers.
And Fietek has seen more than his share of students hospitalized and even buried.
A string of seven student suicides district-wide in less than two years has stirred public debate over Anoka-Hennepin's sexual orientation curriculum policy.
Parents and friends say four of those students were either gay, perceived to be gay or questioning their sexuality, and they say, at least two of them were bullied over their sexuality.
The district's curriculum policy, adopted in 2009, bars teachers from taking a position on homosexuality in the classroom and says such matters are best addressed outside of school. It's become known as the neutrality policy. Anoka-Hennepin is the only Minnesota school district known to have such a policy.
"It's a censorship policy," Fietek said. "It's censorship. There's nothing neutral about taking the side of the oppressor."

Neutrality policy impacting bullying?
Anoka-Hennepin Superintendent Dennis Carlson says the policy -- which has attracted just as many local supporters as it has critics to heated school board meetings -- is a reasonable response to a divided community.
"It's a diverse community," said Carlson, "and what we're trying to do, what I'm trying to do as a superintendent is walk down the middle of the road."
The school district has a separate, comprehensive bullying prohibition policy, and Carlson said there is no link between the suicides and bullying.
"We have no evidence that bullying or harassment took place in any of those cases," the superintendent said.
Carlson emphasized students need to report bullying, and he acknowledged "gay students in our district struggle with bullying and harassment on a daily basis."
What started out as community members clashing at school board meetings is now a full-blown culture war over homosexuality.
Advocates of gay rights filed a federal lawsuit last week against the district challenging the neutrality policy.
In response to the lawsuit, the school district said it is "confident" that they are "complying with the law" and that its policies, practices and procedures ensure the safety of students.
And CNN confirmed, the Departments of Justice and Education have an ongoing civil rights investigation into incidents of bullying and harassment in the school district after receiving a complaint.
"The Department is committed to investigating allegations to determine whether there are violations of federal civil rights laws and will use the enforcement tools at our disposal to protect the safety of students," wrote a Justice Department spokeswoman in an email to CNN.
It's unclear whether the federal investigation will go beyond investigating the bullying complaint.
The party who filed the complaint to the federal authorities remains confidential due to privacy concerns.
Sam Wolfe, an attorney for the Southern Poverty Law Center, one of the advocacy groups behind the federal lawsuit, wrote the district a letter in May, saying the "gag policy" prevented "meaningful" classroom discussion on lesbian, gay, bisexual and transgender (LGBT) people.
"The policy imposes a stigma on LGBT students as pariahs, not fit to be mentioned within the school community," Wolfe wrote, "a message that comes across loud and clear both to LGBT students and their peers, and which has grave repercussions for the psychological and emotional development of LGBT students."
In response to those allegations, the school district wrote a letter to the SPLC, stating the district "strongly disagrees" that there is a link between the harassment of LGBT students and the neutrality policy.
"It's a diverse community, and ... what I'm trying to do as a superintendent is walk down the middle of the road.
--Anoka-Hennepin Superintendent Dennis Carlson
The district's letter also disputes that the policy prohibits classroom discussion of LGBT issues, and states rather that it prevents teachers from injecting their personal beliefs on homosexuality in the classroom.
Last week, the district asked the advocacy groups to help them develop employee training to support LGBT students but stopped short of meeting their demands to repeal its policy.
"We believe the interests of our students would be better served if we could put our energies and resources into working together to develop materials that directly support students," said Carlson in a press release.
"Rather than focusing on litigation we would prefer to invest in materials that would provide a positive outcome for students for years to come."
The school's neutrality policy has the backing of some parents like Yvette Schue, a district mother of four children, who said a controversial topic like homosexuality should be "handled at home," and schools should focus on core academics.
"They don't need to be promoting a particular point of view on [homosexuality]," Schue said.
"Parents have the right to raise their children any way they want to, and the school district doesn't need to be sitting there saying, 'Your parents are wrong.'"
FOLLOW THIS TOPIC