STORY HIGHLIGHTS
A powerful tornado devastated Joplin, Missouri, in May, including a music store
Pictures of Orange brand amplifiers amid store's rubble were posted on Facebook
Photos triggered interest from amp maker Orange, which reached out to the store owner
The company organized an auction to help raise money to rebuild the store
Editor's note: CNN's Jim Spellman covered the devastating aftermath of the May 22 tornado that killed 156 people and wiped out most of Joplin, Missouri.
(CNN) -- It was 48 hours after the May 22 tornado hit Joplin, Missouri, when I spied a bright, orange object among the endless rubble. And then another and another.
They were guitar amplifiers made by a company called Orange. These orange-colored amps are iconic among musicians, and as a guitar player, they caught my eye.
I stopped to check them out. It turned out this particular pile of rubble had, just two days earlier, been a guitar shop called Glory Days music store on Main Street in downtown Joplin.
I snapped a few pictures of the amps as well as some destroyed guitars and drums, wondering what the story was behind them.
It was a hectic scene trying to cover the devastation. I posted a few pictures on my Facebook page and moved on.
Days later, I got an e-mail from Orange's Alex Auxier. He said he had seen my pictures on Facebook and wanted to know what happened.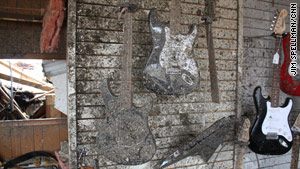 A wall of damaged guitars was all that was left of the Joplin music store after the devastating May 22 tornado.
I laid out what I knew and decided to learn more about Glory Days. Turns out the owner is Dave Peterson. He started Glory Days 15 years ago and lived right next door to his music store.
Joplin's marching band gets help
On the day of the tornado, Peterson heard sirens, grabbed his son and headed down into the basement of his home.
"I'm yelling at my wife, 'Get down here, get down here.' Then I could hear it on the ground," he says. "As she hit the second stair, the tornado hit our house. She dived under the pingpong table with the rest of us. It was total darkness, total chaos. It was right above us. A direct hit."
After the twister had passed, he emerged to find a scene of complete devastation -- block after block, mile after mile destroyed, including his house and the business he spent so much time building.
"I was blown away. There was nothing left anywhere. It was totally heartbreaking," he said. "Just seeing the amps strewn everywhere, I said, 'This isn't good.' "
Any hope of salvaging the music gear vanished a few days later when Peterson says looters stole most of the items.
While Peterson tried to figure out a plan forward, Auxier at Orange's U.S. headquarters in Atlanta had been looking at the photos I took and decided to try to find a way to help Glory Days.
"I wasn't aware of that level of devastation until I got those pictures from you," he said. "It was such a personal story. It was a chance for us to get into a local store and make a difference."
We feel like were going to be able to come back stronger than ever.
--Dave Peterson, owner of Glory Days music store in Joplin
Auxier had a plan: Orange would hold an auction to benefit Glory Days, and one of the most famous users of Orange amplifiers, Rush's Geddy Lee, would even personalize an amp for the winner.
So Auxier set out to track down Peterson.
"That was emotional," Auxier said. "It wasn't easy to get a hold of him. No e-mail or cell -- only text. He got on the phone after walking back to search for victims. He broke down and cried."
The auction is live now and ends August 24. Orange plans a second auction of celebrity-owned musical instruments in September.
"It's musicians doing something for musicians," Auxier said.
Peterson said the outpouring of support has been moving and helped to give him the courage and resolve to rebuild.
"It's been overwhelming," he said. "We feel blessed. We feel like were going to be able to come back stronger than ever."
FOLLOW THIS TOPIC