Firefighters receive $2 million in Connecticut discrimination case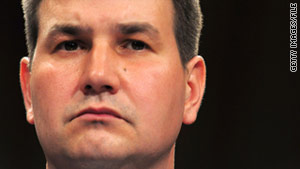 Lt. Frank Ricci of the New Haven 20 was a key plaintiff in the discrimination case.
STORY HIGHLIGHTS
"We feel we vindicated the merit system," firefighter Frank Ricci says
He and 19 others sued after the results of promotion exams were canceled
They got the promotions after a 2009 Supreme Court ruling
Wrangling over the financial compensation took longer, however
(CNN) -- After seven years of wrangling in a case that altered workplace discrimination law, 20 firefighters will receive a $2 million payout from the city of New Haven, Connecticut.
The compensation dates back to a 2009 Supreme Court decision that found the city discriminated against white firefighters when it threw out the results of promotion exams in 2004.
The settlement, announced Thursday, includes three years of additional pension benefits.
"It was a long, stressful, arduous process (but) we feel we vindicated the merit system," said Lt. Frank Ricci, key plaintiff in the case.
"In a job where you can go to work and not come back the next day, a merit system is the only way," he said.
Ricci and others took promotion exams in 2003 for lieutenant and captain positions that had become available in Connecticut's second-largest city.
When officials determined too few minorities qualified, they chose to disregard the results of the exams. After various appeals that decision was found to be a civil rights violation and was overturned.
"If someone calls 911 they don't care what the rescuer looks like," he said. "Public safety must be the overriding factor. Race is really extraneous."
The New Haven 20 -- one Hispanic and 19 white firefighters -- will share the payout. It will compensate for back pay, attorney fees and additional credits, according to Ricci.
Of the group, the 14 who qualified for promotion assumed their new positions following the Supreme Court decision in November 2009.
Three African-American and two Hispanic firefighters who passed the test also were promoted, Ricci said.
Despite the Supreme Court decision, it took time to work out the details of the financial settlement.
"We've been trying to resolve the matter since 2009," said lawyer Victor Bolden, who represented New Haven. "The city's very happy to be moving forward and be concluding the chapter in this long case."
He added, "This is a case that established a new legal standard for employment testing and it will be a standard that will be used by employers throughout the nation."
The case has served as precedent in similar cases in Buffalo, New York, Memphis, Tennessee, and Bridgeport, Connecticut.
The case was a center of attention during the Supreme Court confirmation hearings of now-Justice Sonia Sotomayor, who was then on the 2nd U.S. Circuit Court of Appeals, which had backed the city in the case.
FOLLOW THIS TOPIC