Justice to brief 9/11 families on hacking probe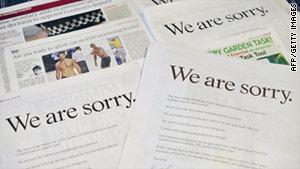 News Corp CEO Rupert Murdoch released apology ads in British newspapers.
STORY HIGHLIGHTS
The FBI has been probing whether 9/11 victims' phones and voice mail were hacked
Justice Department officials will update 9/11 families on the investigation in late August
The scandal has led to several arrests and resignations in Britain
New York (CNN) -- Families of victims of the 9/11 attacks will meet with top Justice Department officials in late August to discuss whether any of their relatives' phone messages were hacked by employees of News Corp., likely participants said Wednesday.
The FBI began investigating that claim amid a widespread scandal in Britain over the use of phone hacking by employees or associates of News Corp. papers there. The August 24 meeting with Justice officials will update the families on the progress of the investigation, retired New York firefighter Jim Riches told CNN.
"We hope to find out results of the investigation and find out who was tapped, and whether they will hold any anyone accountable if it happened," said Riches, whose son died in the al Qaeda attack on New York's World Trade Center.
Norman Siegel, an attorney representing 9/11 families' organizations, said Attorney General Eric Holder has agreed to take part in the meeting.
"We look forward to cooperating with both the FBI and the Department of Justice on this important matter," he said.
News Corp. CEO Rupert Murdoch told British lawmakers last week that he had seen "no evidence" that victims of the 9/11 attacks were victims of phone hacking by his employees and that he doesn't believe it happened. The FBI has said its investigation is ongoing.
"I look forward to getting as much information as we can about this deeply disturbing matter," said Sally Regenhard, whose son also was among the nearly 2,800 killed in the twin towers.
The scandal has led to the shuttering of the News of the World, once Britain's biggest Sunday paper; the resignations and arrests of two top former editors; and the resignations of two top British police officials amid allegations that reporters bribed law enforcement officers.
Several U.S. lawmakers pressed for an investigation on the American side after one of News Corp.'s tabloid rivals reported that a retired New York police officer was approached by News of the World reporters for help in hacking into phone records and voice mails of 9/11 families. The tabloid Daily Mirror did not identify the ex-officer.
Riches said he expects about 20 to 30 families to attend the meeting, which is scheduled to run about an hour. He also plans to ask for an update about the case of self-proclaimed 9/11 mastermind Khalid Sheikh Mohammed. Mohammed is being held at the U.S. Naval base at Guantanamo Bay, Cuba, for possible trial by a military commission.
Riches, who has been to Guantanamo Bay, said the trials of Mohammed and other al Qaeda captives held there are long overdue.
FOLLOW THIS TOPIC


Part of complete coverage on

Damaging allegations over phone hacking are continuing to mount against Rupert Murdoch's media empire.

It's the slap that's been heard around the world: Wendi Deng Murdoch putting herself between her husband Rupert Murdoch and a protester armed with a shaving cream pie.

The phone-hacking scandal began two years ago as a lonely newspaper crusade in London, but the story has taken the world by its ear.

UK lawmakers are doing the right thing in severing their ties to the Murdoch empire, says academic Steven Barnett.

Piers Morgan, a former editor of two British tabloid newspapers calls allegations that he participated in phone hacking "nonsense."

Rupert Murdoch's wife Wendi Deng becomes a sensation on Twitter after pouncing to slap down a pie attack on her husband.

CNN's minute-by-minute coverage of the phone hacking hearings as they happened.

Rupert Murdoch is the last of a dying breed: An old-fashioned press baron, a tough businessman with a hunger for the next big story.


Most popular stories right now