STORY HIGHLIGHTS
A Midwest power system operator reports its highest demand ever on Wednesday
An official with a power grid that serves the mid-Atlantic says the grid is holding up
"This is the kind of week that we literally plan years for in advance," the official tells CNN
(CNN) -- The sweltering heat wave that has much of the United States in a stranglehold is stressing the nation's power grids to the max, according to energy officials.
Thursday, the Midwest Independent Transmission System Operator (MISO) -- the organization that manages the flow of bulk power in 12 states across the Midwest -- declared an emergency alert due to high temperatures stretching generators to a much higher-than-forecast load.
The agency reported demand surged to its highest point ever in history Wednesday, peaking at 103,975 megawatts and surpassing the last record set on July 31, 2006. Previously in May, the agency said it expected peak demand for the summer to reach 93,842 megawatts, a projected 1.3% increase over 2010.
As the heat wave continues to bear down on more than 150 million Americans in the Midwest and mid-Atlantic regions, more and more people are cranking on air conditioners and turning up demand for electricity.
In May, the power grid serving most of the mid-Atlantic region predicted a peak demand of just under 149,000 megawatts (one megawatt can run 1,000 air-conditioning units at full power). On Wednesday, that grid produced more than 150,000 megawatts.
But Michael Kormos, an operations executive with Philadelphia-based PJM Interconnection, which serves 58 million customers in 13 states and the District of Columbia, said his utility is well-prepared for the increase in demand.
"While we are at peak, this is the kind of week that we literally plan years for in advance to make sure the infrastructure's in place," Kormos told CNN's Randi Kaye.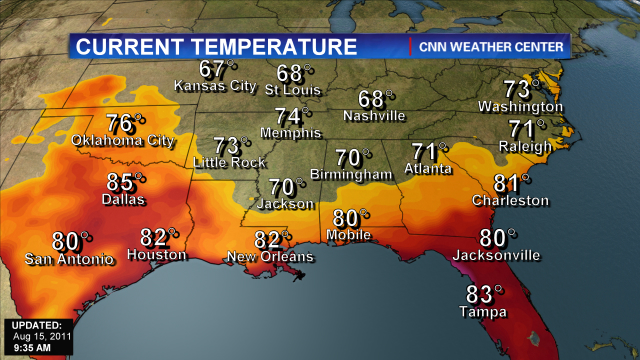 Current temps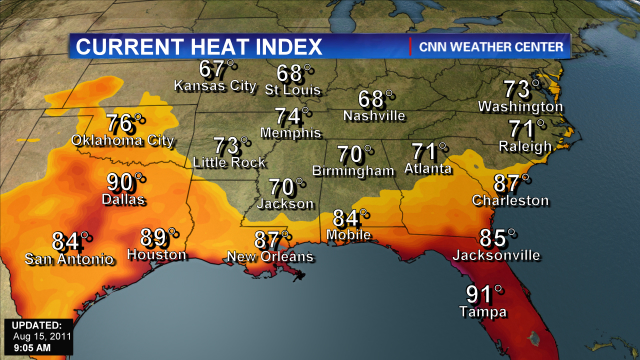 Current heat indices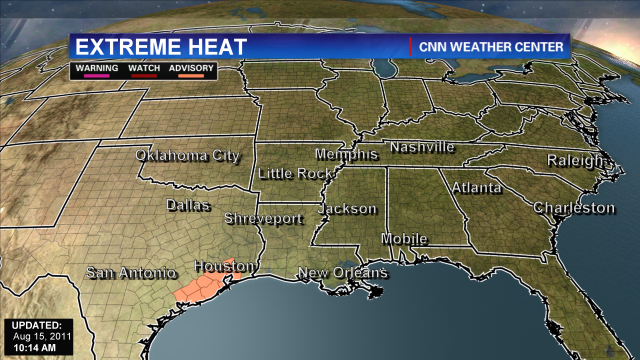 Heat watches/warnings
"We train all year long to be prepared and everything is running well, and the grid is holding up, and we expect not to have any brownouts in the foreseeable future."
In Texas, meanwhile, the system operator responsible for managing the flow of electricity to 23 million customers -- or 85% of the state -- said although it hasn't broken any all-time records, demand is extremely high.
The Electric Reliability Council of Texas (ERCOT) said it documented a peak demand of 64,226 megawatts last Thursday, the all-time highest record for the month of July.
"Previous to that record would have been back in 2009," spokeswoman Dottie Roark said. "When we broke that record last Thursday, that's actually the third time we've broken that this month. So in other words, it's been very hot July."
Extremely high temperatures on June 27 taxed generators so much that ERCOT entered into the first of three emergency stages aimed at maximizing resources in times of a power-grid crisis. At its highest level, operators may be forced to institute rolling blackouts to reduce the load on the system.
"They're actually very rare and are used only as a last step of our emergency procedures," Roark said. "They are controlled outages, not like a cascading blackout when the lines go out."
Earlier this week, MISO sent a proposal to the Federal Energy Regulatory Commission revising its energy plan to ensure it can meet increased demand to help keep the grid in balance, the agency said in a statement.
In the meantime, wholesale energy organizations are asking local transmission operators to make sure that extra resources are available as the heat wave continues.
"The week's not over, and given the forecast, we may see yet another record-demand day," Richard Doying, vice president of MISO operations, said. "We remain focused throughout this period of high demand to ensure reliability across our region."
FOLLOW THIS TOPIC