9/11 families to meet with attorney general over phone hacking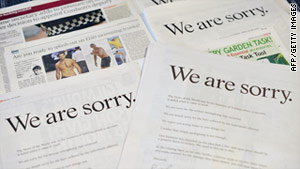 News Corp CEO Rupert Murdoch released apology ads in British newspapers on Sunday.
STORY HIGHLIGHTS
A meeting date has not been set, an attorney representing 9/11 families says
Family members requested the meeting after the FBI began an investigation
Relatives say they have no knowledge or evidence of phone hacking
Murdoch says he doesn't think 9/11 victims, families were phone-hacking victims
(CNN) -- Relatives of 9/11 victims will meet with the U.S. attorney general and other Justice Department officials to discuss allegations that a newspaper owned by News Corp. targeted phone conversations and voice mails of victims of the 2001 terrorist attack, a lawyer representing family members said.
Attorney Norman Siegel said no date has been set for the meeting with Attorney General Eric Holder and other officials, which family members requested after the FBI launched an investigation into News Corp. last week.
The FBI's investigation began after a British tabloid reported that the company's employees or associates may have attempted to hack into phone conversations and voice mail boxes of September 11 survivors, victims and their families, a federal law enforcement source told CNN on Thursday.
The story in the Mirror -- a British tabloid that includes a section it describes as "gossip gone toxic" -- cited an unnamed source who claimed the now-defunct News of the World newspaper approached a private investigator in New York to hack into 9/11 phone records, but he declined to do so.
The meeting will not deal exclusively with the alleged phone hacking, but other issues of ongoing concern to 9/11 families, Siegel told CNN.
"We're extremely pleased. We look forward to cooperating with the Justice Department and the FBI in their investigation," he said.
In a letter requesting the meeting, Siegel said family members would give authorities permission to examine their phone records and look for possible evidence of hacking. But he added later that he is not sure every family is prepared immediately to sign authorizations to turn over records, if the families are asked to do so.
He said no family members have knowledge or evidence that their records were searched. However, he said one family has questions about an e-mail "potentially" being hacked. He provided no further details.
One family member -- Jim Riches, who lost his firefighter son on 9/11 -- said he thought it was "great the government is being open and honest and will let us know what's going on."
But Riches, a retired New York Fire Department deputy chief and chairman of 9/11 Parents & Families of Firefighters & WTC Victims, said he doesn't expect specifics of what the FBI may be learning in its investigation.
"I expect broad brush strokes and the Justice Department to let us know what they intend to do.... And let us know if there's any validity to the allegations," Riches added.
News Corp. Chairman and Chief Executive Officer Rupert Murdoch told British lawmakers Tuesday that he had seen "no evidence" that victims of the 9/11 attacks were victims of phone hacking by his employees, adding that he does not believe it happened.
News of the World, a 168-year-old British newspaper owned by Murdoch, folded on July 10 in the wake of accusations that its reporters illegally eavesdropped on the phone messages of murder and terrorism victims, politicians and celebrities.
Police in the United Kingdom have identified almost 4,000 potential targets of phone hacking.
There also were allegations that reporters may have bribed law enforcement officers.
FOLLOW THIS TOPIC


Part of complete coverage on

Damaging allegations over phone hacking are continuing to mount against Rupert Murdoch's media empire.

It's the slap that's been heard around the world: Wendi Deng Murdoch putting herself between her husband Rupert Murdoch and a protester armed with a shaving cream pie.

The phone-hacking scandal began two years ago as a lonely newspaper crusade in London, but the story has taken the world by its ear.

UK lawmakers are doing the right thing in severing their ties to the Murdoch empire, says academic Steven Barnett.

Piers Morgan, a former editor of two British tabloid newspapers calls allegations that he participated in phone hacking "nonsense."

Rupert Murdoch's wife Wendi Deng becomes a sensation on Twitter after pouncing to slap down a pie attack on her husband.

CNN's minute-by-minute coverage of the phone hacking hearings as they happened.

Rupert Murdoch is the last of a dying breed: An old-fashioned press baron, a tough businessman with a hunger for the next big story.


Most popular stories right now