6-year-old shark attack victim 'in good spirits,' family says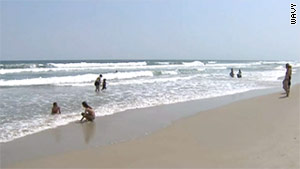 A 6-year-old girl was bitten by a shark in the waters off Ocracoke Island on North Carolina's Outer Banks.
STORY HIGHLIGHTS
A 6-year-old girl's condition is upgraded to good from critical
The incident occurred on Ocracoke Island on North Carolina's Outer Banks
Late afternoon is a common time to see sharks near shore, park ranger says
(CNN) -- A 6-year-old girl is faring better a day after a shark attack put her in critical condition, the family said Wednesday.
The girl, who was rushed to Pitt Memorial Hospital in Greenville, North Carolina, Tuesday and listed in critical condition Wednesday morning, was listed in good condition Wednesday evening, according to CNN affiliate WCTI in New Bern, North Carolina.
A family member said she was in "good spirits."
"I hate sharks," said the girl, according to family. "I like dolphins way better."
She was bitten on her right leg and foot Tuesday while playing in the shallow waters on the shore of Ocracoke Island, on North Carolina's Outer Banks. Witnesses, including the girl's mother, saw the incident from nearby and got her medical attention swiftly, according to authorities.
"Late afternoon and early morning are the most common times of day to see these sharks so close to shore," said Ranger Kenny Ballance of nearby Cape Hatteras National Seashore. "There has not been a shark attack recorded on Ocracoke in over 35 years, but there was one further north in Avon (on the Outer Banks) in 2001."
The National Park Service, Hyde County EMS and the Ocracoke Fire Department responded to the scene, according to WCTI.
"I'm proud of the way the three responding groups worked together to get this patient quickly off the island," said Brian Carter, Hyde County deputy emergency services director. "By calling for a helicopter early as possible and offering top care while the patient was on the island, we gave her the best chance for recovery that we could."
The family will not issue any new updates to the girl's condition, their statement said.
No other swimmers were reported injured and no closings were reported as a result of the incident.