STORY HIGHLIGHTS
NFL rookie Marcell Dareus, 21, is mowing lawns during the lockout

He was the No. 3 pick in the NFL draft this year by the Buffalo Bills

His adopted godfather, "Sarge," oversees Dareus' landscaping work

"Sarge" and his wife have raised Dareus since high school

Birmingham, Alabama (CNN) -- Had this been any other year in the National Football League, rookie Marcell Dareus would probably have been a multimillionaire by now.
But because of the NFL work stoppage, the top defensive prospect, chosen third overall by the Buffalo Bills this year, does not draw an NFL-sized paycheck -- or one at all, for that matter.
Instead, the former University of Alabama standout awaits a resolution to the months-old lockout as the only landscaper in Birmingham with his own trading card.
"I'm really anxious about the season starting," said Dareus, 21, from atop his John Deere riding mower. "I can't wait to get to Buffalo to see the fans. I can't wait to get the whole feeling of the NFL. It's surreal."
There are signs that the stalemate is soon ending; the league's 32 owners approved a 10-year revenue-sharing agreement with players on Thursday evening.
The players union said Friday that they were discussing it, but declined any further comment.
SI.com's full coverage of the NFL and the lockout
Meanwhile, Dareus, a 300-pound NFL lineman, is tasked with manicuring suburban lawns under the scrutinizing eye of Lester "Sarge" Reasor, a retired drill sergeant who barely rises to Dareus' massive forearms.
"This could have been edged up a little better right here," Reasor said, pointing to a patch of lawn.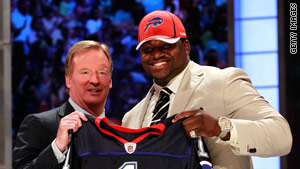 Marcell Dareus with NFL Commissioner Roger Goodell after being selected by the Buffalo Bills in April.
The fact that Dareus stands on the cusp of fame as a professional football player hasn't softened Sarge's orders.
"I've got to roust him up about 6 o'clock every morning," he said. "(I get) him out of bed to get these lawns cut."
With seemingly every home in the neighborhood belonging to either a family member or friend of the Reasors', Dareus has an endless supply of lawns to cut and hedges to trim.
KJCT: NFL lineman works as river guide
Sarge's boot-camp-style work schedule makes two-a-days at an NFL training camp seem like a walk in the park: After his wakeup call, Dareus' first task each day is to wash the lawnmower before heading out in the stifling Alabama heat.
"(Sarge) likes to wait until noon, when that sun is beaming straight on you," Dareus said.
"My job as a drill sergeant was to inspect and make sure the soldiers were doing what they were supposed to do," Reasor said. "I taught them how to be neat and clean and proficient."
It's something, Sarge says, he tries to instill in Dareus.
Though he gently chides Dareus over his tidiness and weed-wacking acumen, the bond between the football star and the retired drill sergeant is unmistakably one of mutual respect and affection. And it is a relationship that they both needed at precisely the same moment in time.
The Reasor family, deeply involved in service to their community, took Marcell in when he was in high school after chronic illness left his mother ill-equipped to provide even the most basic of necessities for her seven children.
Sarge and his wife, Juanita, whose own children were grown, enjoyed having the gentle giant of a teenager in their empty nest.
The aging Sarge, with all of those lawns to cut, was thrilled with the live-in help.
"God sent (Marcell and his brothers) right here in the nick of time to save me," said Sarge, whom Dareus refers to as his godfather.
Dareus' mother passed away last year before getting to see her son realize his dream of being drafted into the National Football League.
Before she did, however, she entrusted Sarge with fulfilling a dream of her own: for Dareus to graduate from college.
Though he may have left Tuscaloosa for Buffalo, Dareus hopes to graduate by December with the help of online courses.
It's something that would serve him well if there were no NFL.
But Dareus isn't thinking about the lockout. He's thinking about the place he wants to be the most: the football field.
"I really can't wait. I'm just anxious to get back on the field."
The thoughts of the field below him and the man who tends to it also remain close.
"My godfather hates crabgrass. Hates it," Dareus said. "I'm going to buy him the best crabgrass killer money can buy."
FOLLOW THIS TOPIC