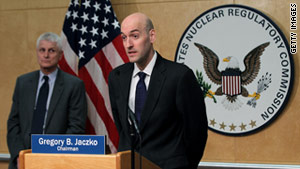 U.S. Nuclear Regulatory Commission chairman Gregory Jaczko speaks on nuclear reactors in Maryland, on Tuesday.
STORY HIGHLIGHTS
NEW: It's too early to set an industrywide standard, top nuclear industry rep says
An NRC task force recommends beefing up safety rules after Japan's disaster
The task force says a similar accident at a U.S. plant is unlikely but "unacceptable"
Scientists' group urges quick adoption
Washington (CNN) -- Making U.S. nuclear power plants have a plan for running on emergency power for three days after a disaster is a "no-brainer" after the accident at Japan's Fukushima Daiichi plant, the top U.S. regulator said Tuesday.
A new rule proposed in the wake of the Japanese disaster would require U.S. plant operators to be able to handle a station blackout for 72 hours, including eight hours of battery power. While implementing it might take time, the recommendation is "a fairly straightforward one," said Gregory Jaczko, the chairman of the Nuclear Regulatory Commission.
"Perhaps I'd throw this one in the 'no-brainer' category in terms of adopting this recommendation," Jaczko told reporters after an NRC meeting Tuesday morning. "It's one that will take work as a regulation to work through, but it's certainly one that at this point I feel comfortable supporting."
The NRC is weighing a dozen recommendations from a panel of experts that studied the crisis at Fukushima Daiichi, where three reactors melted down following Japan's March 11 earthquake and tsunami. The meltdowns occurred after the tsunami swamped the plant and knocked out power to its cooling systems, unleashing the worst nuclear accident since Chernobyl.
The task force called the prospect of a similar disaster in the United States "unlikely," but said the consequences if one did occur would be "unacceptable."
The task force also recommended replacing what it called a "patchwork" of current regulations with a more systematic and "coherent" set of safety requirements. The U.S. nuclear industry has given the proposals a cool response, arguing that all the facts remain to be settled after Fukushima Daiichi and that plant operators should have time to offer their own input.
But the task force's leader, Charles Miller, said the panel "really didn't need more information" to recommend deeper contingency plans for a potential long-term blackout at U.S. plants.
"In the United States, when we formed the station blackout rule, the going assumption was you would get power back either externally or internally in a period of time that was much shorter than what was experienced at Fukushima," Miller told reporters after his team briefed the NRC's five commissioners. The proposed new rule is based on the ability of emergency crews to reach a plant and get generators up and running within three days of a disaster, he said.
"We feel that within 72 hours in the United States, given our infrastructure, that we could get help there to be able to extend the ability to produce on-site power using portable means," he said.
The Nuclear Energy Institute, which represents plant owners, has said it agrees plants should be able to operate on emergency power for longer periods of time. But its chief nuclear officer, Tony Pietrangelo, told reporters last week that the length of time can vary from plant to plant, and said more information needed to be collected before setting an industrywide rule.
"We want to do it right and do it once," he said after the task force report was released.
However, the Union of Concerned Scientists, a frequent critic of the nuclear industry, urged the NRC to adopt the proposed rules quickly.
"We also suggest you consider how you might answer the following question from Congress when scheduling these deadlines: 'Commissioner, wasn't the safety issue that led to this accident specifically raised by the Task Force in July 2011? Why had you not resolved that very issue by the time _______ occurred?' " the group and 14 similar organizations wrote in a letter to commissioners Tuesday.
CNN's Mike M. Ahlers and Matt Smith contributed to this report.
FOLLOW THIS TOPIC