STORY HIGHLIGHTS
NEW: Interstate 405 reopened 17 hours ahead of schedule
NEW: Los Angeles traffic dropped by two-thirds because of dire gridlock warnings
NEW: "We can get out of our car once in a while and survive," Mayor Villaraigosa says
"Carmageddon" was not the traffic nightmare predicted for Los Angeles drivers
Los Angeles (CNN) -- Los Angeles survived what officials warned could have been a traffic nightmare this weekend when a section of one of the nation's busiest freeways, closed for construction, was reopened ahead of schedule Sunday.
"Carmageddon, shmarmageddon," said Los Angeles County Supervisor Zev Yaroslavsky, as he and Los Angeles Mayor Antonio Villaraigosa announced at midday Sunday that Interstate 405 would reopen 17 hours before Monday's morning rush hour begins.
Despite Los Angeles' reputation as "the car capital of the United States of America, the congestion capital, the city most addicted to the single-passenger automobile," motorists found alternatives to driving for the weekend, Mayor Villaraigosa said.
A 10-mile segment of the freeway was closed Friday night to allow crews to demolish a section of bridge to make way for a car pool lane. Workers completed the demolition faster than expected, Mayor Villaraigosa said Sunday morning.
"The fact that we were able to do it sooner meant that things went very, very smoothly," Villaraigosa said Sunday. "Had they not, we might have had this press conference on Monday afternoon."
Barriers that had detoured northbound and southbound traffic away from the 405 since late Friday were removed at noon Sunday, with the opening of interchanges and ramps to follow.

Los Angeles survives 'Carmageddon'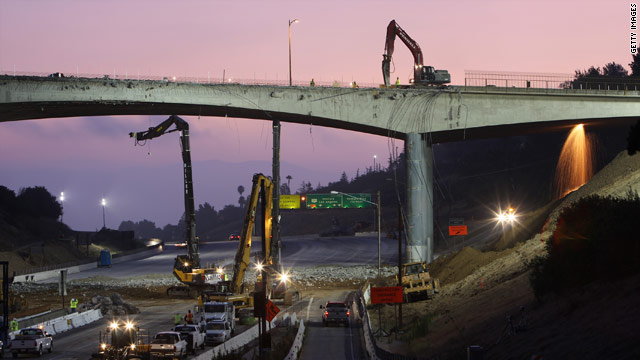 L.A. drivers avoiding 'carmageddon'

'Carmageddon' race pits car vs. plane

App helps drivers avoid congestion
The real story may be how Los Angeles residents reacted to dire warnings to keep their cars parked or else get struck in predicted gridlock that Yaroslavsky had dubbed Carmadegeddon.
The number of cars driving on Los Angeles roads dropped a dramatic two-thirds Saturday, Yaroslavsky said.
"I propose a yearly carmageddon holiday! What a lovely chill summer day in Santa Monica," resident Novena Carmel said in a Twitter posting Saturday afternoon.
Yaroslavsky and Villaraigosa both agreed Sunday, sounding as if they were only half-joking.
"I like the idea of us taking a time out once a year," Villaraigosa said. "I think everybody has realized that we can get out of our car once in a while and survive."
The mayor said he was pleased with reports of "people going to their neighborhood restaurants, going to a coffee shops, talking with neighbors, having family dinners or barbecues that they might not otherwise have done in the rat race that we live in."
In fact, the city will do it again in 11 months when the second half of the Mulholland bridge is demolished to complete the expansion project.
While fear of gridlock motivated the change in habits this time, Yaroslavsky suggested Los Angeles residents may have learned an unexpected lesson.
"I think a lot of people in Los Angeles have learned that you can get along without taking long rides in your cars on weekends these past couple of days," he said. "There's a feeling in Los Angeles that if you don't get in your car on a weekend that you're somehow being cheated of something."
Demolition of a section of the southern half of the Mulholland bridge, necessary to make room for a northbound car pool lane, was expected to keep the freeway closed for 53 hours, ending at 5 a.m. Monday, the start of the morning rush hour.
Crews closed ramps late Friday on the 405, where it passes over the Santa Monica Mountains, California Department of Transportation officials said.
The $1.2 billion construction project calls for replacing a portion of a bridge at Mulholland Drive, a mountain summit road that is featured in many Hollywood films, authorities said. A year from now, crews will have to shut down the 405 again to replace a final portion of the Mulholland Drive bridge, officials said.
The project also calls for adding a car-pool lane in each direction, creating "the largest HOV system in the world" at 48.6 miles in length between the San Fernando Valley and Orange County, said Mike Miles, the California Department of Transportation's director for Los Angeles and Ventura counties.
The two-year project will replace two more bridges, also to accommodate the widening of the 405, and will improve about two dozen on-off ramps and add 18 miles of sound-deadening walls for nearby residents, Miles said.
The 405 is usually one of the busiest freeways in the country, carrying about 500,000 cars a day through the Sepulveda Pass, a critical artery connecting Californians along the coast. The 405 achieved notoriety on national television as the corridor that former NFL player O.J. Simpson used as he was being slowly chased by police in 1994.

Miles of highway closure
The highway also cuts through the west side of Los Angeles, an area that includes the high-status communities of Bel Air, Brentwood, Beverly Hills and Santa Monica.
CNN's Michael Martinez, Sara Weisfeldt, Sonya Hamasaki and Zohreen Adamjee contributed to this report.
FOLLOW THIS TOPIC