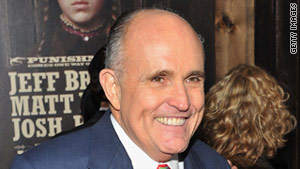 Rudy Giuliani says people should not rush to judgment about his friend, Rupert Murdoch, in the alleged hacking scandal.
STORY HIGHLIGHTS
NEW: Former New York Mayor Rudy Giuliani says he'll see the media mogul soon
"Give people the presumption of innocence," Giuliani says
The FBI has launched an investigation into Murdoch's News Corp.
United Kingdom authorities identify almost 4,000 potential targets of phone hacking
(CNN) -- Former New York Mayor Rudy Giuliani is urging observers not to rush to judgment about mogul Rupert Murdoch over the alleged hacking scandal embroiling his News Corp. media empire.
"Give people the presumption of innocence," Giuliani told CNN's Candy Crowley in New Hampshire on Thursday. "I think that just how high up it goes is a big question and one we shouldn't be jumping to conclusions about."
Murdoch and Giuliani are longtime friends.
Murdoch attended the former mayor's wedding in 2003, and endorsed him in the 1993 mayoral race.
Also, a law and lobbying firm in which Giuliani is partner received $100,000 in lobbying fees from News Corp. in 2005, according to congressional disclosure filings.

Murdoch 'as tough as his headlines'

Rupert Murdoch will attend UK hearing

Senator calls for probe of News Corp.
Giuliani said he's not spoken to Murdoch, but will see him soon.
"I'll probably see him at some point in the next couple of days or week," he said. "I see him all the time at various functions."
Giuliani maintained confidence in his longtime friend despite allegations that the News of the World tabloid may have hacked the phones of September 11, 2001, terror attack victims in New York City. Giuliani was mayor of the city at the time of the attacks.
"He's a very honorable, honest man," the former mayor said. "This can't be something that he would have anything to do with."
News of the World, a 168-year-old British newspaper owned by Murdoch, folded over the weekend in the wake of accusations that its reporters illegally eavesdropped on the phone messages of murder and terrorist victims, politicians and celebrities.
United Kingdom authorities have identified almost 4,000 potential targets of phone hacking.
The accusations have triggered a backlash in the U.S. and Britain, with the FBI launching an investigation into Murdoch's News Corp. after reports that employees may have attempted to hack phones of 9/11 survivors, victims and their families, a federal law enforcement source told CNN.
News Corp. said it had no comment on the FBI investigation or the possibility of congressional hearings.
Murdoch and his son, James, will attend a hearing before British lawmakers Tuesday, according to their company, News International.
If the company is involved in phone hacking, it should be brought to justice, according to Giuliani.
"They should have the common sense to know you cannot intercept telephone calls," Giuliani said. "That's a federal felony and a serious one in the United States, and I'm pretty darn sure it is pretty darn serious in England too."
In an interview published Thursday by the Wall Street Journal, which is owned by News Corp., the elder Murdoch said the company would establish an independent committee led by a nonemployee to probe "every charge of improper conduct."
A 60-year-old man was arrested in connection with the probe, London police said Thursday, the seventh person so far in the investigation.
The former mayor is traveling through New Hampshire this week as he contemplates a run for the White House-a decision he said he'll have by the end of summer.
CNN's Jason Kessler contributed to this report.
FOLLOW THIS TOPIC