STORY HIGHLIGHTS
The city of Dallas never was much like the TV show "Dallas" portrayed it
Dallas has spent decades shaking -- and sometimes basking -- in the reputation it created
A new "Dallas" TV show might reflect modern Dallas more, but it's still a primetime soap
Dallas' reality: It's a diverse city, home to big tech companies and a booming arts district
Dallas (CNN) -- Jessica Angelly stood outside the Sixth Floor Museum last week, taking in the sights of downtown Dallas with family and friends.
It wasn't what she expected.
"I figured it would be a lot of cowboy hats, Wrangler jeans and boots," said Angelly, 17, who was visiting from Metropolis, Illinois. "It's actually kind of disappointing."
Well, you can't believe everything you see on television.
More than 30 years after it premiered, the images of the TV show "Dallas" -- oil derricks, herds of cows, endless fields of the Ewing family's Southfork Ranch, those ubiquitous 10-gallon Stetsons -- still hold sway. Visitors such as Angelly, who wasn't even born when the TV series went off the air in 1991, expect them. Popular culture and even some locals want to present them.
And there's more on the way. On Friday, TNT announced it had picked up a new version of "Dallas," with 10 episodes scheduled to begin airing in 2012.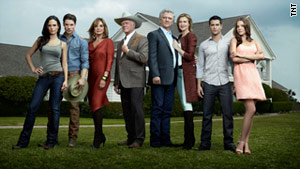 TNT's new "Dallas" features the younger generation of Ewings as they fight over business -- and women.
The new show will feature the children of J.R. (Larry Hagman) and Bobby (Patrick Duffy) as the latest generation of Ewings conniving for control of the family businesses. With guest appearances scheduled from the original cast, expect to see more 10-gallon hats, big hair and luxe accommodations.
Marquee blog: Watch a preview of the new "Dallas"
But "Dallas" -- oil, ranching and families like the Ewings -- isn't much like the real Dallas.
Sure, the city and surrounding area have their share of oil companies -- ExxonMobil is headquartered there, as is Hunt Oil and the drilling product firm Dresser -- but it's also the home of Texas Instruments, American Airlines, 7-Eleven, JCPenney, AT&T, Hostess Brands and TGI Fridays.
The real Dallas is a city of 1.2 million, making it the ninth-largest city in the country. Including Fort Worth to the west and dozens of suburbs, it's part of the United States' fourth most populous metro area, with 6.4 million people.
It's a lot more diverse than oilmen and Miss Texas winners of "Dallas," too. Forty-two percent of city residents identify themselves as Hispanic or Latino; the county sheriff is a Hispanic gay female. The city has gone Democratic for most of the past 30 years; in that time, its mayors have included two women (both of whom happened to be Jewish) and an African-American man. The metro area includes sizable populations of people from all over the world.
The city's establishment used to lament the stereotypes put forward by "Dallas," said city native Darwin Payne, a retired Southern Methodist University professor and former journalist.
"When the show first began, Dallasites scoffed at its stereotypes, considering it more or less a joke," he said. (If you're looking for cowboy hats and -- for that matter -- cows, Fort Worth is where you want to be. That city still has a twice-daily cattle drive in its stockyards.)
But their tune quickly changed when the show, powered by its early "Who Shot J.R.?" storyline, became a national phenomenon.
"It was great for tourism," said Ed Bark, the longtime Dallas Morning News television columnist who now runs UncleBarky.com. "Despite the initial reservations, there was no one who was unhappy about that."
Overcoming the "City of Hate"
Actually, the city of Dallas has rarely fit its stereotypes. In fact, it's been as elastic as its residents want it to be.
The city was founded in 1856, and the area quickly became an agricultural center and transportation hub, particularly known for cotton.
But more important for Dallas' development, it became a financial center. The city aggressively pursued -- and received -- one of the nation's Federal Reserve Banks in 1914. When oil was discovered in east Texas in the 1930s, Dallas bankers financed the growth. The city's determination was so pronounced that when the state was ready to celebrate its centennial in 1936, Dallas beat out Austin, San Antonio and Houston for the honor. The Texas Centennial Exposition "put Dallas on the national map," Payne said.
"Big D," as the city styled itself, prided itself on its commerce, its culture and its well-dressed women.
"The image of Dallas as a city of ranchers wearing string ties and cowboy hats was a carryover from the larger Texas image," Payne said. "It was hard to overcome it."
After the Kennedy assassination in 1963, however, the city picked up an unhappy new image from outside -- the "City of Hate."
That stereotype was largely unfair, points out Gary Mack, curator of the Sixth Floor Museum in the Texas Book Depository building where Lee Harvey Oswald fired his shots. For one thing, the president was a relatively popular man in town: up to 200,000 people, about one-third of Dallas' population at the time, lined the streets for the motorcade on November 22, 1963.
But the city's extremist elements gained greater notoriety after JFK's death, including vocal members of the reactionary John Birch and Patrick Henry societies. It didn't help that, in a widely viewed photograph, U.N. Ambassador Adlai Stevenson had gotten bonked on the head by a protester a month before Kennedy's arrival.
After the assassination, "there was no way to adequately explain what Dallas was really like," said Mack. "For a long time, a lot of people wished (the tragedy) would go away."
Redemption came from two unlikely places: football and a prime-time soap opera.
Cheerleaders and cowboy hats
Creator David Jacobs, fresh off the downbeat drama "Family," proposed a saga to CBS intended to star Linda Evans. Another producer, when submitting the idea, retitled it "Dallas."
"I said, 'I'm not sure this takes place in Dallas.' I said, 'Kennedy was killed in Dallas. I don't even think there is oil in Dallas. Dallas is a cattle town,' " Jacobs told the website UltimateDallas.com. "He said, 'Then we'll change it later,' but then I thought, 'Hey, they won the Super Bowl last year, so perhaps it's time to move with it.' "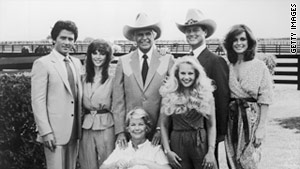 Big hats, big hair and big Texas attitudes have all been associated with the "Big D" since "Dallas" was on TV.
The series began as a miniseries in April 1978, was renewed for a full season and gradually rose in the ratings until it was a bona fide hit. But nobody could have predicted the frenzy that erupted at the end of the 1979-80 season, when an unknown assailant shot Larry Hagman's villainous J.R. Ewing, leaving him for dead. The "Who Shot J.R.?" sensation propelled "Dallas" to TV's No. 1 show -- and gave the city of Dallas a shot in the arm.
"It's not like Dallas was an unknown entity when the show came out," said pop culture expert Robert Thompson, head of Syracuse University's Bleier Center for Television and Popular Culture. "But what 'Dallas' did was build upon those images people already had and then try to graft upon that the changing idea of what was the emerging New South."
Panoramic: See downtown Dallas' skyline in detail
Along with the big ranches and oil wells, he points out, the show also shattered some stereotypes, showing the city's glass-and-steel skyline and modern cityscape, he said.
TV critic Ed Bark said he suffered "culture shock" upon arriving in the city in 1979 from Wisconsin. He thought the series, with its soapy plotlines and exaggerated acting, was easy to mock. But he remembers the show being a "huge industry" in town.
For most of its run, "Dallas" shot scenes at Southfork, a ranch in the northeast suburbs of the city, during the summers before retreating to Los Angeles soundstages. Other productions followed it into the area.
"(There was) a lot of money coming in, and it got other parts of Hollywood understanding that there were production crews here and people knew how to do this stuff. So it had a big impact on the economy and the awareness of the city, without question."
The impact was biggest on Southfork itself.
Like its cast, the Southfork Ranch of "Dallas" was bigger than life. On the show, the house was a mansion with grand, sprawling interiors. The winding asphalt path that led from the gate to the house appeared to stretch for miles. The estate was listed at 100,000 acres -- an area six times the size of Manhattan and more than one-third the size of Dallas.
In reality, it sits on 364 acres in the town of Parker, Texas, just outside of Plano in Dallas' northeastern suburbs. Built in 1970 as Duncan Acres, it includes a handful of cabins and stables for its horses and cattle, a sizable conference center and reception hall and a comfortable, if not cavernous, five-bedroom main house. The pool and patio are modest.
According to Tim Wood, a longtime Southfork tour guide and "Dallas" aficionado, the ranch received little attention until the "Who Shot J.R.?" madness began and CBS' Phyllis George mentioned the location on air.
"The next morning Mrs. Duncan woke up to all of Murphy Road out there packed with visitors," he said.
People jumped the fence and left trinkets for J.R. They even helped themselves to a swim in the pool. The Duncans sold Southfork a few years later.
Why there's no messing with Texas
"They finally had had enough -- they had to live in a fishbowl in their own home," Wood said.
The next owner started tours of the ranch, which were immediately filled, and built its convention center with an eye to bigger business. But a failed natural gas deal forced him into bankruptcy, and Southfork sat vacant for two years until being purchased by Rex Maughan, an Arizona millionaire, and his Forever Resorts company.
Southfork has now been outfitted with a pair of gift shops -- one specializing in "Dallas" memorabilia, the other in Western wear. Visitors can see patriarch Jock Ewing's 1978 Lincoln Continental and a bedroom dedicated to J.R. (which overlooks the pool, of course), as well as the glass table where the Ewing clan gathered for meals.
Still, Southfork remains a consistent draw, the upbeat yin to the Sixth Floor Museum's somber yang. The ranch is visited by 30,000 people a year, one-third of them from outside the United States -- testament to the TV show's worldwide reach, and just how far the city's fictionalized reputation stretches.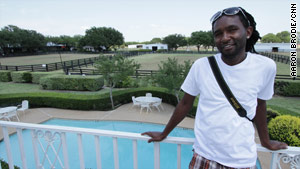 David Muvevi, a computer engineer, watched "Dallas" on TV in Kenya before moving to Dallas.
The latest market? Africa, where independent TV stations are airing old episodes.
Indeed, on July 4, visitors included a Frenchman leading around three Italian auto technicians ("Now their life is fulfilled," he joked) and David Muvevi, a Kenyan computer engineer who recently relocated to Dallas and called the show "very famous."
He was surprised at the size of the ranch, which was much smaller than he'd imagined. Nevertheless, he was tickled to finally stand on the second-story porch where so much action occurred.
"It's still 'wow,' " he said.
The city beyond the stereotype
So many far-away "Dallas" fans are drawn to the real Dallas by its diversified economy -- particularly the technology sector. Almost 18% of the metro area's population is foreign-born, according to 2008 statistics from the U.S. Census Bureau.
Sudipta Bhattacharya, the president and CEO of Invensys Operations Management in Plano, came to the city fresh out of graduate school at the University of Cincinnati. The native of India never had to leave, he said: one tech job has led to the next, all in the Dallas area.
"The thing that people miss about Dallas is all the innovation that is happening," he said. "Here, different industries are forced to work together, and that's where innovation flourishes."
Dallas benefits from a central location, low cost of living, universities and weather, though Bhattacharya jokes that people uncomfortable with 100-degree summer days might disagree.
Indeed, if the city has a flaw, it's that those old stereotypes die hard, Bhattacharya said.
"We don't market ourselves well enough," he said.
While the world envisions oilmen and cheerleaders, Dallas struggles to get the word out about its stronger points, critics say.
There's DART, the city's expanding rapid transit system .The city has a thriving downtown arts district, including the spectacular I.M. Pei-designed Meyerson Symphony Center, the Renzo Piano-designed Nasher Sculpture Center and the Wyly Theatre, a striking structure -- co-designed by Rem Koolhaas -- that looks like a box draped in a graceful aluminum curtain.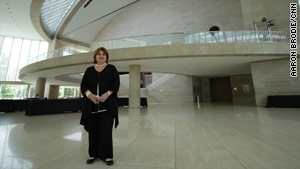 Veletta Lill says there's still more the city can do with dance and street art, but it has made strides.
Dallas' intown neighborhoods have made a comeback, with renewed attention to the Greenville Avenue shopping district and, after a mid-decade dip, the Deep Ellum entertainment area.
Dallas Arts District Executive Director Veletta Lill said the area is capable of more.
"Here is a place where, if somebody comes and plants their flag and said, 'I would like to do this,' they would go, 'How can I help you?' There's pretty much an embracing of new ideas and new opportunities," she said.
Jackie Bolin, who co-owns the V.O.D. Boutique not far from the arts district, saw that when she opened her shop four years ago. The business caters to women seeking upper-end fashion, a market keyed to the youth of the city. (More than 55% of the city's population is younger than 35.)
She saw a need for a place that specialized in small labels and imported styles, though it was hard at first to convince commercial buyers it was a viable business.
"We always hear from buyers saying, 'Don't you want this for Dallas?' and they pick some pink, tight atrocity," she said. "And we have to say, 'No, it's more evolved than that here. Our customer is not that (stereotyped) customer.' "
A new Dallas -- and "Dallas"
Dallas has its big-city problems, of course -- much bigger than the Ewings' family feuds.
After 20% growth from 1990 to 2000, it slowed to less than 1% in the past decade; most of the growth was in the suburbs. The FBI is investigating local corruption that might affect some high-ranking politicians. A longtime project to develop the Trinity River corridor has been a political football for years. The city has struggled with crime, though violent crime rates have generally declined since the early 2000s.
Pop culture might be slow to catch on to the real character of the city, but city leadership has been slow to reflect how Dallas has changed, too, critics say.
Adelfa Callejo, an 88-year-old lawyer and longtime Hispanic activist, said the city has come a long way since she arrived in 1939. But it still doesn't recognize the importance of diversity, she said.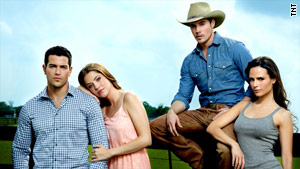 The new "Dallas" features at least one major character who is Hispanic, a love interest named Elena Ramos.
"(Hispanics are) now the largest ethnic minority in Dallas, and the ethnic minorities comprise the majority of the population in Dallas today," Callejo said. "We had to fight for political representation. We had to fight for economic equality. Nothing was given to us."
Rafael Anchia, a Texas state representative, came to Dallas from Miami 25 years ago to study at Southern Methodist University. In Miami, Hispanics were everywhere. From the steps of SMU's Dallas Hall, it was different.
"I looked out and I saw the landscapers and yardmen were Hispanic, and I turned to my mother and said, 'Mama, aqui los latinos estan pisados' -- literally, 'Mom, here the Hispanics are stepped on,' " he recalled.
But modern Dallas is a place where Hispanics are "part of the political, social and economic intelligentsia of the city," he said.
It's a tolerant city, said David Kunkle, the city's former police chief and a recent mayoral candidate. He defies stereotypes, too. The Texas native is a wiry man, soft-spoken and thoughtful, the antithesis of a big-city police chief or a Texas lawman.
"We have one of the largest gay populations and one of the strongest gay communities of any city in the country," he said. "(And) the anti-immigrant movement hasn't gotten any traction in Dallas like it has in other Southwestern cities."
Indeed, maybe it's time to put the old stereotypes, reputations and images away once and for all.
Heck, even the face of Dallas sports is changing. The Cowboys, despite a Texas-big new stadium, are down. It's the baseball Rangers -- American League pennant winners -- and NBA champion Mavericks that are getting the attention.
Mavs owner Mark Cuban, a tech tycoon, has taken the mantle of top local sports owner over the Cowboys' Jerry Jones, who made his fortune in oil and gas.
Even the new "Dallas" might be acknowledging the 21st-century Dallas.
This time, along with their business battles, J.R. and Bobby's sons are dueling over the love of a woman -- the Hispanic cook's daughter, Elena Ramos.
Who knows? Perhaps the new "Dallas" will look a bit more like real-life Dallas.
FOLLOW THIS TOPIC