Gas price slide comes to screeching halt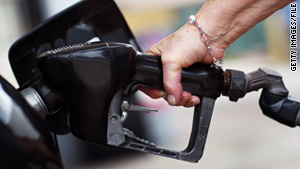 Gas prices are not expect to register further dramatic drops. The national average is $3.62 a gallon.
STORY HIGHLIGHTS
The average price is still 38 cents down from the high in May
Further "dramatic drops" are unlikely, the survey publisher says
The Lundberg Survey tabulates average prices at thousands of gas stations
(CNN) -- The two-month drop in gasoline prices across the country has stopped, according to a survey published Sunday.
The average price of a gallon of regular gasoline is $3.62, down just a penny over the past two weeks, the Lundberg survey found.
The price is a 38-cent drop from the beginning of May, when the average topped off at $4 a gallon.
"Further dramatic drops probably aren't in the cards," publisher Trilby Lundberg said.
Crude oil prices bounced back up $5 per barrel during the same period, she said. If oil prices stay "more or less steady, gasoline prices will be too," she said.

Explain it to me: High gas prices
Although the United States is in the middle of peak demand season, demand is weak, Lundberg said -- a result of the economy, with fewer people taking driving vacations and the unemployed having no jobs to drive to and from each day.
The Lundberg Survey tabulates average prices at thousands of stations across the country.
The city with the highest average price found in the latest survey was Chicago, at $4.03 a gallon. The lowest was Phoenix, at $3.30.
Here are prices in some other cities:
Boston - $3.72
Philadelphia - $3.66
Atlanta - $3.58
Memphis, Tennessee - $3.42
St. Louis - $3.57
Albuquerque, New Mexico - $3.37
Denver - $3.42
San Diego - $3.72
FOLLOW THIS TOPIC