STORY HIGHLIGHTS
NEW: "We didn't want to leave," launch director says of mood in control room
NEW: NASA director promises at least 50 more years of U.S. leadership in space
Atlantis launches for the last time on a mission to the space station
The launch also marks the final journey of the 30-year space shuttle program
Atlantis' journey to the International Space Station is NASA's 135th and final mission in the space shuttle program, which began 30 years ago. Tune in to a special "CNN Presents: Beyond Atlantis" tonight at 8 ET for a look at what's next for NASA.
Kennedy Space Center (CNN) -- Space shuttle Atlantis lifted off Friday morning on the final mission of America's 30-year shuttle program, a thunderously poignant moment that drew people from around the world to watch.
Some of the thousands of onlookers chanted "U.S.A." Others shed tears as Atlantis roared aloft atop its powerful rockets on what a NASA commentator called a "sentimental journey into history."
"Godspeed, Atlantis," read a sign held up by a saluting member of the ground crew whose job it was to seal the shuttle's hatch for the last time.
Thirty years of the shuttle program: A photo-mosaic
Inside the launch control room, even normally sober engineers acknowledged choking up. Launch Director Mike Leinbach threw his arm around a colleague and said, as they watched the shuttle ascend, "We'll never see that again."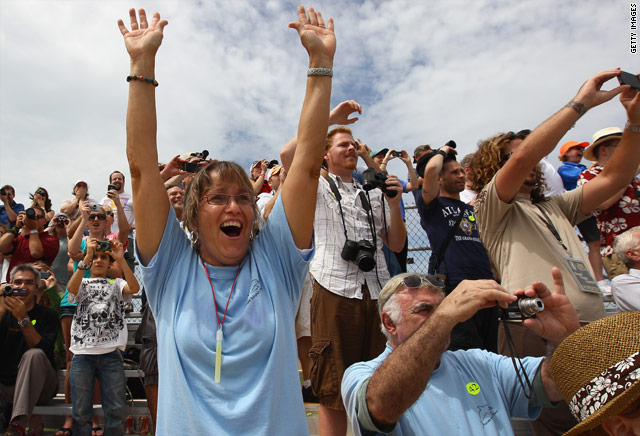 Gallery: Watching the final shuttle launch

Astronauts board Atlantis for launch

Shuttle launch a 'go' for now

Meet the last space shuttle crew
"It seemed like we didn't want to leave," Leinbach said of the mood after launch. "It was like the end of a party and you just don't want to leave."
The four-member crew blasted off at 11:29 a.m. on what was originally planned to be a 12-day mission. The four -- all shuttle veterans -- are on their way to deliver supplies to the International Space Station. They are expected to dock with the station on Sunday.
NASA will likely try to extend the mission by one day, Associate Administrator Mike Gerstenmaier said.
The possibility of storms had raised doubt about whether the launch would take place as planned, but NASA gave the shuttle a "go" for launch a few minutes before liftoff. With the countdown nearing the 30-second mark, the launch had to be delayed briefly to investigate whether a vent arm had properly retracted, which it had.
A slight drop in cabin pressure as the shuttle climbed into the sky raised an alarm, but engineers attributed it to normal expansion that allowed some oxygen to escape. It wasn't dangerous, but it added an extra measure of excitement for the crew, Leinbach said.
As many as a million people may have witnessed the historic moment, including some who were at Kennedy Space Center three decades ago for the first shuttle lift off.
Linda Johnston fulfilled a lifelong dream to watch a launch, tearing up as the shuttle lifted off.
"I think it's kind of a real shame it's not going to be around anymore," she said.

How far have space shuttles traveled?
One onlooker flew in with a friend Thursday from New York. Unable to find a hotel, the men went to a Walmart and picked up a tent, air mattresses and some tortilla chips and camped out on a nearby spit of land to wait for the launch. Seeing the shuttle blast off, they said, will let them check an item off their things-to-do-before-you-die bucket list.
"It's really the last opportunity to see something that's a feat of mankind," the man, who identified himself as Nate, told CNN.
The launch came a day after violent storms hurled two lightning bolts at the launch facility, striking a water tower 515 feet from the launch pad and a nearby beach. The shuttle was not damaged, NASA said.
President Richard Nixon commissioned the space shuttle program in 1972, three years after the Apollo program put a man on the moon.
The first shuttle, Columbia, blasted off in April 1981. Since then, space shuttle crews have fixed satellites, performed scientific studies, and ferried materials and people to International Space Station Alpha, a football field-sized construction project in orbit.
Retired astronaut Bob Crippen flew on that first mission.
"I am sad," he said of the shuttles' retirement. "I think it's a great vehicle. Probably will not see anything like it in my lifetime."
In 134 missions, the five space shuttles have ferried 355 astronauts half a billion miles in space, turning heroic feats into the routine.
"It's an amazing vehicle, and its legacy will live on," Atlantis' final commander, Chris Ferguson, recently told CNN.
When Atlantis lands, it will leave the United States with no way to lift humans into space for the first time in decades. NASA will rely on the Russian space agency to ferry U.S. astronauts to orbit.
Plans are in the works for private companies to begin shipping cargo to the station, followed by the ability to carry astronauts.
The decision to mothball the shuttle fleet has not come without criticism, NASA Administrator Charles Bolden noted.
"Some say that this final shuttle mission will mark the end of America's 50 years of dominance in human space flight," Bolden noted in a videotaped message.
"As a former astronaut and the current NASA administrator I want to make clear that American leadership in space will continue for at least the next half century because we've laid the foundation for success," he said. "And for us at NASA, failure is not an option."
CNN's Jim Spellman, Rich Brooks and Rich Phillips contributed to this report.
FOLLOW THIS TOPIC