STORY HIGHLIGHTS
Four crew members will fly Atlantis on the final shuttle mission

They say they won't think about the significance of the flight until mission is done

Commander says there is risk in not having another space vehicle program ready to go

NASA hopes to bridge gap by hitching ride with Russians and commercial partners
Atlantis' journey to the International Space Station is NASA's 135th and final mission in the space shuttle program, which began 30 years ago. Tune in to a special "CNN Presents: Beyond Atlantis" tonight at 8 ET for a look at what's next for NASA.
Houston (CNN) -- Christopher Ferguson may have a lot to say when he gets back to Earth, but for now, any poetry he may have, or words of wisdom for the history books, will have to wait for when he and his crew bring the last space shuttle, Atlantis, home.
"I'm working on it, but I'd rather leave it up to a surprise," the flight commander said with a smile.
Atlantis is poised to cap the last mission of the 30-year-old shuttle program. Onboard will be a four-person, veteran crew of astronauts, headed to the International Space Station with a load of supplies.
Watch: 134 shuttle launches in 134 seconds

The crew has a businesslike approach to the mission, Ferguson said, but he conceded he will likely be very emotional on launch day.

How far have space shuttles traveled?

Obama 'pushing NASA to revamp vision'

The future of space flight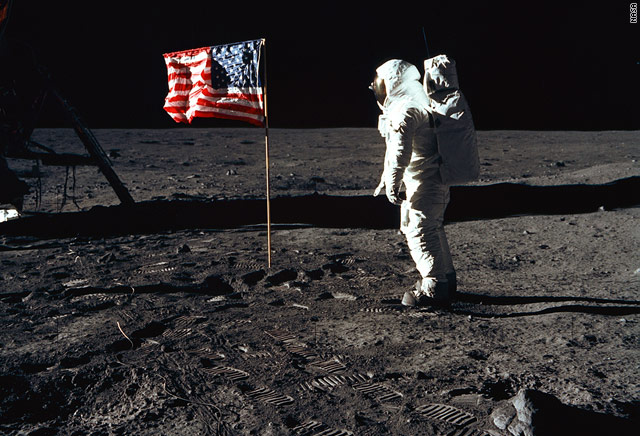 Gallery: Timeline: U.S. shuttle program
"I'm going to wake up and I'm going to think, 'This is it,' " he said. "Not only am I going to fly on the most advanced vehicle that we've built in this country over the past 40 years, but I get to do it on the very last space shuttle flight. It will certainly be a moment where you'll wonder if you're really experiencing this.
"It's a pinch-me moment."
Ferguson was joined by his three crewmates in Houston, where they sat down with CNN's John Zarrella, to discuss their mission, the shuttle's place in history and the future of the manned space program.
Ferguson will be making his third trip into space; pilot Douglas Hurley will be making his second.
Mission specialist Sandra Magnus has made two previous flights, including one where she spent four and a half months aboard the Space Station in 2008-09.
Rex Walheim has performed five career space walks to help build the space station and will make his third space flight.
With the shuttle program winding down, Walheim said he wasn't so sure there'd be a seat with his name on it.
"It's kind of like being at Disneyland late at night, thinking, 'OK, am I going to get to the front of the line before the ride closes or am I going to actually get cut off at the very end?" he said with a laugh. "So, when I finally got assigned to a flight, it's like, 'Wow, I squeaked by,' then to realize this will probably be the last space shuttle mission ever, it really felt like an honor to be a part of it."
What happened to the romance of space?
The crew's place in history in many ways overshadows the task ahead of them, and they're eager to remind people they have work to do.
"We've got more transfer and logistics supplies to send to station than we've ever had on any other mission," Magnus said. "We're very, very busy in training. It's a very challenging mission.
"And, I think, only when the wheels have stopped ... that it will hit us, and (I'll) say, 'Oh my gosh, it's over.' "
Celebrity can wait, the commander said.
"When the job is done, we can look back and reflect and think about where the place in history lies for this final shuttle flight," Ferguson added.
Hurley said he and his team will represent thousands of shuttle workers who have helped make the program a success.

The next step for NASA

Meet the last space shuttle crew

iPhone goes to space

CNN goes through astronaut training
"That's where I feel the most pressure," he told CNN. "To be able to represent them the way they deserve to be represented. To finish out the program on a high note, with a successful mission, and then be able to thank them all afterwards."
Many of those workers are now or will soon be unemployed. The cost of sending people into space is enormous, and NASA is unable to afford to keep the shuttle flying while also developing the next spacecraft. So after 135 flights, when Atlantis touches down on Earth, the shuttle program will end.
With the retirement of the space plane, NASA is turning its attention to deep space travel.
"I think that's going to really bring the exploration back into the space program, and that's what we need to do," Walheim said.
"Go visit an asteroid, the moon or Mars, and go to places we haven't been before. Then, I think the really strong exploration piece of flying in space is going to come back," he said.
But the debut of the next spacecraft is TBA, at best. And, until it's ready, NASA is hoping commercial companies will fill the gap and ferry supplies and astronauts to and from the space station.
Before that happens the U.S. will pay Russia about $63 million to take each U.S. astronaut to the station.
Ferguson said making this the last flight of the shuttle ends the program at a crucial time.
"Personally, I tend to think that it happened a little abruptly. Does that mean it was wrong? I don't believe it was wrong. I believe it was a big risk," he told CNN. "It'll be a sad moment because we know that it will be a while before there's another American vehicle that's ready to take astronauts to low Earth orbit," he added.
Private companies hold the key to space travel's future
But what is the future like when you're an astronaut without a spacecraft? Ferguson says he'd like to stick around for it.
"I'd certainly like to. Mars has always been 20 years in the future. It's been 20 years in the future, for the last 30 years. I'd like to see how committed we are this time," he said.
But for now, flying Atlantis safely and putting a bow on the shuttle program is the only thing on his mind.
"It'll be at that moment, when it's finally over, that I'll be able to exhale, take a breath, understand the significance of the moment," he said. "It will probably take a little while to get me out of the shuttle, but I'm bound and determined to be the last one out."
FOLLOW THIS TOPIC