STORY HIGHLIGHTS
Colonias are impoverished border developments that usually lack basic infrastructure
Laws prevent more colonia development, but their populations are growing
Services, access to education and medical care are improving, better homes are being built
"There's peace here. Things are good," colonia resident says
Editor's note: This summer, CNN's Defining America project is exploring the stories behind the numbers to show how places are changing. This week, get to know more about your neighbors all across the country -- how they live and love, what they believe in and how they came to call themselves Americans. The week will culminate with a Secret Supper in New York City, and Eatocracy invites you to participate online starting Monday July 11th at 6:30 p.m. ET.
Starr County, Texas (CNN) -- Not so long ago, this remote community in the heel of southern Texas' Rio Grande Valley consisted of dilapidated shacks, trailers or homes in various stages of completion. Homes with no foundations, no floors, no windows, doors, or walls were scattered throughout Las Lomas, a predominantly Hispanic neighborhood in unincorporated Starr County.
Back then, strong winds stirred up suffocating clouds of dust in the streets because none were paved. Small gullies formed when it rained because there was no drainage system. Gangs of teens prowled the area, burning unattended construction sites, stealing TVs or the few households appliances people owned. Gavina Barrera's home didn't have running water or a bathroom; her family used an outhouse connected to a septic tank in the backyard.
Basic services are coming gradually to Las Lomas, which earned its name because of its mountainous terrain. Ramshackle structures are giving way to solid homes with garages and paved driveways. There's running water, an elementary school nearby and a community center that provides summer day care, career counseling and access to basic medical services.
It took a while to reach this point, and more work lies ahead. But thanks to efforts of the community, life here is getting better, Barrera said.
"We're happy," Barrera said in an interview last week in the community center, one of few in Texas founded and run by neighborhood residents. "There's work, there's a school, it's safe. It wasn't always this way, but the community has worked to make it better."
iReport: Cultural Census road trip to the Rio Grande Valley
Las Lomas might resemble any of America's most impoverished rural areas, but along the border, the five recorded subdivisions that make up Las Lomas carry a special bureaucratic designation: "Colonias," the Spanish word for "neighborhood."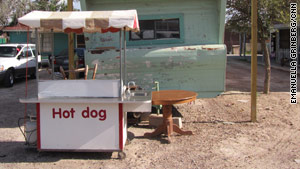 Many colonia residents run small businesses or services from their homes or outside their trailers.
In Mexico, a "colonia" is a subdivision or planned community. But in Texas and other border states,"colonia" refers to an unincorporated settlement that might lack water and sewer systems, sanitary housing and access to basic medical services.
Despite the substandard conditions, those who live and work in the colonias say they're growing, thanks to improving conditions. The growth also highlights what it means to be a community, and the little things that turn a patch of land into a home: streetlights, running water, paved streets, even mailboxes.
Getting an accurate count of the population in any of Texas' estimated 2,294 colonias is notoriously difficult, due to geographic isolation, shared addresses, swiftly changing development and mistrust of government data collectors. The Texas attorney general's office estimates 500,000 people currently live in them, most of them Hispanics who are U.S. citizens or in the country legally.
But the areas are growing fast. The population of Starr County, home to an estimated 55 colonias, has grown 13.8% in the past decade, from 53,597 to 60,968, according to Census data. Neighboring Hidalgo County, home to the most colonias in the state, has grown 36% since 2000, from 569,471 to 774,769.
In Starr County, where median household income was $22,418 in 2009, underserved neighborhoods like Las Lomas are turning into places where families want to live.
"Colonia residents say, 'I have an American dream,' " Oscar Muñoz, deputy director of Texas A&M University's Center for Housing and Urban Development Colonias Program. "There's only two things I can give my children: my name and the land I bought years ago. I'll divide it up so they can stay close by and help grow the community.'"
'Find out from them what their wants and needs are'
Colonias in Texas began to emerge along the border in the 1950s, when developers created unincorporated subdivisions on agriculturally worthless land in flood plains or other rural areas. They divided the land into small lots, built little or no infrastructure, then sold them to people with low incomes. Many, like Barrera and her husband, were migrant workers from around the state or across the border.
The couple moved to Starr County from the northeastern state of Tamaulipas in 1984, when migrant work was plentiful and colonias were viewed as an affordable option for home ownership. They moved in with her mother-in-law in a neighboring colonia at first, then bought their lot in Las Lomas for $2,000 in 1987.
They spent two years building a foundation and a basic stucco structure before moving in. Over the next decade, they installed windows, doors, closets and eventually, a bathroom, though water pressure remains an issue.

Latino influence grows in San Antonio

In colonias, census sparks fear
Barrera got her papers in 1989; her husband became a naturalized citizen in 1981 through his mother, who moved to Starr County in the 1950s. They raised four children and held down jobs, he as a migrant worker, picking onion and lettuce, she as a home care provider, until she went on disability four years ago.
Eventually, the community around them began to expand with the construction of a new elementary school, two churches and three stores.
That growth came as the state's first major efforts to develop infrastructure and regulate development in the colonias began. In 1987, the Texas Legislature authorized the state Water Development Board to provide grants and loans for water and wastewater services in colonias. The next major legislation came in 1995, when Gov. George W. Bush signed H.B. 1001, which gives affected counties the authority to enforce regulations related to the development of subdivisions. It also imposes civil and criminal penalties for failure to comply with requirements.
Since then, the state has adopted various strategies through various to improve living conditions and access to basic services and infrastructure -- with varying degrees of success. At this point, some colonias still lack paved streets or streetlights, but others have developed enough they no longer need to bear the "colonia" designation; some are hidden in the state's most remote, rural areas; others are wedged in between urban areas and resemble small cities themselves, Muñoz said.
A&M is one of many agencies working in the colonias through various funding sources and partnerships to provide a multitude of services, from transporting residents to larger cities for medical care to building wind turbines and ceramic water filters. The university, which has 41 community resource centers concentrated on the border, is certified through the Department of Health Services to train and certify "promotoras," loosely translated as health advocates or community health leaders, to connect residents to services.
Last week, 25 Rio Grande Valley women set to graduate from A&M's promotora program organized a career expo in Brownsville. They invited representatives from various health service and home care providers so they could network and find potential placements.
Experience has shown that sending the women into the communities is an effective way of disseminating information and building trust, Muñoz said.
"They're the key to making a big difference -- the women. They're connecting residents to health services; they're the ones making sure the next generation learns to use the system," he said.
Others take a more grassroots approach to bringing about improvements. Students from Peter Lang's architecture class at Texas A&M students visited Las Lomas in April and helped children paint a mural on the grounds of Colonias Unidas. They also presented a workshop on launching small businesses, sharing methods of making candles using recycled materials such as church candles, milk cartons and leftover fat from butcher shops.
"Our strategy is to go into the communities and find out from them what their wants and needs are," said Lang, an associate professor in Texas A&M's Department of Architecture. "It's also about helping to change their image so they can better relate to their surroundings and conquer the negative perceptions wrapped up in living in a developing community."
'Thank God we've had electricity'
Las Lomas and other communities that pursued partnerships with local, state and federal agencies are viewed as models of progress. But living conditions in other colonias still resemble those in third-world countries; the state doesn't want more of those developments.
Laws have been enacted to prevent development of more settlements without services. Since 1995, the Texas attorney general's office has obtained 87 judgments against developers dealing land without basic infrastructure, a spokeswoman said.
There's enough work to be done in the existing colonias.
Las Lomas is still a hodgepodge of structures, each one built according to its owner's resources. Some are still trailers, with horses and chickens in the yard and boundaries marked by barbed wire wrapped around wooden posts. Others are made of wood and concrete, surrounded by wrought iron fences, with children's toys and household appliances creating a buffer zone around the structure.
Then there are newer homes that would fit in any cookie-cutter subdivision in middle America, with painted exteriors, paved driveways, two-car garages and satellite dishes.
The town now boasts a sewage system and running water. All but one of the streets are paved. On that unfinished dirt road, large cement tubes and heavy machinery lay waiting for the next phase of drainage system construction.
Barrera has no running water in her bathroom. Electricity comes and goes. When it rains, pools of water form in streets. Barrera knows the conditions sound less-than-desirable to some, but she's proud of her home and her community.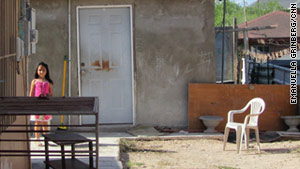 Barrera's granddaughter, Aileen, lives with her in the Las Lomas colonia in Starr County, Texas.
"It was a struggle before, at first, when the neighborhood got started," said Barrera, an upbeat woman with a rigid gait she blames on arthritis and diabetes. "Now, thank God, we have water, sewage, paved streets and electricity. Everything works well. Sometimes when it rains or something or there's an accident, we lose power. But thank God we've had electricity."
As Barrera and her granddaughter, Aileen, picked up crushed soda cans and plastic bags outside their home on a recent afternoon, the 44-year-old credited the community center, Colonias Unidas, with bringing basic necessities to the neighborhood and rallying residents to work together to build up the community.
"We've struggled with water. In '89, we went a year without water. We asked our neighbors for water or we carried it here. But then we got water, thanks to Colonias Unidas. The same with the trash and then we got containers and tanks."
Since it was founded in the 1980s, Colonias Unidas has seen its operations expand to provide career counseling, health education, vaccination programs, summer day care and helping residents obtain green cards.
They also help to clear titles to land: In the 1980s, one early settler who owned much of the property in Las Lomas was found to be double- and triple-selling lots.
But these days, the population growth isn't necessarily due to new immigrants. People living there say the growth comes from within: Original settlers had children and grandchildren who are now building their own homes or adding to their parents'.
'There's peace here'
While many of the developments' first settlers were born in Mexico, most colonia residents are now in the United States legally: 64.4% of all colonia residents, and 85% of residents under 18, were born in the United States, according to the Texas Secretary of State's website, citing the Federal Reserve Bank of Dallas.
That mirrors the changing population around the country, where the Latino population now tops 50 million, or 16.3% of the nation. Nationally, Hispanics now comprise 23% of children, up from 12% in 1990; white children are in the minority in 10 states, including Texas.
The population in Texas grew by 4.3 million residents since 2000, and 2.8 million -- 65% -- identify as Hispanic, according to the census.
Opinion: What's behind the rise of Texas?
The value that Hispanic culture places on family ties has contributed to the growth, said Rio Grande City planning director Elisa Beas, who has lived in Las Lomas since 1985.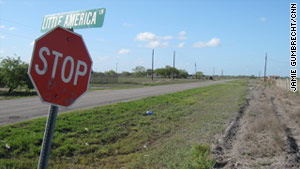 In colonias like this one in Hidalgo County, roads are unpaved and sewers unfinished.
Beas paid $1,000 each for two lots and lived in a trailer with her husband while they slowly built a home. Signs of progress encouraged people to stick around. Their arrival coincided with the creation of Las Lomas Community Organization, the group responsible for acquiring grants, then working with the city and Starr County to build water and sewage lines. It eventually morphed into Colonias Unidas.
"Once people saw the infrastructure coming into place, they started building. Even if they were living in substandard conditions, it didn't faze them at all because it was not a long-term situation," she said.
Violence south of the border in the past three years has also contributed to an influx of new residents who come to stay with family, she said. New arrivals will take up with relatives to escape violence and plan their next moves. But residents of the Rio Grande Valley have long straddled both sides of the river, she said -- it's the border that's new.
"To the people here, the river doesn't divide, it's just a river they have to go across," she said. "But as the kids get married or educated, they tend to stay and build roots and live in the same area. That's just the way Hispanic culture works, they stick around family."
In the meantime, Las Lomas continues to grow.
The next project? Mailboxes, Barrera said. Right now, everyone uses P.O. boxes registered in Rio Grande City, the neighboring "big city." After that, perhaps they'll turn attention toward a hospital or clinic so people won't have to drive an hour for health care.
It's not clear when that day will come, but Barrera is hopeful that by then, it will make Las Lomas more appealing to her children to settle in.
"Things are still changing," she said. "We may live in poverty but we almost have everything we need here. No need to go to McAllen or Brownsville for food or clothes or shoes, only for medical care. But there's peace here. Things are good."
FOLLOW THIS TOPIC