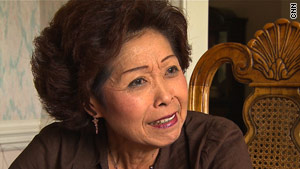 Lorna Onizuka lost her husband, mission specialist Ellison Onizuka, in the 1986 Challenger disaster.
STORY HIGHLIGHTS
Lorna Onizuka became a widow and a single mother on January 26, 1986
Her husband was one of seven aboard the Shuttle Challenger who died that day
Onizuka, now a grandmother of six, works in the space industry
She says it's "hard to fathom" that the U.S. shuttle program is ending
Atlantis' journey to the International Space Station will be NASA's 135th and final mission in the space shuttle program, which began 30 years ago. Tune in to CNN's live coverage of the launch Friday, starting at 10 a.m. ET on CNN, CNN.com/Live and the CNN mobile apps. Then check out "CNN Presents: Beyond Atlantis" Friday at 10 p.m. ET.
Houston, Texas (CNN) -- Days after the 1986 Challenger disaster, Lorna Onizuka's daughter approached her with a strange request.
Darien, 9, had just lost her father, Ellison Onizuka, a mission specialist aboard the ill-fated shuttle.
"She said, 'I want you to die today,' " her mother, Lorna Onizuka recalled. "I was ... stunned, and before I could say anything, she said, 'But you can come alive on Tuesday.' "
Lorna Onizuka asked her daughter why she wanted her to temporarily die.
"And she said, 'Because I need to ask Daddy some things, then he can be dead again and you can come alive,' " she recalled.
Onizuka, now 61, says her daughter's request opened her eyes to "the pain and anguish in children that you cannot fix."
"As parents we're fixers. And you can't fix those things. It's just time," she said.
Onizuka and six others were killed in the Challenger explosion: commander Dick Scobee, pilot Michael J. Smith, fellow mission specialists Judy Resnik and Ron McNair, payload specialist Gregory Jarvis, and Christa McAuliffe, payload specialist and schoolteacher.
Ellison Onizuka -- an Air Force colonel, aerospace flight test engineer and pilot -- was selected as an astronaut by NASA in 1978.
Onizuka was making his second space shuttle flight. In 1985, he flew on Discovery and spent 74 hours in space.
"Ell and I understood that something could happen," Lorna Onizuka said. "We just kind of hoped that it never would."

Widow: We all accept the risks
From her home in Houston, she spoke to CNN as NASA's shuttle program nears its final launch, scheduled for July 8.
"It's a bit sad that the program is coming to an end. And a bit hard to fathom that it's been over a span of 30 years," she said. "But, nonetheless, every one of them would feel a sense of privilege and honor to have been part of it all."
Inside her home, Onizuka, a Buddhist, pays tribute to her late husband.
In a small alcove, she has kept a shrine honoring him -- which includes his portrait, two cans of his favorite beers, and a baseball signed by Apollo 11 moonwalker Buzz Aldrin.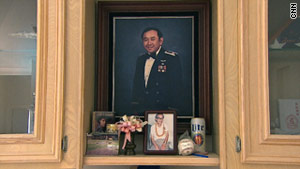 A shrine to Ellison Onizuka in the family's home includes a baseball signed by Buzz Aldrin and Onizuka's favorite beers.
"We keep an altar for him, and when my mom's here, she puts coffee for him every day ... and she prays in the morning and at night," she said.
January 28, 1986, was an unusually cold Florida morning.
The launch had already been postponed several times because of weather and vehicle hardware issues. Seventy-three seconds after liftoff, Challenger disintegrated over the Atlantic Ocean.
A presidential commission investigating the accident found that an O-ring seal in one of the two solid rocket boosters failed due to the cold temperatures, causing the orbiter's destruction.
The commission also found that the contractor for the boosters, Morton Thiokol Inc., knew there was a potentially fatal flaw in the rocket's design, and that warnings about launching in cold weather were ignored by NASA managers.
The shuttle program was grounded for 32 months while the solid rocket boosters were redesigned and other committee recommendations were implemented.
In an instant, Onizuka found herself a widow and a single parent to their two daughters, Janelle, 15, and 9-year-old Darien.

1986: NASA Challenger news conference

Challenger disaster remembered

1986: Spectators watch Challenger explode

Inside CNN when Challenger exploded
But, she says, her husband had thoroughly prepared for a possible tragedy and made sure the family's affairs were in order.
"When Challenger happened, I knew exactly where to go to find what," she said. "I was really thankful that he had done that, because it confirmed that he knew that things could happen."
She said it made it a little bit easier to deal with her new reality.
"I accepted it because Ell accepted it," she said. "I couldn't speak for my children and that's where my heartache was."
Today, their two daughters are grown and Onizuka has six grandchildren.
"I think he would have been OK with watching the program end," Onizuka said. "He's just having a real tough time, I think, not being able to know these little kids."
The grandchildren, however, are fully aware of their grandfather and his legacy.
"My 5-year-old says, 'That's my grandpa Ell. He "sploded" on a spaceship.' He 'sploded,' " she laughs. "We've tried to share him with them."
Every other year or so, Onizuka travels to Hawaii to visit her husband's grave.
"I take him a little snack pack, with a rice ball, and a piece of chicken ... and a can of beer -- his favorites. And a tall bottle of waxed peppers or something," she laughed. "He liked hot chili peppers."
Today, Onizuka is a liaison to the Japan Aerospace Exploration Agency, which has an office in Houston and sends astronauts to train there.
With every shuttle countdown, she says she stands with nervous anticipation as the orbiter launches and rises into the sky.
She remembers the fateful final words of Challenger's commander, Dick Scobee, when he confirmed mission control's call to "Go with throttle up," the point in Challenger's flight when everything went wrong.
"It's always special to hear the commander say, 'Go with throttle up,' and then you see the SRBs separate," she said. "For me, that's the moment of truth. ... As time goes by you get more comfortable with it."
Onizuka says her husband was fully committed to pushing the boundaries of exploration. On page 28 of U.S.-issued passports is a quote from Onizuka, honoring him and his commitment to exploration:
"Every generation has the obligation to free men's minds for a look at new worlds ... to look out from a higher plateau than the last generation," it reads.
When Atlantis launches on the final space shuttle ride with its crew of four, Lorna Onizuka says she will be there.
She believes that even today, her husband remains a part of the space shuttle program he loved.
"I want to thank Ell for watching over these guys in the years since, because I think he does," she says. "He shares their pride, shares their excitement, he shares their glory. Just from a different angle."
FOLLOW THIS TOPIC