Los Alamos lab lifts state of emergency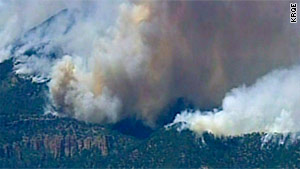 The Las Conchas fire in New Mexico has burned more than 113,000 acres.
STORY HIGHLIGHTS
Nuclear laboratory in New Mexico remains closed
Fire near Los Alamos consumes more than 113,000 acres
More than 10,000 people have been evacuated because of the threat
(CNN) -- The Los Alamos National Laboratory, closed because of a wildfire, has lifted a state of emergency but did not indicate when it would reopen.
The wildfire roaring through New Mexico near Los Alamos is not over, but much of the danger has shifted from that community.
About 10,000 Los Alamos residents have not been allowed to repopulate the town; no date has been given as to when they can return.
At no time were nuclear or hazardous materials on its site threatened, the laboratory said in a statement, adding it was moving into an "operational recovery mode."
The Las Conchas fire is burning nearly unabated through the Santa Fe National Forest and Valles Caldera National Preserve.
By Saturday, the fire had charred 113,734 acres.
The fire began on private land Sunday and expanded into the Santa Fe National Forest and Jemez Ranger District, according to InciWeb, an online database that keeps track of natural disasters such as fires and floods.
The fire was 6% contained Saturday.
FOLLOW THIS TOPIC