STORY HIGHLIGHTS
Ex-running back believes brotherhood, "locker-room language" can open players up
Neurologist: Players' frank accounts would be "tremendous" for her research
Ex-player's documentary asks players to share experiences with pain, head trauma
High schooler who had brain surgery wants to get back on field; parents frown on idea
Atlanta, Georgia (CNN) -- Ellis Hobbs likened his spine to a jelly doughnut, saying that one of his vertebrae "squeezed out the back end" when he took a jolt to the head during a kick return in 2009.
His interviewer, ex-Green Bay Packers running back Dorsey Levens, looked concerned as Hobbs described the surgery: Doctors cut into the front of his neck and shifted his voice box to the side so they could reach his spine. Entering through the back of Hobbs' neck was too dangerous.
Doctors then took a vertebra from a cadaver and "slid the bone in there like a Jenga piece" to prop the neck back to its natural position, the Philadelphia Eagles cornerback said.
"After that, they take a titanium plate and they slap it on the front of your neck and bolt it down so it can heal right, and then afterwards, once it heals, you can either take it out or keep it in," Hobbs said, explaining that he left it there because he didn't want to go back to the doctor. "It doesn't bother anybody."
Levens, a former Pro Bowler who took plenty of hits during his 11 seasons in the NFL, winced and uttered a one-syllable obscenity.
This is the kind of candor Levens needs. An actor and aspiring documentarian, Levens' first production endeavor is "Bell Rung," which he sees as a venue for current and former players to sound off about their injuries and the debilitating conditions that too often accompany life after football.
The documentary's title alone is telling. To ring someone's bell in football is to hit them hard -- really hard -- usually in the skull. Levens believes that by speaking to fellow players in their own dialect, "locker-room language," he can persuade them to be frank about their injuries and conditions, especially concussions.

Steve Atwater on football injuries

2010: Playing despite concussion risk

Warner: 'Something has to change'

Bradshaw: I suffered six NFL concussions
It's a topic that generally makes players reticent around reporters, doctors and NFL officials.
"There's a comfort level because I played the game -- kind of been there, done that," Levens said. "I think one of the prevailing attitudes around the NFL, especially when people conduct interviews, is that reporters don't have a clue. I mean, it's not disrespectful, but if they haven't played the game, the respect is just not the same."
Complaining about pain is tantamount to weakness in football culture. Playing hurt is as common as a forward pass. So it's difficult to get a brotherhood of tough guys to discuss their injuries when admitting they're banged up can mean less playing time and lighter paychecks.
The doctor's take
Ann McKee, a Boston University neurologist and neuropathologist who is a foremost expert on concussions, said honest first-hand accounts from players would add a vital component to her research.
"To shed light on that, the symptoms and what they're experiencing on the field, that would be tremendous information," she said.
Through her work with the Veterans Affairs Center for the Study of Traumatic Encephalopathy Brain Bank, McKee has been able to examine scores of brains belonging to deceased football players, hockey players, boxers and American troops.
Of the 15 football players' brains she studied, 14 were positive for chronic traumatic encephalopathy, a degenerative disease linked to brain trauma, she has said in the past. The finding prompted her to tell a House committee in 2009 that the NFL needed to "take radical steps to change the way football is played."
In an interview this week, she said she expects the numbers -- 14 out of 15 -- to "increase dramatically" when her and her colleagues' next paper is accepted for publication, possibly this summer. Her research into CTE is now more than 80 brains strong.
Read how one ex-player's suicide was linked to brain disease
Despite her studies and more than 30 years in medicine, McKee does not often have access to the kind of data Levens is compiling.
She studies the players' brains after they're already dead, and her interactions are often with family members who describe their loved ones' conditions. The players she does get a chance to interview are increasingly forthcoming with their symptoms, but many still minimize them, she said.
For players, being honest about their head injuries is "absolutely critical to their health," especially at the time of the incident, because rest is "the best and only treatment" for a concussion or subconcussive blow, McKee said.
She firmly believes the NFL and its players need to take the lead in tackling the issue and hopes Levens can encourage more gridiron warriors to come forward about concussions.
"We'd have a much clearer idea of what the true incidence of concussion or concussion-like events is in these players," she said.
"One slip of the tongue ... "
Levens certainly has clout with the players -- that much was apparent when he recently invited CNN to his Atlanta home to sit in during shoots for the documentary -- but even that isn't enough to convince some of the current players, he said.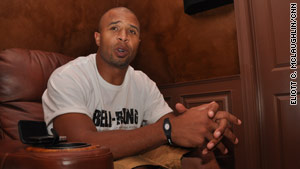 Dorsey Levens says he hopes NFL players will be candid with him, since he is one of them.
"When you're in the league, you don't want to ruffle any feathers," he said. "You don't want to worry about endorsement deals. You don't want to stick your foot in your mouth. There's a small opportunity to make a lot of money in this league, and you've got to capitalize on it. We all know that one slip of the tongue can cost you millions, literally, so I think guys are like, 'I'll give you a little bit, but I'm not going to give you what I really feel.' "
Others have fewer qualms about sharing their experiences. Take journeyman free agent Jamie Winborn, a linebacker who has played for seven NFL teams. Levens said Winborn was already showing signs associated with repeated head injuries -- irritability, forgetfulness -- but he's afraid to go get checked out.
Levens can empathize. He said he has enough to worry about, but he'd be more willing to see a physician himself if his quality of life diminished.
"I'm not showing any signs right now, so I'm not getting tested," he said.
Deon Grant, a New York Giants safety, wears a special helmet and told Levens he still gets "dingers all the time." Grant has a simple take on curbing head injuries, Levens recounted: "His answer is basically if you want to solve it, just don't play."
Read how the NFL might reduce head injuries
Then there's the Eagles' Hobbs, who at 28 is considering retirement after his second neck surgery following a helmet-to-helmet clash during a kick return last season. Yes, different kick return, different surgery, different vertebra.
"Take it like a man"
His hourlong interview with Levens was crammed with revelations about life as an NFL player, including the time Baltimore Ravens running back Willis McGahee clocked him so hard, he went numb.
"Even though this dude outweighs me by 50 pounds easily, get up. You better not stumble. You better not cry. You better not put your head down. Jog and act as if nothing happened," Hobbs said. "All you're thinking about is, Take it like a man."

NFL standardizes concussion exam

Concussion dangers for young athletes

New NFL tests for concussions

New baseball rules on concussions
He shared how he'd led a dazed teammate back to the huddle "like a blind man," how his wife hears him moan in his sleep and how he sometimes hears loud ringing in his ears. He also discussed how rule changes and fines have little effect on the way players tackle and how he hopes his son will opt for the front office over the football field.
Perhaps his most shocking story involved teammate DeSean Jackson, who suffered a game-ending concussion last season after a brutal full-speed collision with Atlanta's Dunta Robinson.
The following Wednesday, Hobbs said, the NFL showed a film about illegal hits, including the one on Jackson, to let players know fines and suspensions would be handed down for any illegal hits in the future.
"Not 10 minutes after that film, we went into the defensive meeting and the D coordinator got up and said, 'Nothing changes about us. Nothing changes in your guys' mentality,' " Hobbs recalled. "I mean, we all knew that anyway because we want jobs. I don't really see anybody with a job who can't tackle."
Such an attitude probably wouldn't sit well with Mark Aasen, whom Levens interviewed after Hobbs. Aasen watched a helicopter carry his son off the field during a junior varsity football game last year.
Grant Aasen, 16, told Levens he had been hit hard in a drill versus the varsity team the day before. Doctors suspect he was concussed and didn't realize it.
As he did every game, the Starr's Mill High School then-sophomore took to the field the next day on both sides of the ball, at linebacker and running back, two of the game's most physical positions.
Parents' worst nightmare
Newspapers reported that Grant was hit in the facemask and the back of the head, but Grant doesn't remember what happened. Mark Aasen said he saw his son walk off the field before sitting down and keeling over. Grant described it as a "mini sort of seizure."
"I ran over and to see him shaking and kind of bubbling, it was awful," Mark Aasen said.
Read why concussions are more dangerous for teens
Grant was flown to a trauma center, where he had part of his skull removed so doctors could stop the bleeding. He recovered from surgery more rapidly than expected, but for months he struggled in other ways.
The previously 4.0 student studied twice as hard to make C's and F's. His short-term memory was poor. He couldn't focus and was quick to daydream or even doze off during tests. He eventually returned to normal, but it gave his parents a good fright.
That's really why the business thrives -- because of this mentality that we have.
--Ellis Hobbs, Philadelphia Eagles cornerback
Now, his father is dealing with another scare: Grant wants to play football again.
Father and son concurred that the notion probably won't make it past his mother, Tina, but Grant told Levens he's prepared to get "on my knees and do a little crying" to convince her after the doctors clear him to play, perhaps as soon as October.
Mark Aasen said he hopes his youngest son realizes there is more to life than football.
"I will be complicit if he goes back and plays because I will have to go to bat and I will have to convince my wife, which is a tall order -- and rightfully so. I don't think she's wrong," he said.
Why would a young man be so eager to get back on the field to play a game that resulted in a craniotomy fewer than nine months ago? It's a sentiment familiar to Hobbs.
Since he began playing when in Texas at age 4, Hobbs was taught to overcome, to beat odds. If someone says you can't do something, prove them wrong. And pain? You always set it aside because winning is your priority, he said.
"That's what the game teaches you to do. That's what naturally, instinctively you want to do, because it's survival of the fittest. That's how the plays are made, the money's made. That's really why the business thrives -- because of this mentality that we have."
FOLLOW THIS TOPIC