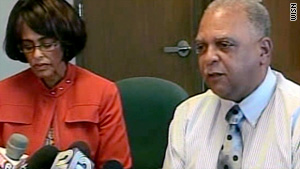 Milwaukee Public Schools Superintendent Gregory Thorton, right, announced more than 500 layoffs.
STORY HIGHLIGHTS
Teachers union says members already have made significant concessions
Superintendent: Milwaukee Public Schools reducing staff because of state budget cuts
Most of the affected teachers are in elementary schools; layoffs effective Friday
Class sizes will be larger, older textbooks won't be replaced
(CNN) -- Milwaukee teachers are offering meals and moral support to 354 fellow educators who will be laid off effective Friday, a union leader said.
Milwaukee Public Schools said Wednesday the layoff of 519 staff members, including the teachers, was necessary because of $84 million in state cuts and the system's efforts to control costs.
Superintendent Gregory Thornton also said schools will likely see larger class sizes and the continued use of older textbooks.
Bob Peterson, president of the Milwaukee Teachers' Education Association, said Thursday that the group opposes Thornton's appeal for members to contribute 5.8% annually to their pensions.
Teachers have already made concessions that will save the school district $94 million over two years, he said. They contributed toward health care and agreed to a pay freeze for a portion of a four-year contract, according to Peterson.
Gov. Scott Walker on Sunday signed a two-year state budget that slashes spending to local schools. The state's highest court earlier this month reinstated a bitterly contested law, pushed by Walker, that restricts collective bargaining for state workers.
Peterson, who argued teachers have been wrongly vilified, lashed out at Walker.
"We teachers did not create the economic mess we are in," he said.
Anticipating the state cuts and the end to about $100 million in federal stimulus funding, the district cut school summer options and froze all "noncritical" building maintenance, Milwaukee Public Schools said on its website. Besides the 519 layoffs, the system will not fill about 500 open positions.
Milwaukee Public Schools, which has about 82,000 students, has made $182 million in budget cuts, said communications director Roseann St. Aubin. It also closed schools, with the number going from 184 to 175.
About 71% of the system's budget goes for salaries and benefits, St. Aubin said.
Several unions representing school employees agreed to pension concessions, the spokeswoman said, but teachers, who have a contract through 2013, have not formally responded. If 5,600 members were to contribute 5.8% to their pensions, the district said it would have enough to pay 200 teachers.
"We need high-quality teachers (in order) to succeed," Peterson said. Part of that, he argued, includes adequate compensation packages.
The union president said his group is committed to quality teaching and supports a peer program to help educators improve.
St. Aubin described Milwaukee at the "tipping point" in its financial support for schools. The schools want a dialogue with citizens, potential donors and supporters, St. Aubin said.
Peterson said he, too, would like to see Milwaukee's business community consider making contributions.
The outlook looks grim even past the upcoming school year. The state budget calls for cuts in 2012-2013 and Milwaukee schools have projected a $30 million deficit that year, according to St. Aubin.
CNN's Phil Gast contributed to this report.
FOLLOW THIS TOPIC