Multiple burials at Arlington Cemetery not criminal, probe finds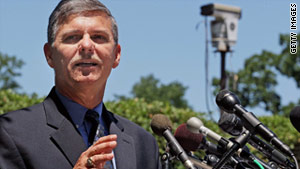 The Army-FBI probe into the burials will continue, said Christopher Grey, Criminal Investigation Command spokesman.
STORY HIGHLIGHTS
Eight sets of cremated remains were found last year buried together at Arlington
The Army and the FBI launched an investigation
An Army spokesman says the investigation is ongoing, but no criminal violations occurred
Arlington has been engulfed in scandal over mismarked graves and missing records
Washington (CNN) -- The U.S. Army's Criminal Investigation Command says no laws were broken when eight sets of cremated human remains were buried together at Arlington National Cemetery.
"Our discussions with an assistant U.S. attorney determined that the burial of multiple cremated remains in one gravesite does not constitute a criminal violation," said Christopher Grey, spokesman for the Criminal Investigation Command.
Grey acknowledged that the Army is working with the FBI in the ongoing probe, but he emphasized that the Army's Criminal Investigation Command is, and will remain, the lead investigative agency.
The probe was opened in the fall of 2010 after the discovery of human remains in urns in a gravesite marked "unknown." Three sets of remains have since been positively identified, and two of them have been reinterred at the request of the families.
Army officials say one set of remains has been classified as an "unknown" and will remain as such. The Criminal Investigation Command added that despite extensive testing they will not be able to identify three other sets of remains. Investigators are still performing laboratory tests on the remaining set of remains in the hope of securing a positive identification.
Criminal Investigation Command also announced that its ongoing investigation includes the possibility of people making improper burial reservations, as well as possible contract fraud.
Military investigators say they found 69 boxes of records related to Arlington National Cemetery in a storage facility in Falls Church, Virginia. Sixty-eight of those boxes were duplicate copies of existing records.
Criminal Investigation Command authorities said the remaining box contained contract-related information. No specifics were given as to why duplicates copies were made of the other boxes and why they were in a storage facility.
"At this point, [Criminal Investigation Command] does not have any indication that the contents of those boxes are linked to any criminality or breach of contract and is not related to any ongoing contract inquiry," said Grey. "We are vigorously pursuing any potential wrongdoing, and if criminal conduct is found the Army will take appropriate action"
This probe comes after a series of revelations of misplaced remains at Arlington.
The national cemetery has been engulfed in scandal since June 2010, when the Army released a report that detailed gross mismanagement of the cemetery. The investigation cited missing burial records, hundreds of mismarked graves and burial urns put in a spillage pile, where dirt dug up for grave sites is left.
Some 330,000 veterans and their family members are buried at the historic site, overlooking the nation's capital.
FOLLOW THIS TOPIC